When it comes to selling food items and promoting your food brand, you should never compromise on the quality. It would help if you worked with a competent and reliable packaging supplier to perform this task. However, if you don't know which packaging you should use, you certainly need professionals' help. This post will learn the benefits of getting the kraft paper bag food packaging from the right packaging supplier.
What Do You Need to Consider Before Designing Custom Food Packaging Bags?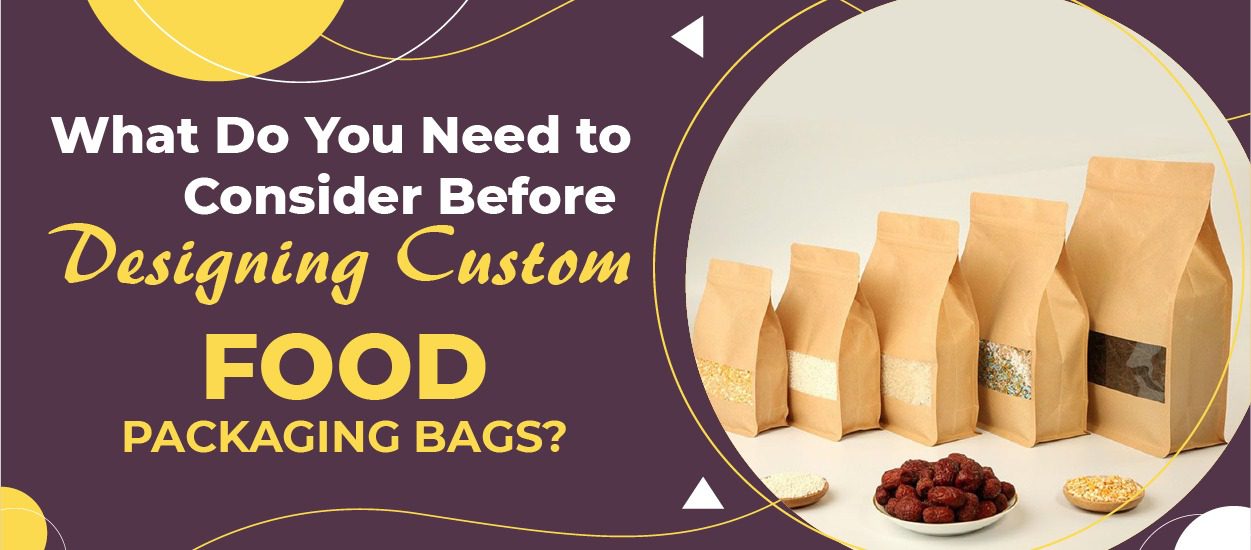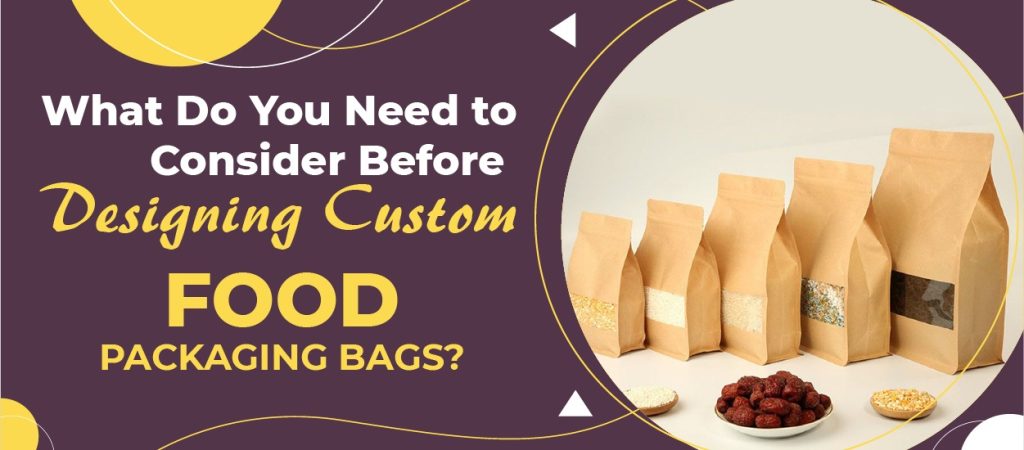 So you think that you have premium quality edibles that meet the expectations of your target customers. But we know that there are thousands of food brands out there. Now you might be wondering how you can differentiate yourself from those tough competitors.
Indeed, this is a competitive and crowded marketplace you are facing today. Custom food packaging bags, in this case, could be one way to achieve all goals you have set up for your food brand. To help you get the best bags, you will need to understand the best way to get them. This is where working with a reliable packaging company such as Silver Edge Packaging will save your day. So, what are essential things you need to consider before designing your custom food packaging bags? Read on!
Think about your food items
Whether you accept it or not, a custom bag is the best approach to increase brand awareness. At the same time, this bag has the influential power to give your brand a more professional look. However, before designing a kraft paper bag food packaging protects your valuable edibles from damage. Therefore, before you start designing the bag, you need to answer a few questions and think about your food items.
Which types of edibles do you need to pack in the bag?
Is your food item delicate, or can it get leaked?
Do you think you need additional protection?
What are the dimensions of your edible?
Consider your target audience
You need to do proper market research as an integral part of knowing your target audience. Before designing your bag, you need to understand them. In addition, as a brand owner, you certainly need to be more knowledgeable about your food items along with their benefits.
When learning about your target customers, learn about their demographics such as age, occupation, gender, and income. Then keep these points in mind when creating your custom food packaging bags. For example, when offering food items for children, you should use bright colors and fun designs. On the other hand, soft and elegant colors work perfectly when marketing to executives.
Reasons to Contact the Right Packaging Supplier for Kraft Paper Bag Food Packaging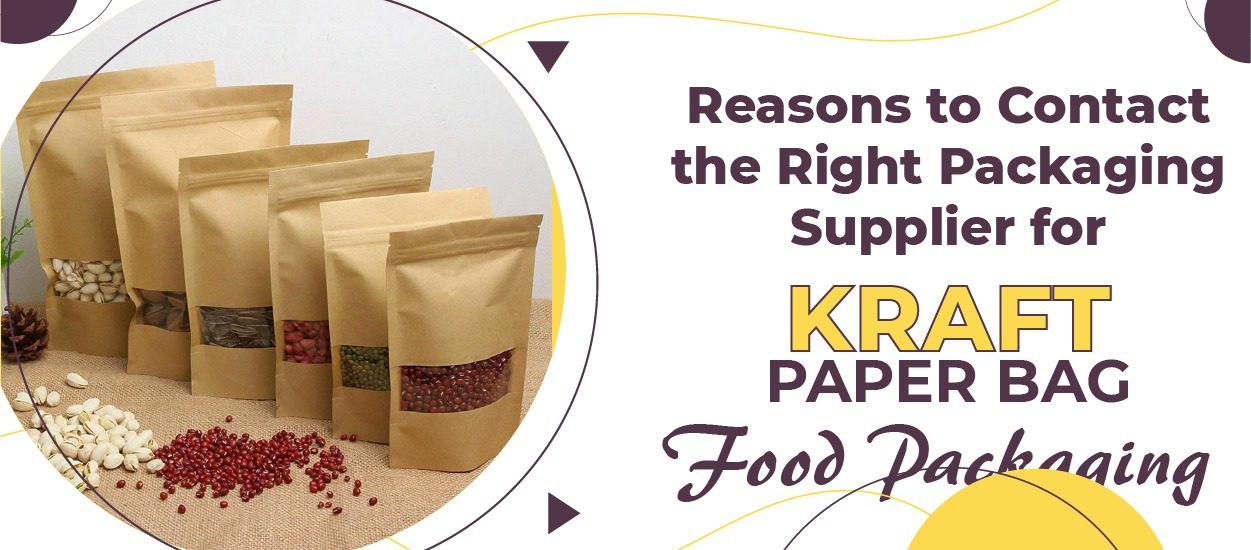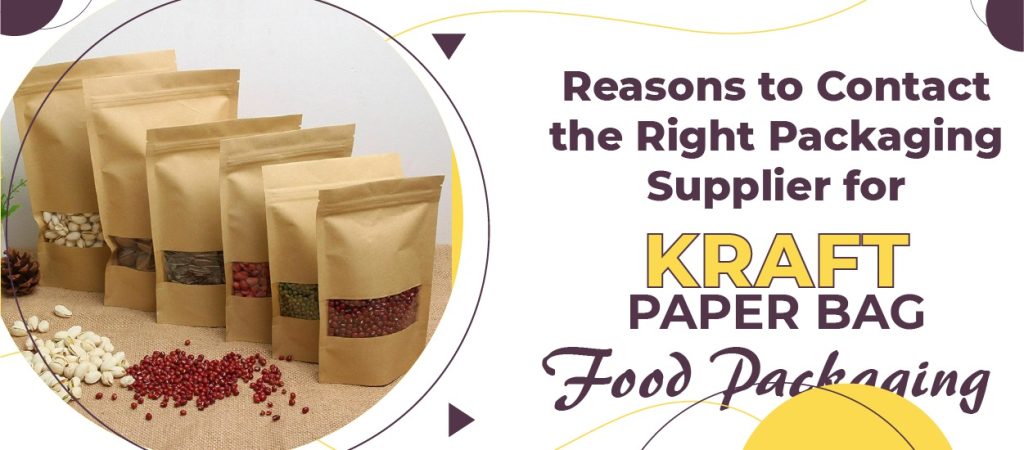 Now that you understand what kind of packaging you need, you surely want to get the best one. Getting your kraft paper bag food packaging from a reputable packaging supplier will benefit your business. The reason is clear; your spending costs will decrease while your business profits will go up.
Some fraud packaging suppliers could probably give new brands an irrational price as they don't understand. Thus, those new brands that lack knowledge of the right suppliers can suffer significant financial losses. This will never be a good sign…
Getting your custom food packaging bags from a trusted supplier like Silver Edge Packaging will get you the highest quality bags at the most affordable prices. Prices estimated by this experienced supplier are usually the cheapest on the market.
Keep on reading! There are many things to expect when it comes to getting kraft paper bag food packaging from a reliable packaging supplier. What are they?
Get high-quality kraft paper bag food packaging at the lowest prices
The low price is the biggest benefit you will get from a reliable packaging supplier. Perhaps if you need to get kraft paper bag food packaging for individual purposes, you have no worries to pay more for it. However, as a business owner, if you need to buy this packaging bag in bulk, a price difference will hugely affect your budget.
Well, this is only one of the biggest reasons why you need to work with an experienced supplier that will reduce the costs. Silver Edge Packaging offers the best custom food packaging bags at wholesale prices. Lowering the cost of the bags will eventually increase your profitability. As a result, our low prices will help your business grow.
You will only get premium packaging
In addition to the low price, another difference you will get from a reliable packaging supplier is premium-quality packaging. You surely know that high-quality packaging will make your customers feel that your product is really worth their money. In addition, when customers see how you care for their shopping experience, they will be loyal to your brand.
You will get to choose from an impressive collection of designs
If you need multiple design options to choose from, having a reliable packaging partner is the best bet. At Silver Edge Packaging, you will find more varieties of designs to choose. Even better, our team of professional packaging designers will help you create your kraft paper bag food packaging with great customization options. All you have to do is provide all the details and specifications you have for your bags. Then, they will prepare the bag according to your requirements and instructions.
Get the bag with the correct size
An experienced packaging supplier will offer you the freedom to choose from multiple sizes. Even better, you can determine the proper size of custom food packaging bags based on the edibles you need to place inside. We know those food items are varied. Each item is different from the other items. Therefore, be sure to provide your packaging partner with the correct measurements you need for bags.
So, make sure to explain all your interests and preferences clearly. This way, they can provide you with your dream bags. Determine the right size wisely, as you surely don't want your food item to look messy inside the bags. Yes, the size of your bags should always be suitable for your items, no exclusion in this regard.
Help you save more time and effort
In this busy lifestyle, many of us don't have enough time to go to the market. For this reason, we will simply purchase what we want online. We all prefer to simply search online platforms to buy and sell products. In addition, the online platform allows more brands and customers to purchase any type of product.
Another benefit from online platforms is that you can get products from other countries easily without traveling to those countries. This will help you save more money and time when buying your kraft paper bag food packaging.
Get more convenience by performing easy and secure payment method
We should admit the fact that online purchases are much easier and more convenient than traditional purchases. With an internet-enabled smartphone, you can buy anything from anywhere. All you have to do is:
Check and search the packaging supplier's website
Select custom food packaging bags you want
Design and customize them
Make your online payments
Then wait for them to deliver the bags to your doorstep
However, before you do business with an online provider, make sure to investigate the packaging provider thoroughly. Always remember to see the reviews and comments this supplier has received from its clients so far.
Complete customization options are available
Silver Edge Packaging offers complete customization options for our valued clients. You can choose your custom food packaging bags' design, shape, color, size, and more. Customization options will enable you to design your bags according to your marketing and branding strategies.

In addition, you can also print your brand logo and marketing content on the bags. On the other hand, if you need the bag for individual purposes, you can personalize it to make it more unique and special.
The quality is guaranteed
A reputable packaging supplier such as Silver Edge Packaging aims to satisfy customers by providing high-quality kraft paper bag food packaging. The bags manufactured by our company will go to multiple tests such as pressure tests and humidity tests. These quality tests confirm that the quality of your bags is guaranteed.
In Summary
Having exclusive kraft paper bag food packaging to wrap and display your food items can really benefit your food brand. This is why you should never compromise when getting the right bag. For this reason, you need the right packaging supplier, and Silver Edge Packaging will be a great packaging partner. Simply give us a call now. Rest assured that you will receive only exclusive custom printed bags to showcase your food items and brand.