Pizza is a beloved food around the world, and one of the things that make it even more enjoyable is the packaging it comes in. Stylish packaging boxes can enhance the entire experience of eating pizza for customers. If you are a pizza brand that wants to make more sales, you need to make the boxes as appealing as possible. Well, there are many unique and creative ideas for pizza boxes that can help make your pizza stand out. Below are 18+ unique designs and ideas you can try out!
Custom Pizza Boxes with Logo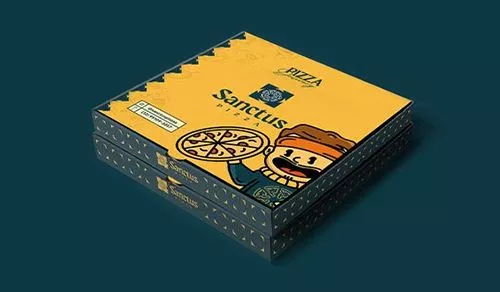 Getting innovative boxes with your logo is an excellent way to promote your pizza business. These boxes are customizable in any size, shape, or color. You can add your logo, contact information, and even your official website address. By printing your logo stunningly, these boxes will help your business stand out from the competition.
Custom Slice Pizza Boxes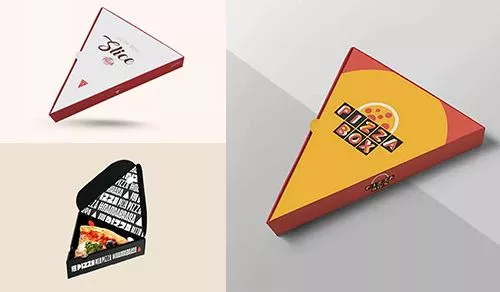 Custom Slice Pizza Boxes are a perfect option if you also sell delicious pizza by the slice. You can get the boxes to hold one or two slices of pizza for customers to carry. Plus, these boxes are available in a variety of sizes you need. Don't forget that you can express your creative ideas by designing the boxes with your artwork!
Custom Kraft Pizza Boxes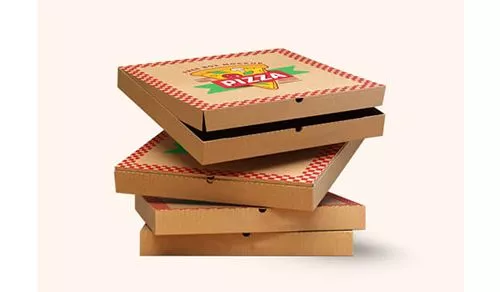 Perhaps you know that boxes made of kraft can be an eco-friendly option to reduce your carbon footprint. These boxes will help your business achieve its sustainability and eco-friendly goals. Most importantly, these boxes are highly durable to hold various pizza sizes you need to deliver to your beloved customers.
Custom Luxury Pizza Boxes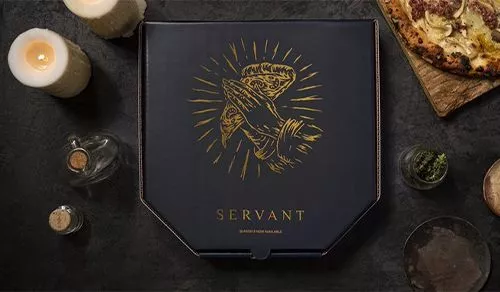 These custom luxury pizza boxes are flawless options for high-end pizza brands. Or else, these boxes will be perfect to present your delightful pizza on special occasions. These boxes can be made with high-quality materials. Additionally, you can decorate the boxes with gold or silver foil.
Custom Detroit Pizza Boxes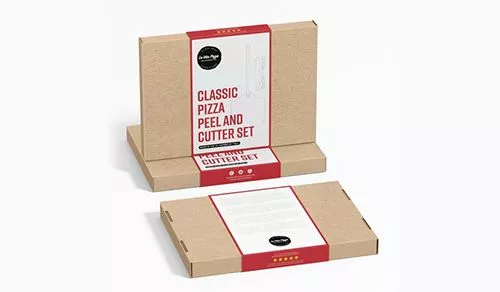 Detroit-style pizza has become increasingly popular in recent years. So, if you want to follow this trend and grab more sales, these custom detroit pizza boxes are for you!
Custom Crooked Pizza Boxes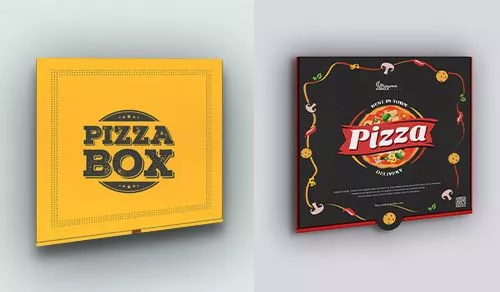 These appealing and trendy crooked pizza boxes will add a special touch to your product display. From the name, we know that these boxes are designed in a unique crooked shape. Hence, this shape will surely give your pizzas an eye-catching look in customers' eyes.
Custom Frozen Pizza Boxes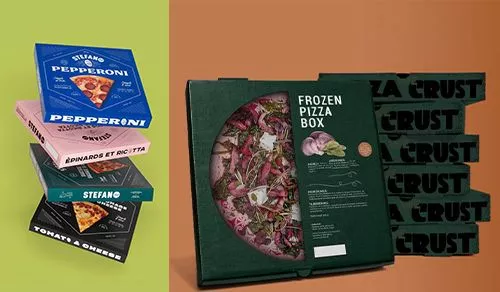 As the name suggests, these are ideal boxes to sell and deliver frozen pizza. The materials used to produce the boxes are highly sturdy and durable to hold your pizzas inside. Hence, you can rest assured that your pizza stays fresh during transportation in these Custom Frozen Pizza Boxes
Custom Sicilian Pizza Boxes
We know that Sicilian-style pizza is a thick, rectangular pizza that is becoming increasingly popular these days. So, if you wish to complement your Sicilian-style pizza, these sicilian pizza boxes are your best option.
Custom Octagonal Pizza Boxes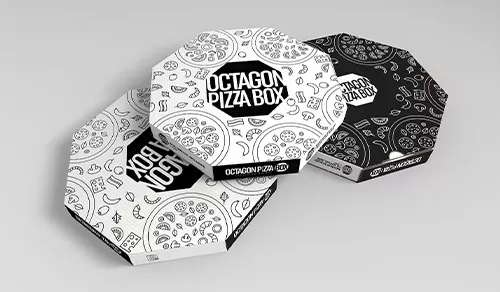 These innovative boxes are the most ideal boxes to differentiate your tasty pizzas from other competitors. Come in an octagonal shape, these octagonal pizza boxes will be the most attention-grabbing.
Custom Hexagonal Pizza Boxes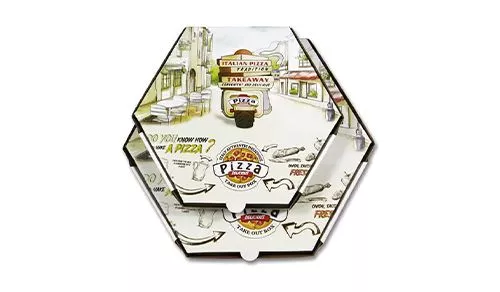 Hexagonal pizza boxes are another unique option you can get to present and deliver your delicious pizzas. The hexagonal shape of the boxes is perfect to help your pizza brand stand out. To make them look more exclusive and branded, you can print your logo or artwork.
Custom Cardboard Pizza Boxes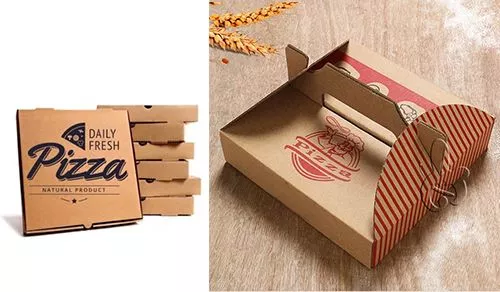 Perhaps cardboard material is the most popular option when it comes to designing pizza packaging. Cardboard is a durable and customizable packaging material that can hold various pizza sizes. Hence, these cardboard pizza boxes can be a great option for you.
Custom Corrugated Pizza Boxes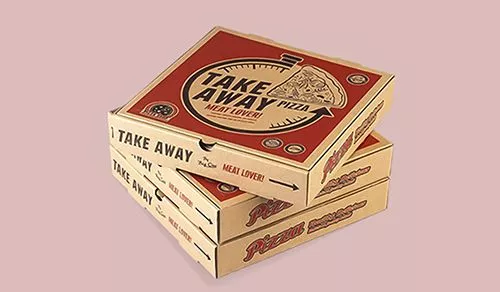 Corrugated material is a sturdy option to ensure your delicious pizza stays fresh during transportation. These corrugated pizza boxes are made with corrugated cardboard to give extra protection for your delightful pizzas.
Custom Disposable Pizza Boxes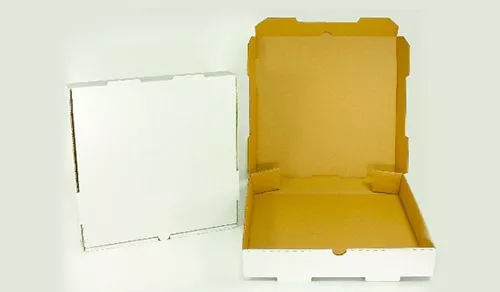 These boxes are all you need to reduce the environmental impact of your pizza business easier. Made from biodegradable materials, these boxes will be a safe option for our healthy environment. In addition, these disposable pizza boxes are available in different sizes. Thus, they will be a great option for takeout or delivering your pizzas.
Custom Holographic Pizza Boxes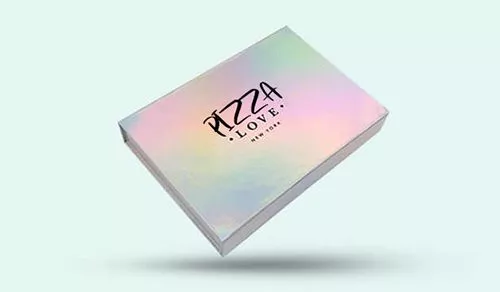 The holographic design of these holographic pizza boxes can really add a trendy touch to your pizzas inside them. Yes, these boxes are designed with a holographic finish. This technique will create an eye-catching effect in customers' eyes. Thus, when you deliver your tasty pizzas with these modern boxes, no customer will ever resist them.
Custom Unique Shaped Pizza Boxes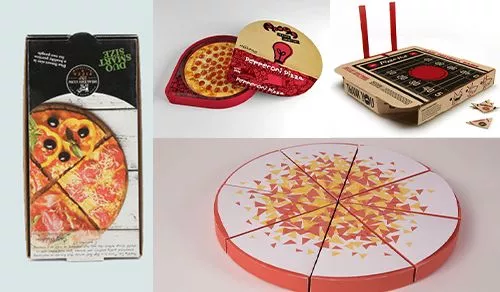 Uniquely shaped pizza boxes always become a great way to help your pizza brand win the market competition. You can design these boxes in any shape you want according to your needs. By making your pizzas look unique and different with these boxes, you can expect to catch more eyes of customers!
Custom Michigan Style Pizza Boxes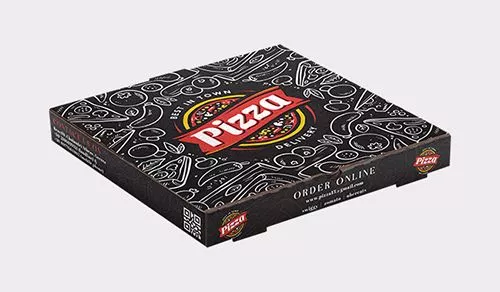 Michigan style pizza is famous as a unique style that is becoming increasingly popular amongst pizza lovers these days. To make your Michigan-style pizzas look more tempting in customers' eyes, these Michigan style pizza boxes are your best tool!
Custom Digital Printed Pizza Boxes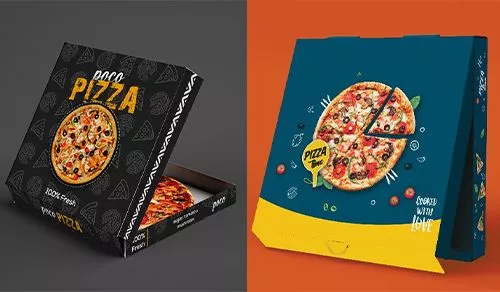 These boxes provide a smart way to showcase your artwork and a stunning logo of your pizza brand. Yes, these digital printed pizza boxes are printed using the most innovative digital printing technology. This printing technique is famous as the best option to ensure that your design will be vibrant and clear. With an innovative digital printing style, these boxes are a great option to promote your pizza brand extendedly.
Custom Corrugated Cardboard Pizza Boxes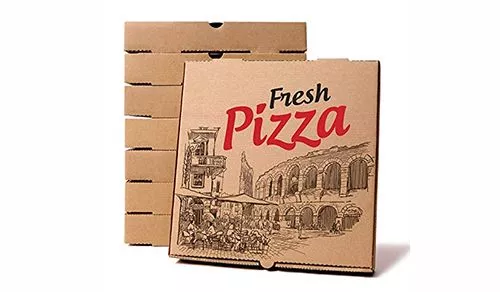 These durable boxes are a sturdy option to ensure your pizza stays in its best taste and shapes all through the delivery journey. These boxes are made with corrugated cardboard, which provides extra protection for your delicate pizza items inside them.
What Factors Should You Consider When Choosing the Right Pizza Boxes?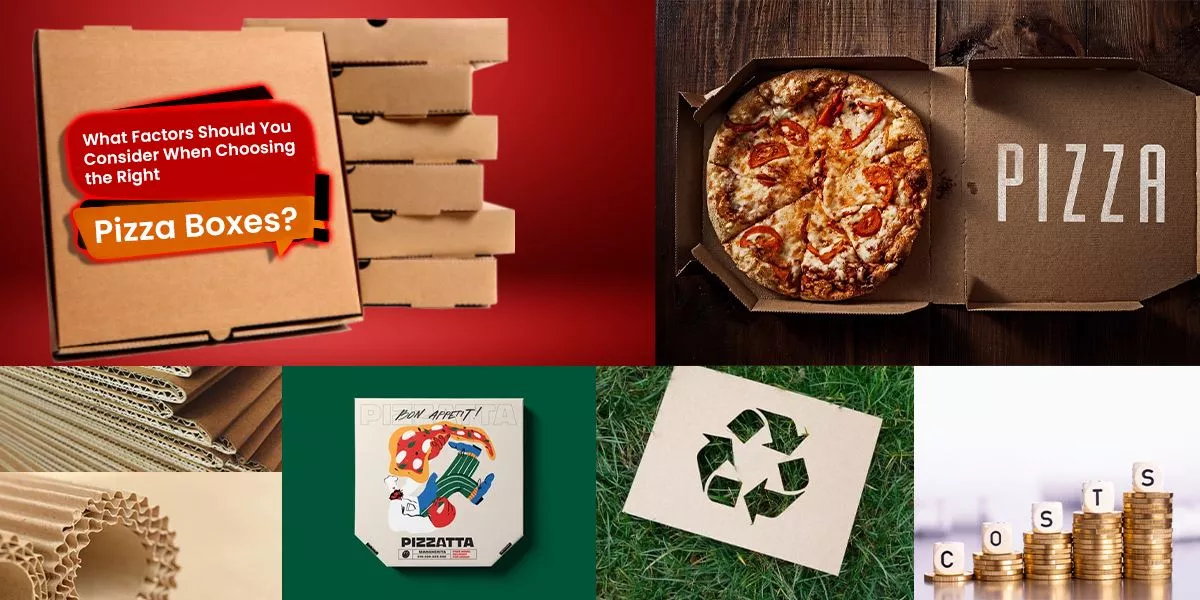 Well, we must say that having the most delicious pizza in town cannot guarantee that you will grab high sales easily. Instead, you will need to present your delicious pizzas in a wow presentation.
Yet, when it comes to choosing the right boxes for your pizza, you should consider some essential factors.
Make sure to get an accurate box size to preserve your pizza
The first and most important thing is to choose a box that comes in the accurate size for your pizza. After all, a box that is too small will only squish your heavenly tasty pizza. Meanwhile, a box that is too big will make your pizza move around and get damaged.
Choose the most suitable packaging material
Of course, there are various materials to choose from including cardboard, corrugated cardboard, and even biodegradable materials. However, keep in mind that the material of your boxes should be suitable for your packaging needs.
Custom pizza boxes with logo or artwork can help to promote your brand. Even better, these boxes will create a professional image for your pizza business. Additionally, you must choose a design that is eye-catching and memorable. Plus, don't forget that your boxes should also be practical for transportation and storage.
We know that customers today are becoming increasingly environmentally conscious. To respond to this, choosing boxes made from biodegradable or recyclable materials is a smart move. With sustainable boxes, it will be easier to appeal to this demographic. Eventually, this effort will help you reduce your environmental footprint.
The cost of your boxes can vary depending on the material, design, and quantity ordered. In simple words, you must focus on your budget. Then, of course, try to choose the most cost-effective options. At the same time, you must get the boxes that meet all your needs and expectations.
Why Should You Choose the Right Boxes for Pizza?
Choosing the right type of boxes for pizza is important for convincing reasons. First of all, the right boxes will keep your pizza fresh and warm all through the delivery journey. We know that this is very essential for ensuring customer satisfaction. Secondly, innovative boxes can improve the overall experience of your customers in enjoying your pizzas.
Additionally, choosing the right boxes can also help to promote your pizza brand extendedly. For instance, custom boxes with your brand's logo can increase brand awareness. Plus, getting the right boxes for your pizzas can help you reduce your business's environmental impact.
Wrapping Up
Without any doubt, yes, you will find unique and creative ideas for pizza boxes in 2023. By choosing the right design and ideas for your business, you can enhance the customer experience. At the same time, you can promote your pizza brand extendedly. Overall, choosing the right custom pizza boxes is essential for ensuring customer satisfaction, enhancing the eating experience, promoting your brand, and having a positive impact on the environment. So yes, it is worth doing!
To get the right boxes for your delicious pizzas, you can contact Silver Edge Packaging today!