Speaking of a delicious and healthy breakfast like cereals, we must admit that many people around the world love them. You will find environmentally friendly customers in this fan club as well. Therefore, you should consider delivering your healthy cereals in recyclable boxes if you are a cereal brand looking to expand your audience's reach. Well, the first question we should answer now is; are cereal boxes recyclable? If they are, how can your brand get the benefits from using recyclable boxes?
Are Cereal Packaging Boxes Recyclable?
Yes, most custom boxes are recyclable, and cereal packaging boxes are no exception. Yet, do note that you can only make the boxes recyclable by using the suitable packaging material. But this is something you should not have to worry about either. Many packaging suppliers will help you out in this case, Silver Edge Packaging is a reliable one you can trust.
The Role of Recyclable Cereal Boxes in Protecting Your Cereals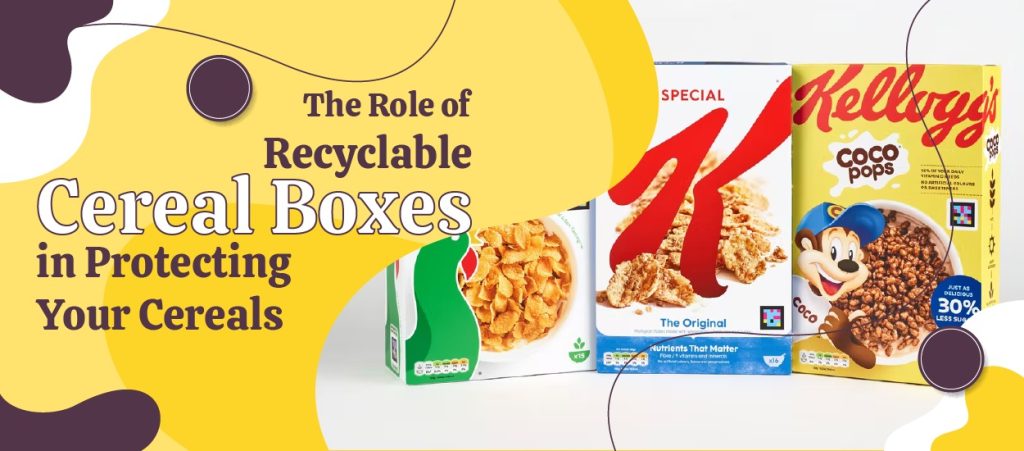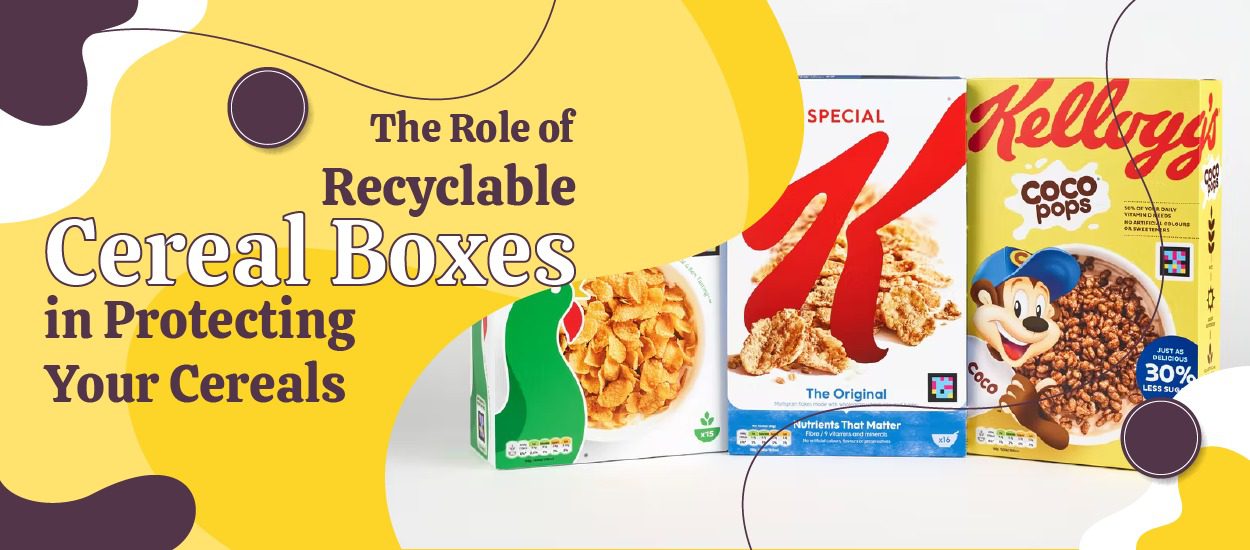 The role of recyclable cereal boxes in protecting your healthy cereals is significant. We know that maintaining the safety and originality of products, especially edibles, is an essential concern of any food brand. Accordingly, we understand that no one likes to eat unhealthy foods that lead to serious health risks. In such cases, recyclable cereal boxes will be ideal. These boxes provide the best protection from the points below.
Weather intensity
Just the same as other food items, cereals are a bit more sensitive. This is why you need to protect your healthy cereals from the weather to maintain their originality. In these situations, cereal packaging boxes from Silver Edge Packaging are the best option. With us, you can get these boxes to be made of the best packaging materials to withstand heat and humidity. This way, rest assured that your healthy cereals will remain safe inside the boxes.
Dirt and unwanted insects
Being one of the favorite morning meals, cereals are related to the health of those who consume them. Therefore, you need to keep your healthy cereals safe from contamination made by dirt and unwanted insects. For this purpose, recyclable cereal boxes will be favorable again. The packaging materials to produce the boxes are dense and fully enclosed. Hence, you can expect no pollutant particle or insect will penetrate the boxes. In the end, your cereals will remain healthy inside.
Fracture
Now let's imagine you are buying cereals for yourself in the market. Then you come across cereals that are badly crushed due to inadequate packaging. Will you even purchase it? Absolutely not.
The same case goes for your market customers. They also want quality and originality. Therefore, you need to pack your cereals in durable boxes. The robust nature of paperboard, cardboard, and kraft paper will resist external damage. At the same time, these packaging materials will help you protect your healthy cereals from damage. As a result, you will enjoy maximum sales and make more profits from these excellent boxes.
The Promising Benefits of Using Recyclable Cereal Boxes
Now that we know the question of "are cereal boxes recyclable" and the role of the boxes, you might be wondering about the benefits of using the boxes. Without any doubt, we all want to get the benefits of every single business activity. So, how about we explore the most promising benefits of using the boxes?
Perform your corporate environmental responsibility
You will be able to reduce the impact on the environment by incorporating eco-friendly materials into your cereal boxes. Well, choosing eco-friendly materials to produce the boxes can positively impact your reputation. How?
You are surely well aware that modern customers are always interested in environmentally friendly lifestyles. In fact, the most important consideration you should do when designing the boxes for your cereals is the impact on global health.
Working with a professional packaging company like Silver Edge Packaging can enjoy multiple options when designing your cereal packaging boxes. Even better, your custom boxes will help to increase your product visibility. In the end, you can also boost business profitability in this highly competitive commercial market easily. Well, this factor alone can never be ignored.
Cereal packaging boxes make your products more visible
We know that almost every customer is aware and loves to get branded products. In fact, exclusively-designed products will always stay in the heart of customers. Don't forget to mention the fact that some customers can be very loyal to a brand they trust.
In this case, how about taking advantage and increasing your brand awareness? How? By creating impressive packaging solutions for displaying your healthy cereals. Your custom boxes with company logo and marketing slogan will directly send your messages to customers. Recyclable cereal packaging boxes with your logo will showcase your products and brand awareness. The best part is that you can do this without increasing your advertising budget by partnering with Silver Edge Packaging.
Invest in Recyclable Cereal Packaging Boxes Now!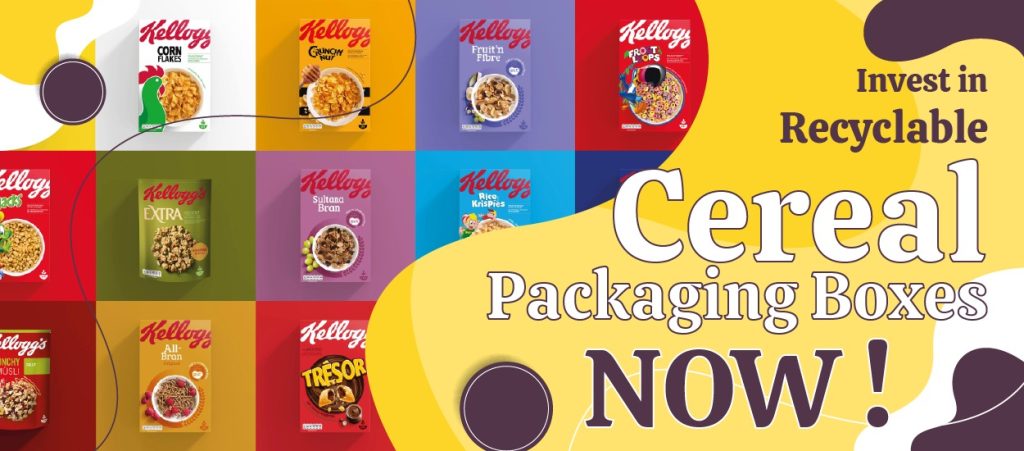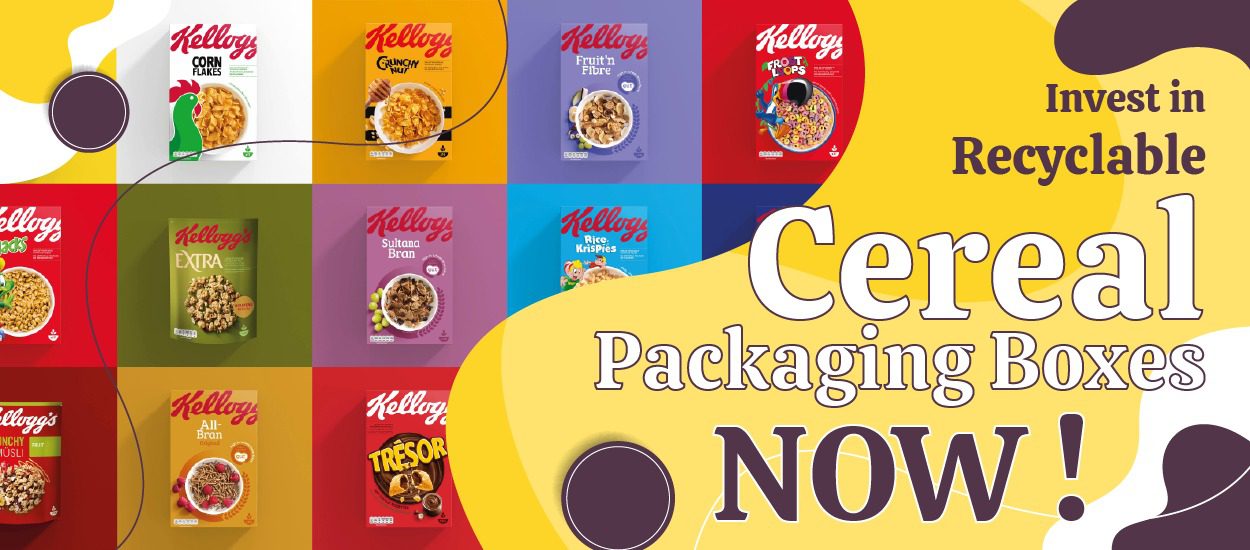 Recyclable cereal packaging boxes will pack your cereals in the most ecologically responsible way possible. Another thing to note is that customers are willing to pay extra for those products packed in eco-friendly boxes. Thus, you wouldn't want to miss the potential to increase your sales with eco-friendly and recyclable boxes.
In addition to selling your products, it is your responsibility as a brand to play an environmental role. Customers will recognize you as a trusted brand by performing your corporate responsibility. So, speaking about investing in recyclable cereal packaging boxes, you can easily do that with the tips below!
Your cereal boxes should be simple
Customers would love it if your cereal boxes were easy to use, handle, and stack. So, make sure to measure the accurate size and shape for your boxes. By doing this, you will also minimize packaging waste. Well, doesn't that sound great?
Make suitable boxes for your cereals
You should always go for the boxes that suit or ideally develop your product visibility. Cereals come in a variety of flavors. If you are selling cereals for kids, you need to make the boxes appealing enough for both the kids and their parents. At Silver Edge Packaging, we allow you to use different themes for each product category.
Remember to provide the correct product information
Actually, this is the most important consideration in any packaging design. You need to provide important product and brand's information on the boxes. Accordingly, customers want to know as much as possible about cereals before making a purchase.
So, make sure you would provide these details below:
The product's name
The health benefits
The list of ingredients
Your contact details
Make sure you will convince those customers that your cereals are suitable for their needs. To get better results, you can also mention why your cereals are superior to others. You should also consider providing storage recommendations.
Apply a unique design that matches your brand's identity
To grab maximum attention, you need to pay attention to the design of your recyclable cereal packaging boxes. At Silver Edge Packaging, you can make some modifications on the design. For example, the colors and fonts you choose for the boxes should be compatible with your company's images.
Those customers will identify your products based on the design of the boxes. This is eventually a free marketing tool that you can use to promote your cereal brand as well.
Design durable boxes
Every single brand wants to reduce the cost of its product packaging without sacrificing the quality of the material. This is where you need to consider durable boxes to protect your cereals from water, heat, and moisture. Accordingly, this is where you need to work with professionals at Silver Edge Packaging.
You can go with cardboard or corrugated, which are widely used as the trademark in the food packaging industry. Both packaging materials are extremely durable. Additionally, they will provide the necessary protection for your cereals inside against external influences. Do note that your cereal packaging boxes need to provide the best protection for your healthy cereals.
Personalize your recyclable cereal boxes to appeal to customers
Personalizing your boxes is the smartest approach to make your customers feel appreciated and special when purchasing from you. If you are worried about high costs, you can always count on affordable boxes from Silver Edge Packaging.
By personalizing your recyclable cereal boxes, you can achieve long-term customer loyalty.
You can include:
Thank you notes
Special greetings
Discount offers'
Promotional coupons
And more smart options
Yes, many factors can really impact the effectiveness of your boxes. It all depends on how you express your products and brand's image through the design elements.
Wrapping Up
So, are cereal boxes recyclable? Yes, they are, and it is your first duty to have recyclable custom cereal boxes to offer to the market customers. Thus, if you wish to convince environmentally conscious customers, you can design recycled cereal packaging boxes with Silver Edge Packaging!
Have a great day ahead!