People around the world love to have healthy and delicious breakfasts like cereals. In the same way, clients are more aware of sustainable and eco-friendly packaging. As global warming negatively impacts the environment and health, you should consider cereal boxes delivering your healthy cereals in recyclable boxes if you are a cereal brand looking to expand your audience's reach. 
As you heard, "Sustainability is no longer about doing less harm. It's about doing more good." That's why the first question you should address is; are your cereal boxes recyclable? If they are, how can your brand benefit from using recyclable boxes?
Can we recycle our cereal boxes?
Recyclable materials include everything made of paper or based on paper. The material used to make cereal boxes is another factor determining whether or not the boxes can be recycled. Most cereal box packaging is fabricated from either paper board or Bux paper. Usually, you can recycle them.
In addition, you can order them from 12pt to 24pt paper stock to make them. The more grammage of sheets you will use, the more durable and thicker your box will be.
The Role of Recyclable Cereal Boxes in Protecting Your Cereals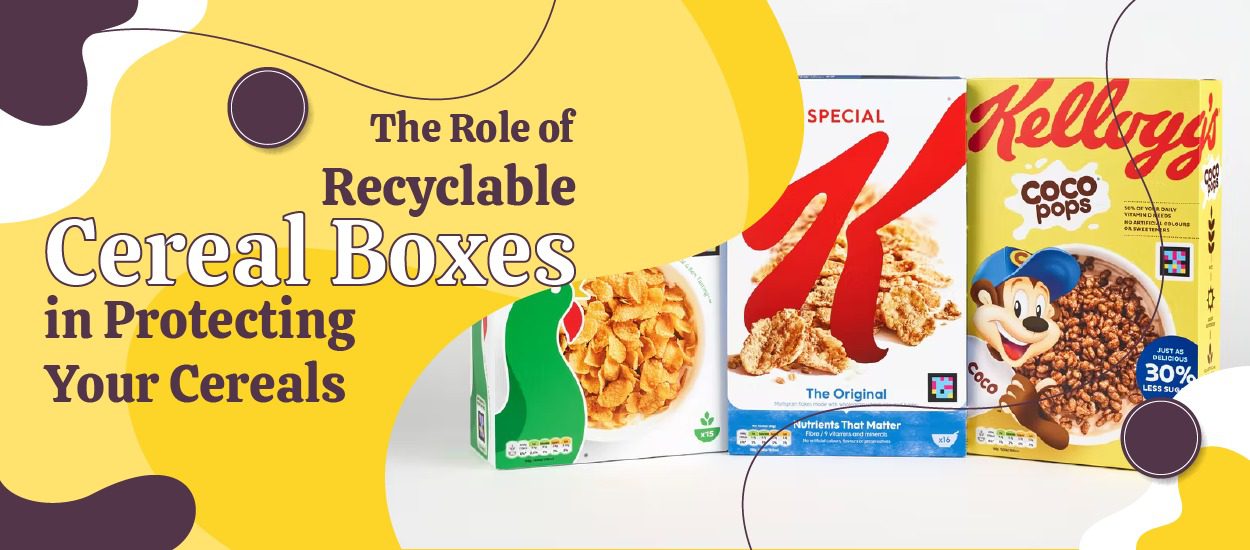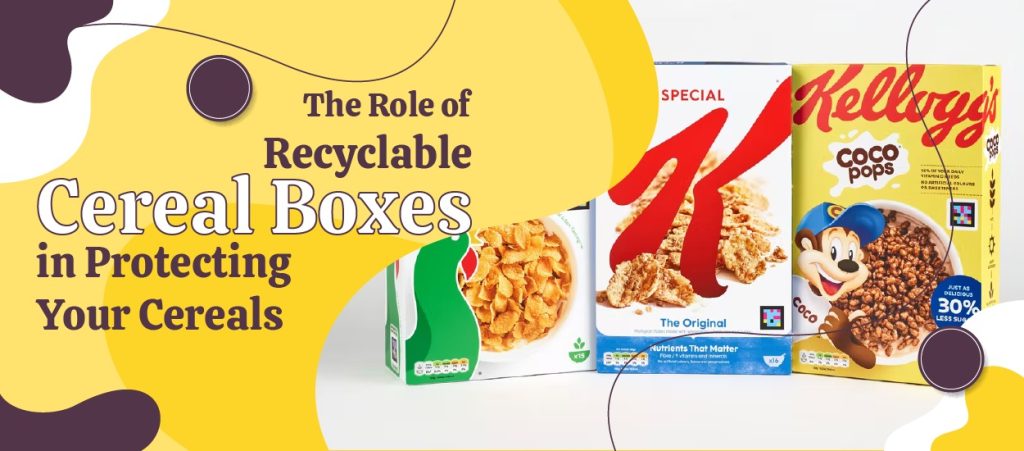 The role of recyclable cereal boxes in protecting your healthy cereals is significant. Being a food brand, you are familiar with maintaining the safety and originality of edible products is a core concern. Because no one will think to buy if you cannot maintain the freshness of your cereals. Thus your cereal packaging boxes act as a barrier to protect the cereal from external elements, which will help to keep them fresh.
Moreover, using recyclable packaging will have a positive impact on the environment. They can be used to create new products. Hence, your recyclable cereal boxes will protect your cereals and the environment.
Weather resistant recyclable cereal box packaging
Cereals are sensitive and stable and need extra care and protection. So, it's necessary to adopt measures to save them from environmental hazards to maintain their freshness and originality. You can use different ways to prevent moisture from seeping into the box and damaging the cereal inside.
Coat your mini cereal boxes with lamination, select matt or Spot UV, or you can choose gloss or semi-gloss options to ensure the protection of your cereals. Also, you can opt for an extensive range of laminations at Silver Edge Packaging. 
With us, you can get these boxes made of the best packaging materials to withstand heat and humidity. This way, rest assured that your healthy cereals will remain safe and fresh inside the boxes.
Dirt and unwanted insects
Cereal boxes are designed to keep cereals safe from environmental hazards, which makes them protect cereal from dirt and unwanted insects. The material used to protect them is sturdy, which keeps grains safe during shipping. 
Moreover, most cereal boxes are designed to be airtight and sealed. It makes them a perfect protector against all factors that could damage cereals, which ensures fresh and safe grain for consumption.
Fracture
Now let's imagine you are buying cereals for yourself in the market. Then you come across grains that are badly crushed due to inadequate packaging. Will you even purchase it? Not.
The same case goes for your market customers. They also want quality and originality. Therefore, you need to pack your cereals in durable cardboard cereal boxes. The robust nature of paperboard, cardboard, and kraft paper will resist external damage. At the same time, these packaging materials will help you protect your healthy cereals from damage. As a result, you will enjoy maximum sales and make more profits from these excellent boxes
The Promising Benefits of Using Recyclable Cereal Boxes
Are you wondering about the benefits of using Recyclable Cereal Boxe boxes? Without any doubt, we all want to get benefits from every single business activity. How about we explore the most promising benefits of using the boxes?
Environmental benefits of recycling
When cereal boxes are recyclable, it means they reduce waste material. Eventually, it minimizes the requirement for raw materials to make new boxes. In addition, it will help to preserve natural resources that will reduce pollution. It will therefore help us to play our role toward the environment.
Economic benefits of recyclable cereal boxes
Recycling cereal boxes will reduce the cost as making new boxes is costly and increases the demand for raw materials. Recyclable cereal boxes offer environmental benefits by decreasing waste, saving natural resources, reducing energy consumption, reducing pollution, and creating jobs.
Reclosable Cereal Box Packaging
Resealable packaging is any packaging that allows the consumer or user to reseal or replace the packaging. Packaging often needs to be resealed to maintain product freshness or prevent spillage. Reusable packaging allows for multiple uses, which can help reduce waste.
Minimalistic and functional cereal box packaging
Minimalistic and functional cereal box packaging is also eco-friendly and aesthetically pleasing. You can recycle this packaging as well. It is the most demanding and popular design. People love to buy unique designs and functional packaging that they could reuse for other purposes. Bux board, Kraft paper, or paperboard is used to make such packaging more durable.
Are Cereal Boxes Compostable?
Composting is an eco-conscious way to enrich the soil with nutrients. You can recycle and compost cereal boxes for proper breakdown. In addition, these boxes are a great way to promote environmentally and sustainable packaging.
Cereal packaging boxes make your products more visible
We know that almost every customer is aware of and loves to get branded products. In fact, exclusively-designed products will always stay in the heart of customers. Don't forget to mention the fact that some customers can be very loyal to a brand they trust.
In this case, how about taking advantage and increasing your brand awareness? How? By creating impressive packaging solutions for displaying your healthy cereals. Your custom boxes with the company logo and marketing slogan will directly send your messages to customers. Recyclable cereal packaging boxes with your logo will showcase your products and brand awareness. The best part is that you can do this without increasing your advertising budget by partnering with Silver Edge Packaging.
Invest in Recyclable Cereal Packaging Boxes Now!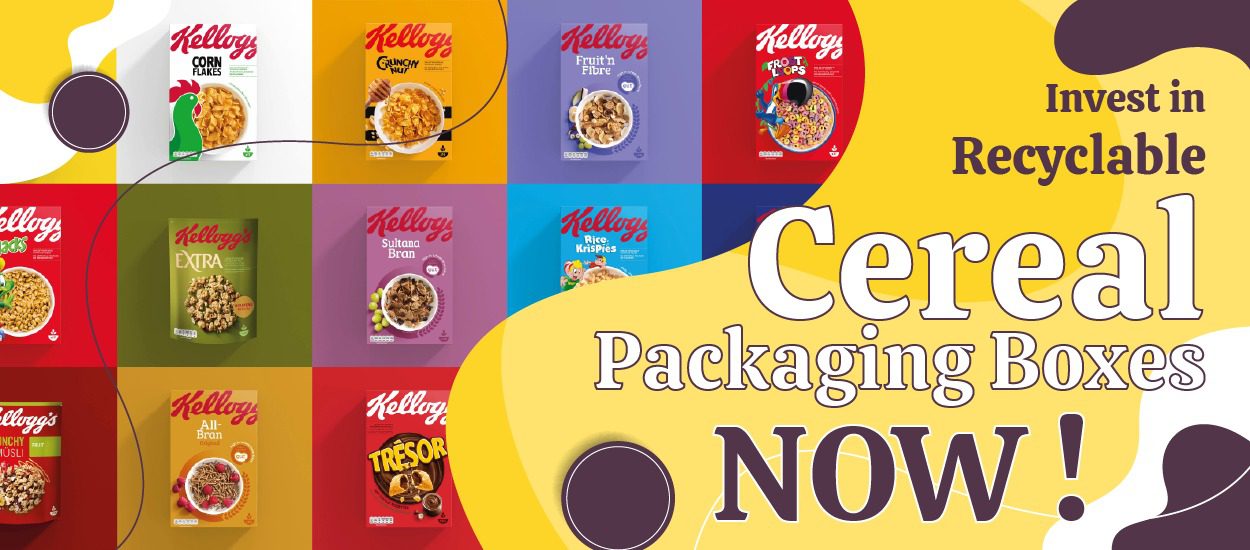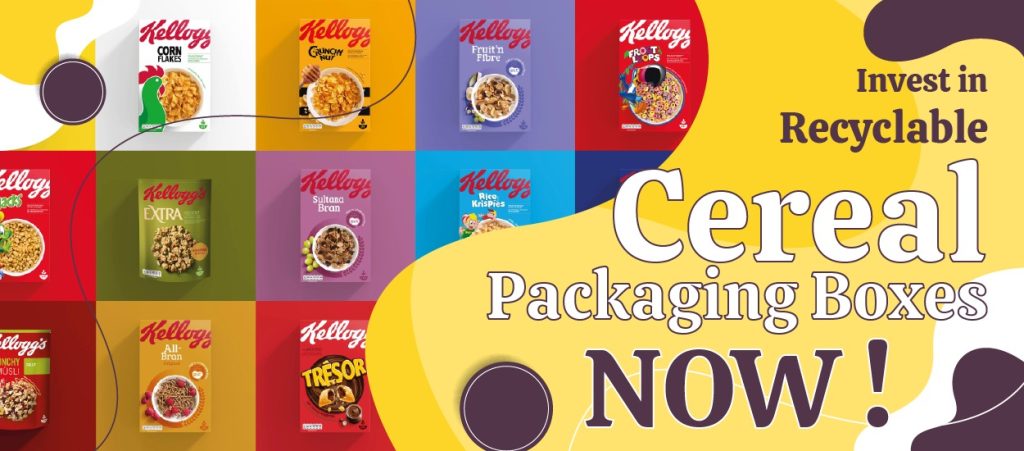 Recyclable cereal packaging boxes will pack your cereals in the most ecologically responsible way possible. Another thing to note is that customers are willing to pay extra for those products packed in eco-friendly boxes. Thus, you wouldn't want to miss the potential to increase your sales with eco-friendly and recyclable boxes.
In addition to selling your products, your brand is responsible for playing an environmental role. Customers will recognize you as a trusted brand by performing your corporate responsibility. So, speaking about investing in recyclable cereal packaging boxes, you can easily do that with the tips below!
Your cereal boxes should be simple
Customers would love it if your cereal boxes were easy to use, handle, and stack. So, make sure to measure the accurate size and shape of your boxes. By doing this, you will also minimize packaging waste. Well, doesn't that sound great?
Make suitable boxes for your cereals
You should always go for the boxes that suit or ideally develop your product visibility. Cereals come in a variety of flavors. If you are selling cereals for kids, you need to make the boxes appealing enough for both the kids and their parents. At Silver Edge Packaging, we allow you to use different themes for each product category.
Remember to provide the correct product information
Actually, this is the most important consideration in any packaging design. You need to provide important product and brand information on the boxes. Accordingly, customers want to know as much as possible about cereals before making a purchase.
So, make sure you would provide these details below:
The product's name
The health benefits
The list of ingredients
Your contact details
Ensure you will convince those customers that your cereals suit their needs. You can also mention why your cereals are superior to others for better results. You should also consider providing storage recommendations.
Personalize your recyclable cereal boxes to appeal to customers
Personalizing your boxes is the smartest approach to make your customers feel appreciated and special when purchasing from you. If you are worried about high costs, you can always count on affordable boxes from Silver Edge Packaging.
By personalizing your recyclable cereal boxes, you can achieve long-term customer loyalty.
You can include the following:
Thank you notes

Special greetings

Discount offers'

Promotional coupons

And more smart options
Yes, many factors can really impact the effectiveness of your boxes. It all depends on how you express your products and brand's image through the design elements. Also, add Barcode to your packaging and offer discounts on scanning that code. In this way, you can bring your potential customers to your website and social platforms. Where you can offer them different products and offer bundles as well.
Conclusion
Cereal brands need to consider the use of recyclable packaging for their products. Custom wholesale cereal boxes made of paperboard or bux paper are generally recyclable, and brands can choose from a range of paper stock options to make their boxes more durable and weather-resistant.
Recyclable cereal boxes play a significant role in protecting cereals from environmental hazards such as moisture, dirt, and insects. Using sturdy packaging also ensures that cereals remain undamaged during shipping. 
The benefits of using recyclable cereal boxes include environmental and economic benefits, as they reduce waste, save natural resources, and decrease energy consumption, among other advantages. 
Additionally, recyclable cereal boxes can be composted for proper breakdown, and brands can use them creatively to enhance product visibility. Investing in recyclable cereal packaging boxes can increase a brand's customer reach and promote environmentally responsible packaging practices.