Whether you are a new business venture or already running a food business. You better know how important it is to stand out in the crowded and challenging market. That's why you need to help your food business to grow more. For this, you need to reach your target audience with the truthfulness of your brand. In this situation, food packaging bags become a part of your overall marketing plan. These bags are important when you present your edibles to the market. In fact, these bags will also help increase transparency during the sales and delivery stages. More than that, let's discuss how these bags will turn out to be a favorite for many food brands.
Food Packaging Bags and Branding
It is no longer accepted to deliver products in unbranded or generic box packaging. The client of this era is more aware and educated. As the internet has made the world a global village so customers are just a click away from plenty of information. At the same time, the impression of your company matters.
It's unfortunate that your food goods only get one chance to attract consumers. So, let's go into detail on what is really important about food packing boxes.
Silver Edge Packaging offers Food packaging bags that are incredibly affordable to impress your customers. Even better, you can use these bags to:
Maintain word-of-mouth promotion for your brand

Support in social sharing
Improve brand loyalty
Increase sales
You can use different materials for your food packaging boxes including paperboard, corrugated stock or mylar bags. Your business's food packaging boxes can do more than just keep food. For example:
A direct advertisement and statement of your brand
An opportunity to build strong connections with customers
A chance to inspire and delight customers

How to inform consumers about your food and brand?
In other words, paper food bags can play an important role in the success of your brand.
Why Should You Use Paper Food Bags Instead of Standard Bags? And how paper food packaging will be beneficial for your business?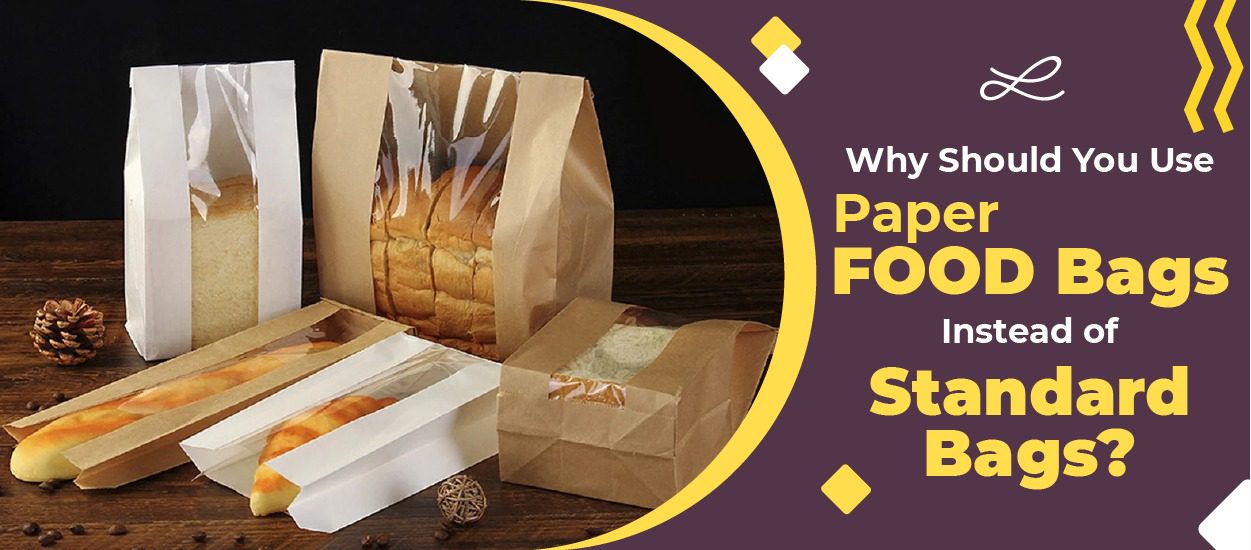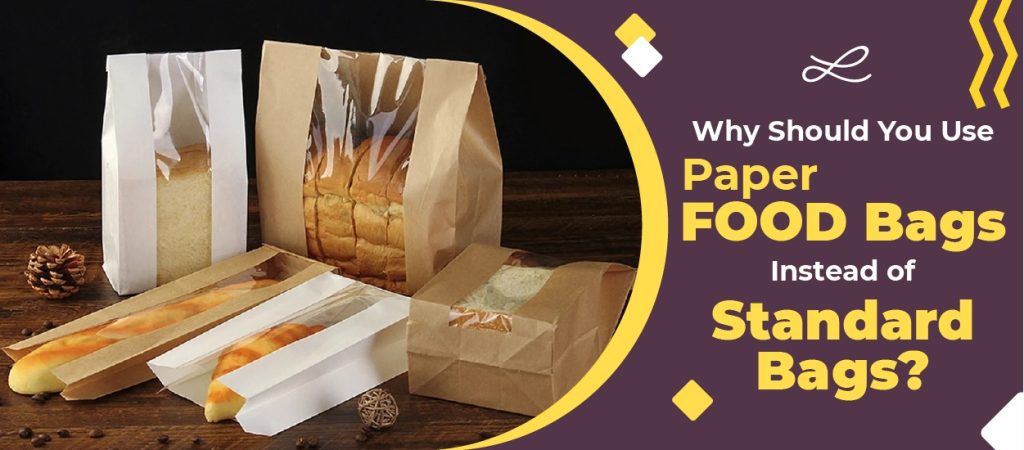 Below are some reasons you would love to know.
Food Packaging Bags Protect and Improve Brand Image
First and foremost, these bags support your brand while protecting your food. In short, these bags can act as:
Having your food products properly packaged can help them stay fresh for longer

Perfect waterproof shields for food items that might leak or spill during shipping

Increase product shelf life
Creating your custom printed bags at Silver Edge Packaging will give you additional protection for your food items. Most importantly, these bags will help improve your brand image in front of your target customers. 
Enhancing Product Durability and Reputation of your brand
We know that almost every customer in the world is aware of branded products. In fact, these products always win the heart of customers without any hassle. In addition, many customers can be very loyal to the particular brand they love. 
Food packaging bags printed with your company logo and other pertinent details of your company will deliver the right messages to your customers. Even better, these bags will do wonders to showcase your food items and enhance brand awareness. Still, you can do this without increasing your advertising budget either. Well, doesn't that sound great?
Help to Reduce the Shipping Cost
Paper food bags are light weighted and reduce the shipping cost.In addition, these bags will protect your delicate edibles from damage on their way to their final destination.  
When you order fast food packaging bags from Silver Edge Packaging, you are free to customize them as you want. Which means that you are free to decide the amount of material you need to use to produce the bags. By doing this, you will then be able to reduce the material costs. Reducing the shipping charges can help your brand to save a lot of money for a whole year. That will keep your financial matters on track.
Eco-Friendly Food Bags Benefit Business and Planet
You can contribute to a safe environment by using eco-friendly packaging for your food items. Apart from this, another obvious benefit to saving our planet. It will enhance the image of your brand as well.
Being a responsible brand you must play your role towards a safe land. Majority of global users prefer to buy environmentally friendly packaging. So, using eco-friendly packaging will allow you to address their core concern.
Moreover, you can use it as an edge of marketing by working with professionals. With Silver Edge Packaging, you will have a variety of options to design your eco friendly bags. Even better, these bags will help to increase your visibility and profitability in this highly competitive commercial market.
Food packaging bags are a valuable investment 
Of course, exclusively designed food packaging bags are often more expensive than standard bags. On the other hand, the benefits you can get from using these lovely bags are countless and tremendous. Even small food businesses can grab all the benefits that these excellent bags offer. At the end of the day, you will surely find these bags more cost effective than those generic bags.  
Just imagine the stylish printing options to unique textures, shapes, and designs of the bags. All will help you deliver a memorable first impression. Custom printed bags offer what those standard bags cannot afford. Most importantly, food packaging bags will take your food items and brand to another level. Well, this aspect alone is worth the additional investment.
Tips to Design Your Food Packaging Bags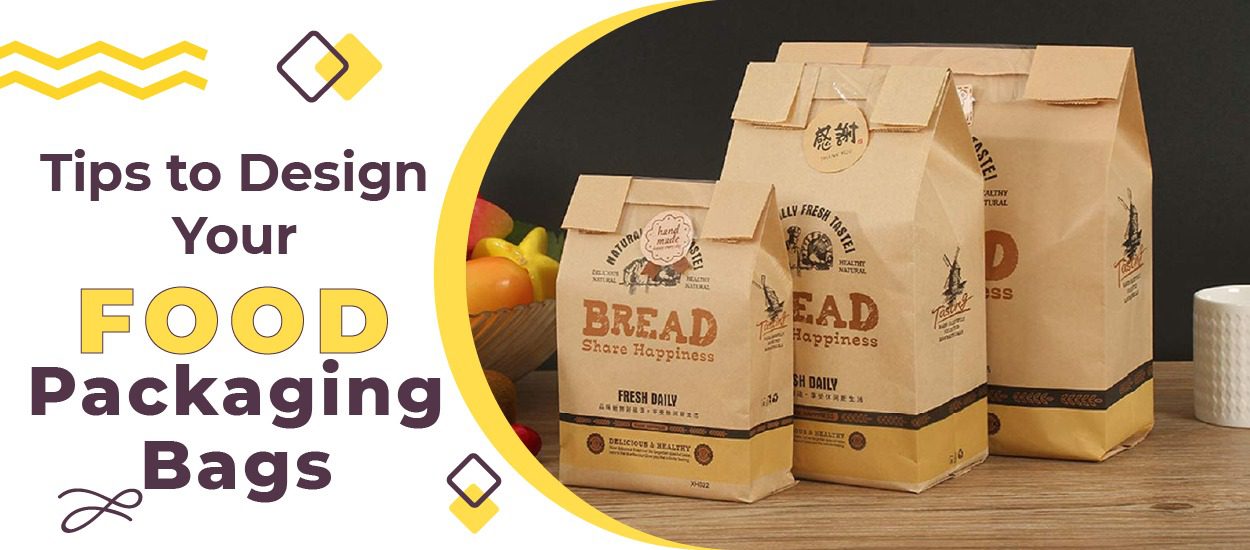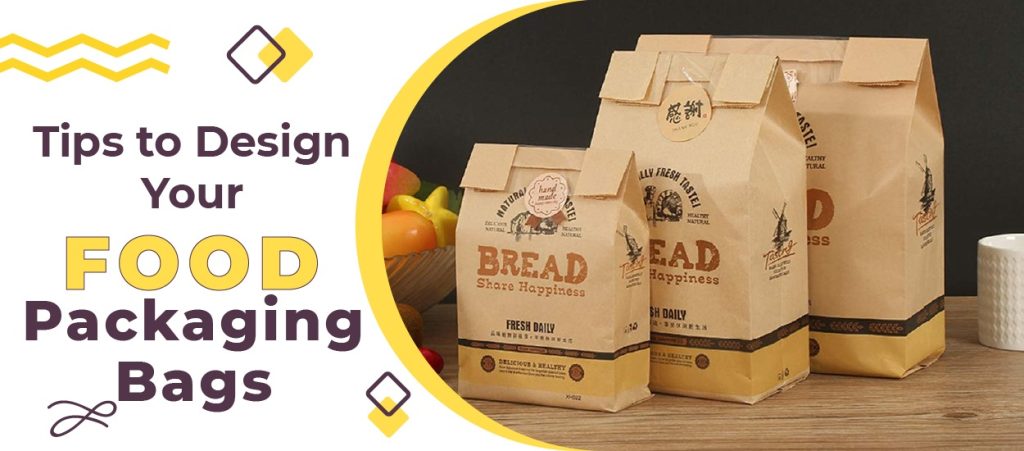 Now you are surely getting excited about designing the right food packaging bags to complement your edibles. Let's get started!
Know your food items
Before designing the right bag, you will need to know your items correctly. For example, cereals are one of the sensitive foods that can be spoiled due to environmental problems. The challenge will even get intensified when you need to deliver your healthy cereal to your customers' doorsteps. Yes, inadvertently packing cereals can make your transportation journey a nightmare. Measuring the correct size and dimensions of the bag is essential for safe shipping.
Thus, you will need to know properly about:
The measurements your bag should be

How big or

small should your bag

be to protect your food item during transit?

How durable are the paper food bags in transit?
If you are familiar with your food items, you can decide which appropriate packaging material to choose. In addition, a perfectly sized bag ensures your product's safety.
Understand your target market
Here, understanding your market means that you should be familiar with your target customers. Of course, you will need to see what your brand competitors are doing in this competitive food market. By doing this research, you can promote and sell your food items perfectly to the target audience.
This means knowing and understanding your target customers, such as:
What do these customers want from your food brand?
How would your customers like to see your food packaging bags?
See what your competitors are doing
In searching what your other brand competitors are doing to promote and sell their food items, you would need to get the results of some points. What are they?
How do they pack and deliver their food items?  
Do your competitors use standard bags or custom printed bags for their food items?
Do you need to design your paper food bags with your brand theme?  
Conclusion
Food packaging bags are an essential part of any food business. These bags not only keep food fresh and protected but also help in branding and advertising. Using paper food bags instead of standard bags provides several benefits like enhancing brand image, improving product durability, and reducing shipping costs. Moreover, eco-friendly food bags also benefit the planet and enhance brand reputation. Investing in custom printed bags can give your food business a memorable first impression and take it to another level. It is important to design the bags according to the requirements of the food items to ensure their safety and quality during shipping and handling. Overall, food packaging bags are a valuable investment for any food business, big or small.