In case you are a startup or run a small food business, you know how important it is to find a prominent way in a crowded market. Accordingly, you need to help your food business achieve more. Notwithstanding, you will need to reach your target audience with your brand's authenticity. Food packaging bags, in this context, end up being a part of your overall marketing plan. These bags are important when you present your edibles to the market. In fact, these bags will also help increase transparency during the sales and delivery stages. More than that, these bags turn out to be a favorite for many food brands. But what are the reasons? Let's dive into it.
What Are Food Packaging Bags?
The days of packing and delivering your food items to customers in unbranded boxes are over. In this modern business world, we know that first impressions are important, whether you want to admit it or not. The difficult fact is that your food items will never get a second chance to impress your customers with a great first impression. So, let's describe more about the real meaning of food packaging bags.
Food packaging bags offered by Silver Edge Packaging are an incredibly affordable way to impress your customers. Even better, these bags will help you:
Maintain your brand's impression of word-of-mouth marketing
Support in social sharing
Improve brand loyalty
Increase sales
Well, that was a brief definition about what food packaging bags are. Yet, it seems that it doesn't explain why many brands in the food industry have been using the bags. Well, we can say these bags can go far beyond the material of printed paperboard. Instead, these bags have the ability to perform more miracles, such as:
A direct advertisement and statement of your brand
An opportunity to build strong connections with customers
A chance to inspire and delight customers
The right way to educate customers about your food items and brand
In other words, we can confidently say that paper food bags can play an important role in the success of your brand.
Why Should You Use Paper Food Bags Instead of Standard Bags?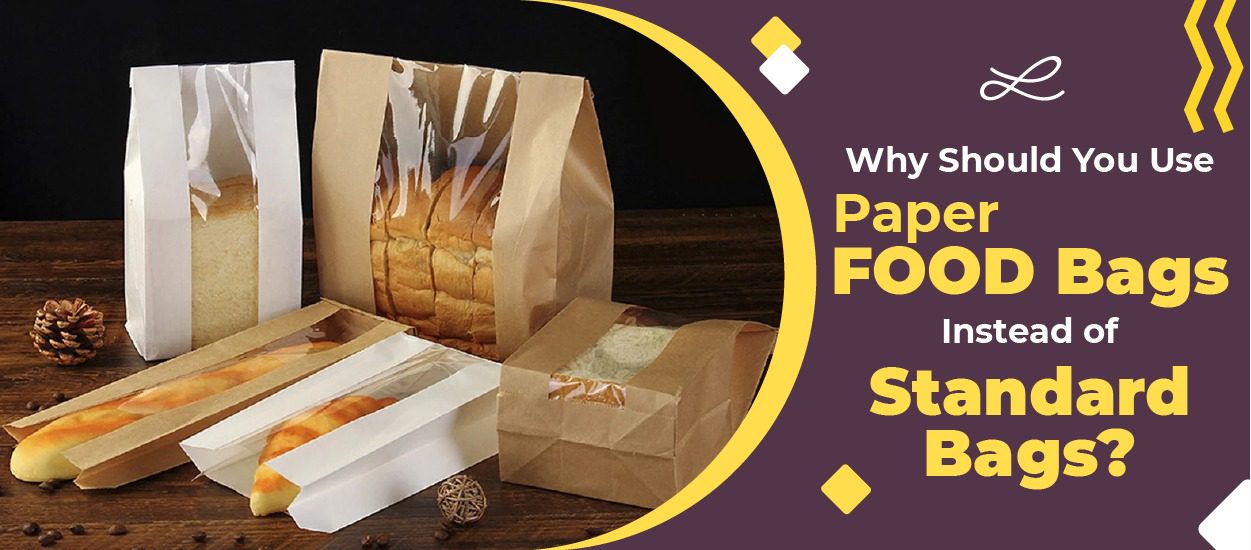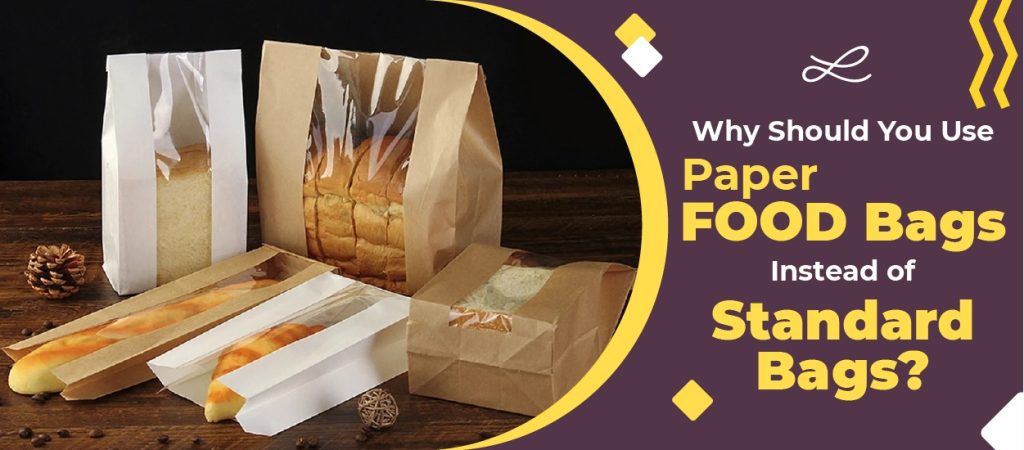 Speaking if food packaging bags, you surely want to learn more about the reasons why many food brands use these bags. So, why should your food brand use paper food bags? Below are some of the convincing reasons you would love to know!
Provide additional protection for your food items
The first and perhaps the most significant reason your brand should use these bags is that they provide additional product protection. In short, these bags can act as:
Proper product packaging to keep your food items fresh
Perfect waterproof barriers for food items that might spill or leak during transit
Help to maximize your products' shelf life
By creating your custom bags at Silver Edge Packaging, you will get additional protection for your food items. Even better, you would be able to reduce any potential damage to apper. Most importantly, these bags will help improve your brand image in front of your target customers.
The best way to increase product visibility in front of your target customers
We know that almost every customer in the world is aware of branded products. In fact, these products always win the heart of customers without any hassle. In addition, many customers can be very loyal to the particular brand they love. Food packaging bags printed with your company logo and marketing slogan will deliver the right messages to your customers. Even better, these bags will do wonders to showcase your food items and enhance brand awareness. Still, you can do this without increasing your advertising budget either. Well, isn't that sound great?
Help you reduce the shipping costs
Paper food bags that are designed exclusively for your items will require cheaper and less material. In addition, these bags will protect your delicate edibles from damage on their way to their final destination.
When you order food packaging bags from Silver Edge Packaging, you will get the chance to customize the bags. This simply means that you are free to decide the amount of material you will need to use to produce the bags. By doing this, you will then be able to reduce the material costs you have to pay. Reducing the shipping charges can help your brand to save a lot of money for a whole year.
Paper food bags improve environmental responsibility
You can reduce the environmental impact of your food brand by using eco-friendly to customers. Apart from this obvious benefit to saving our planet, using these bags will let you impact your brand's reputation. How is that?
Yes, as a responsible brand, the most important consideration when choosing the right product packaging is the impact on global health. Accordingly, we know very well how modern customers are always interested in environmental friendliness. These bags allow you to reach their primary concern.
Well, you can never ignore this aspect. By working with professionals at Silver Edge Packaging, you have a variety of options when designing your paper food bags. Even better, these bags will help to increase your visibility and profitability in this highly competitive commercial market.
Food packaging bags are a valuable investment for small food businesses
Of course, exclusively designed food packaging bags can often be more expensive than standard bags. On the other hand, the benefits you can get from using these lovely bags are countless and tremendous. Even small food businesses can grab all the benefits these excellent bags offer. At the end of the day, you will surely find these bags to be cheaper than those standard bags.
Just imagine about the stylish printing options to unique textures, shapes, and designs of the bags. All will help you deliver a memorable first impression. Custom printed bags offer what those standard bags cannot afford. Most importantly, food packaging bags will take your food items and brand to another level. Well, this aspect alone is worth the additional investment.
Tips to Design Your Food Packaging Bags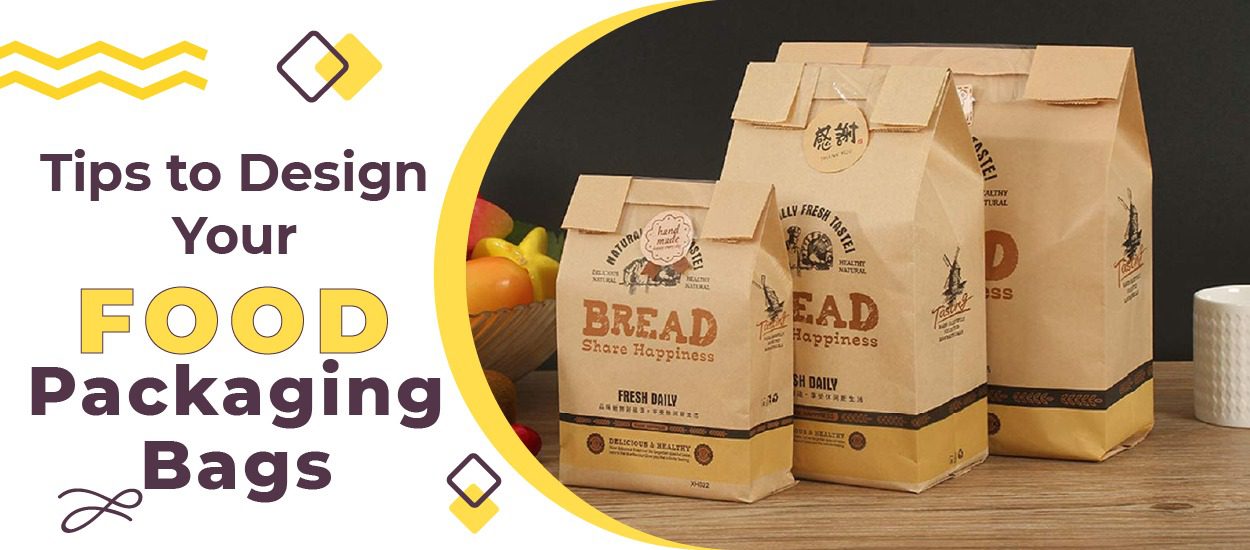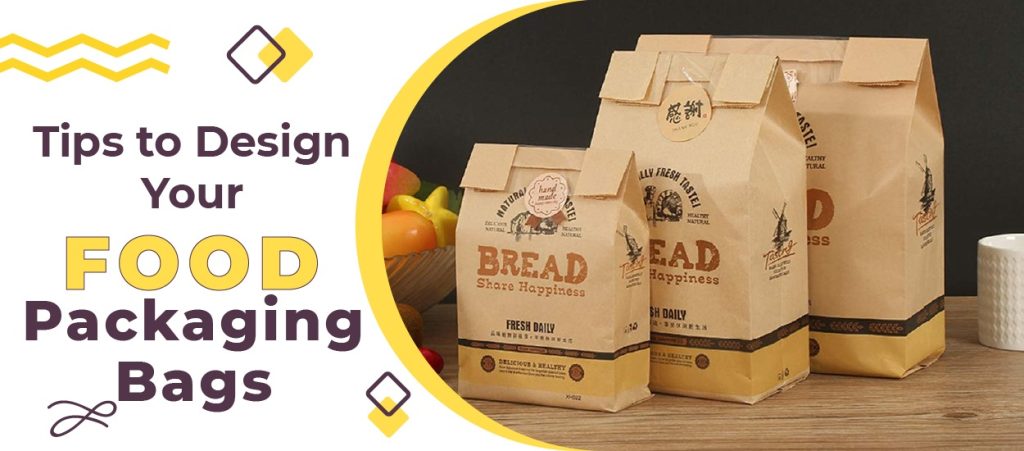 Now you are surely getting excited about designing the right food packaging bags to complement your edibles. Let's get started!
Know your food items
Before designing the right bag, you will need to know your items correctly. For example, cereals are one of the sensitive foods that can be spoiled due to environmental problems. The challenge will even get intensified when you need to deliver your healthy cereal to your customers' doorsteps. Yes, inadvertently packing cereals can make your transportation journey a nightmare. Measuring the correct size and dimensions of the bag is essential for safe shipping.
Thus, you will need to know properly about:
The measurements your bag should be
How big or small your bag should be to protect your food item during transit?
How durable are the paper food bags in transit?
If you are familiar with your food items, you can decide which appropriate packaging material to choose. In addition, a perfectly sized bag ensures your product's safety.
Understand your target market
Here, understanding your market means that you should be familiar with your target customers. Of course, you will need to see what your brand competitors are doing in this competitive food market. By doing this research, you can promote and sell your food items perfectly to the target audience.
This means knowing and understanding your target customers, such as:
What do these customers want from your food brand?
How would your customers like to see your food packaging bags?
See what your competitors are doing
In searching what your other brand competitors are doing to promote and sell their food items, you would need to get the results of some points. What are they?
How do they pack and deliver their food items?
Do your competitors use standard bags or custom printed bags for their food items?
Do you need to design your paper food bags with your brand theme?
Wrapping Up
Whether you need to pack cereals, groceries, or other food items, food packaging bags will classify products into their own class. In addition, there will be some other considerations such as custom design, minimum order quantity, modern printing style, and more. Yet, whether you are getting these excellent bags for the first time or not, Silver Edge Packaging will love to help you out. Call us! We have years of experience in manufacturing custom printed bags for companies in all industries. We can provide the proper packaging and printing solution for your business needs.