Perfume today turns out to become an integral part of luxury cosmetics. The reason is quite obvious; perfume comes with a stunning fragrance and lovely packaging style. People use perfumes to strengthen their confidence and personality. As a perfume brand, you need to attract customers to your perfumes. You need the perfect packaging that differentiates your brand from others to do this. This is where luxury packaging boxes for perfume play their role. These boxes have wonderful ways to help your branding strategy. Let's dive in!
What Do Luxury Perfume Packaging Boxes Offer?
Luxury perfume packaging boxes allow you to offer your customers a variety of unique and customized solutions. These can be further developed into various product categories and your brand logo. Whether you need simple, minimalist packaging, or perhaps you want to get a more complex design with internal and external design elements. In any case, Silver Edge Packaging can help you design luxury packaging boxes for perfume to meet all your needs.
To convince you more, check out below for the ways these boxes help in your branding strategy.
Luxury Packaging Boxes for Perfume Provide Ultimate Product Protection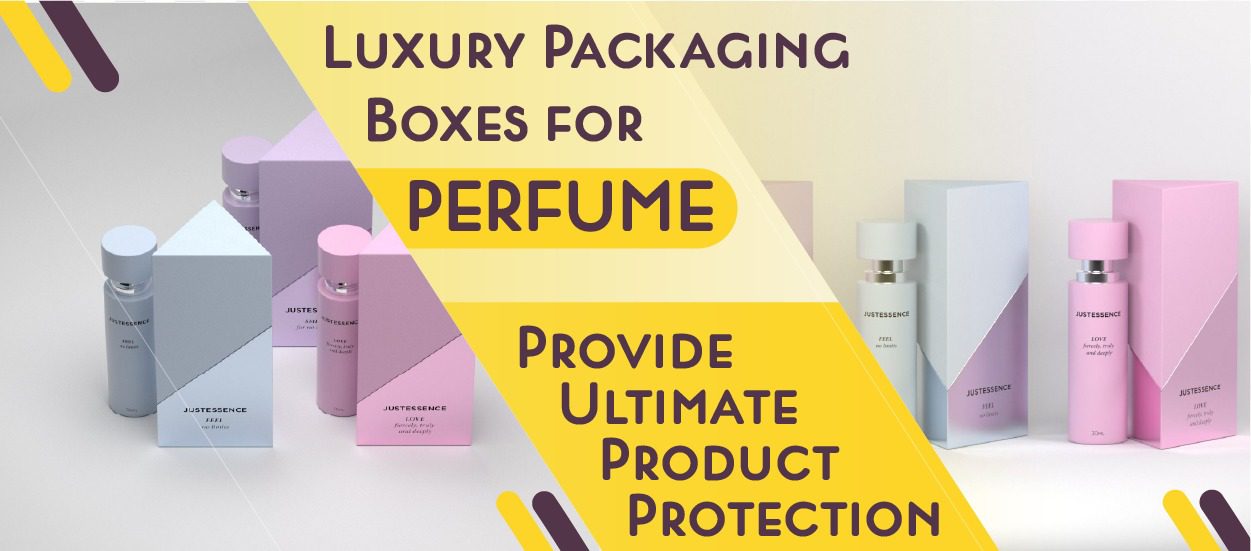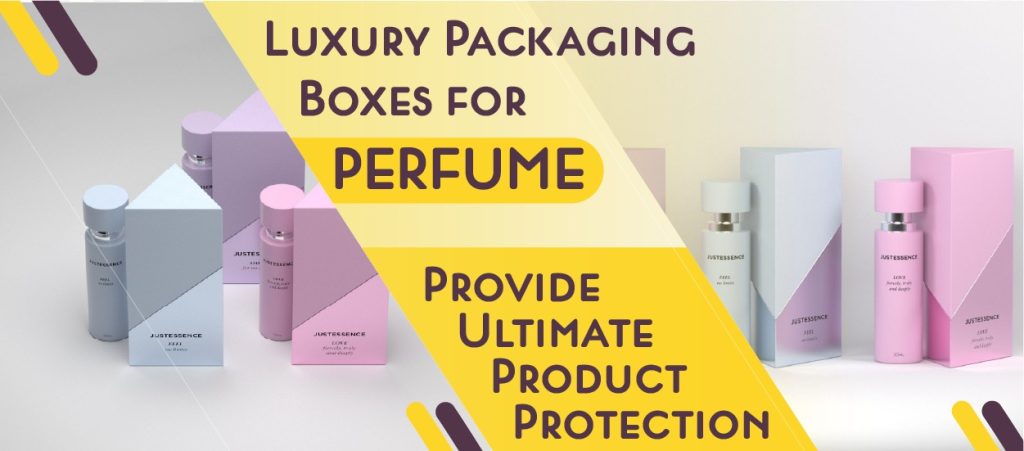 Luxury packaging boxes for perfume guarantee the safety and protection of your fragile perfume bottles. In this regard, you will need to choose high-quality product packaging materials. Proper packaging provides ultimate support and security for delicate perfume bottles. In simple words, you will need to design your perfume packaging efficiently.
Cardboard material will be solid and durable enough to protect your perfume from the harmful environmental effects that can damage it. Or else, you can also go with rigid packaging material as the best choice to provide a touch of luxury and elegance.
Meanwhile, corrugated will be your best option when you need to transfer your perfume from one place to another. Using this material to produce your boxes will not have to worry about getting your perfume displaced. These defensive perfume packaging boxes will secure your products during shipment.
Custom Perfume Packaging Comes in Various Unique Packaging Styles
We know that every perfume is different. Additionally, each perfume comes with its specific properties, such as the shape of the bottle and fragrance. For this reason, every perfume needs to have custom perfume packaging.
By getting full customization options from Silver Edge Packaging, you can change the design of your luxury packaging boxes for perfume. You can design the boxes according to your product specifications and types and give them your own style.
A fascinating presentation of your perfumes will give your brand an edge over other brands. Eventually, you can make your perfumes look more attractive by displaying them in luxurious boxes. In short, the packaging with great design and style will easily attract target buyers to your perfumes.
Some of the most famous styles you can choose from for your perfume packaging boxes are such as:
Tuck end box
Drawer style box
Pyramid style
Window style
Hexagon style
And more other options
Eco-Friendly Perfume Packaging Helps To Save Nature
Today, we can see that eco-friendly product packaging is in high demand in the market. Accordingly, the eco-friendly customer base prefers nature-friendly perfume packaging. You can create this packaging using kraft paper and corrugated paper materials.
There is no doubt that customers today are more interested in custom packaging than ever before. In addition, they are now more aware of the deteriorating effects of pollution and environmental hazards. For this reason, they are heading towards biodegradable and eco-friendly custom packaging boxes. Customers would love your brand more by using eco-friendly and biodegradable packaging for perfume.
If you use eco-friendly packaging materials for your perfume packaging boxes, make sure to mention this feature. Printing this label on your boxes will improve the appearance of your perfumes. Even better, this effort will help you increase brand awareness. As a result, your sales will increase, and your perfume business will grow much faster than your competitors.
Luxury Packaging Boxes for Perfume Serve As Lovely Gifts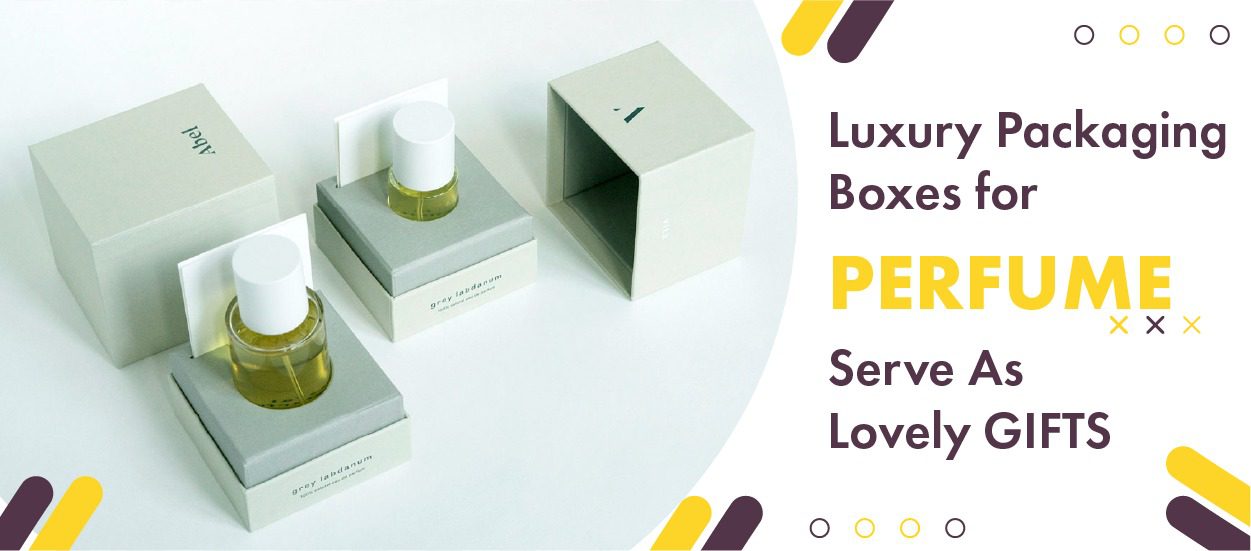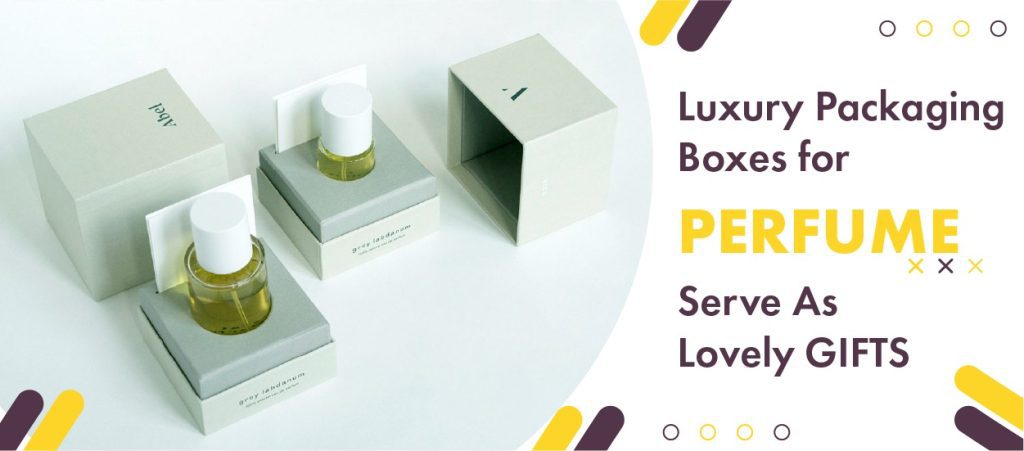 Whenever you start designing luxury packaging boxes for perfume, you must consider that your perfumes are also the perfect gift idea. People love to share perfumes. Additionally, they love to present perfumes as gifts to their loved ones, family, and friends at various events. Therefore, your packaging boxes' eye-catching and attractive design will increase the demand for your branded perfumes. As a result, more people will prefer to purchase your perfumes over other perfume brands. In this regard, remember to create the boxes accordingly.
To grab more attention, you can design your perfume packaging in a way that will win the hearts of your target customers. For example, you can apply a design that matches any particular event. In addition, you can easily achieve your sales goals by customizing your packaging with your customers' tastes in mind.
Achieve Effective Branding and Promotion with Perfume Packaging Boxes
Believe it or not, customers' aesthetics and creativity increase over time. Now they are more aware of the product's creative aspects and its packaging. In fact, they would pay more attention to the details before purchasing any product.
This is one of the main reasons why many perfume brands use the latest technology in their branding and promotion. The most effective way is to promote your brand using your perfume packaging boxes. Not only can this be an innovative method of branding. Far better, this will also be a cost-effective method.
Luxury packaging boxes for perfume can promote your brand very well if you design them with creativity. To brand a perfume through its packaging, you need to include some essential brand details. What are they?
Unique brand logo
Brand Name
Brief product description
Product image
Product name
The list of ingredients
Use instructions and some essential notes
Product expiration date
All these details not only show the information regarding your beautiful perfumes. Instead, they will elevate the appearance of your brand as well. When you provide complete information to your market customers, they will find your brand to be more authentic and professional. In the end, they would prefer to purchase your perfumes whenever they get a chance.
Unlimited Customization Options for Perfume Packaging Boxes
You might hear this many times, but yes, your product packaging is the first thing that communicates with your customers. You can make the right marketing strategies regarding your brand with your product packaging and the customers` response to them.
When it comes to designing perfume packaging boxes, colors play a significant role in setting up the mood of your products. With the increasing competition in marketing and sales, every brand is opting for innovative ways to get quality shades of colors.
These days, perfume brands design their boxes according to different themes trending in the market. With the unification of aesthetic colors and sleek typography, you can get the ultimate stunning designing for your boxes.
What's more, you can also go with vivid and vibrant color shades to get a sparkling appearance of your perfumes. On the contrary, you can also consider the minimalist color palette to provide a soothing and elegant aura to your packaging boxes. Or else, you can also design your boxes according to the ongoing event at any festival. By being creative, you can easily increase sales.
Custom Boxes Are a Cost-Effective Branding Tool
Many brands are inclining towards custom boxes because they have a low budget. The best thing is, that you can get your perfume packaging boxes in bulk at Silver Edge Packaging according to your fiscal situation.
In addition to being high-quality packaging, these packaging boxes will be the most cost-effective branding tool for your brand. Just imagine how much you need to spend on those expensive commercial advertisements. Well, it would not be that much if you would go for custom boxes. By stunningly printing your brand name and logo on the boxes, these boxes will be the best branding tools. What's more, by having these excellent boxes, you can also minimize the production and shipping costs.
In Summary
In summary, you can get unlimited benefits by choosing perfume packaging boxes for perfume. These boxes will not only increase the sales of your perfume brand. More than that, these boxes will also help to make your products stand out in the market.
Silver Edge Packaging offers premium custom packaging boxes with unlimited customization options and innovative printing capabilities. You will get the chance to print your custom boxes by adding luxurious features such as glossy coating and a matte finish. In simple words, you can choose Silver Edge Packaging as the ultimate luxury packaging boxes for perfume.
Have a nice day ahead!