The value of a gift is determined by the emotions it evokes. Accordingly, the packaging boxes that come with the gifts play a great role in making the right impression. Many people appreciate gift boxes because they impress and impact the recipients. On Mother's Day, these boxes turn out to become part of our culture and lifestyle. You can eventually take advantage of this special event as a brand owner. In this post, you will find some ideas to design unique Gift Boxes for Mother's Day.
How Can Gift Boxes Deliver an Unforgettable Impression?
As one of the special events, Mother's Day leaves an unforgettable impression on every one of us. We love our mothers, and each of us wants to present something unique to our beloved mother. So, if you are offering gift items, your gifts can look more memorable in attractive gift boxes. But how do these boxes deliver an unforgettable impression? Let's dive in.
The gifts come in an attractive packaging design that can reflect premium quality. You can make your gift items look more attractive by adding decorative components to the boxes. Or else, you can also personalize your Mother's Day gift bag to impress more customers. In the end, this bag will help you deliver the best unboxing experience to your target customers
What Are the Benefits of Packing with Gift Boxes for Mother's Day?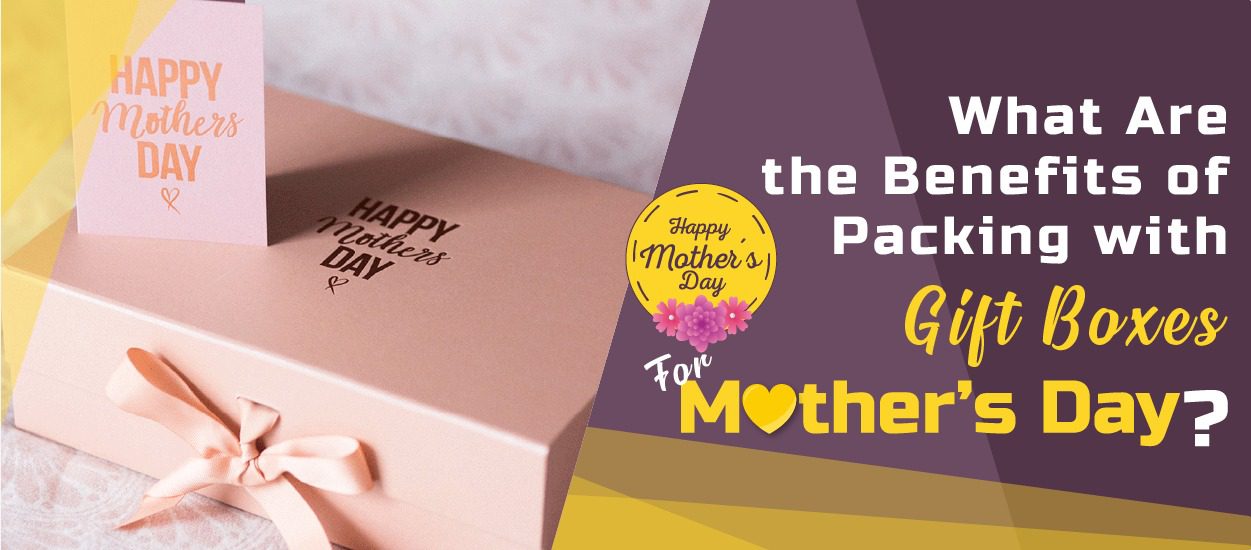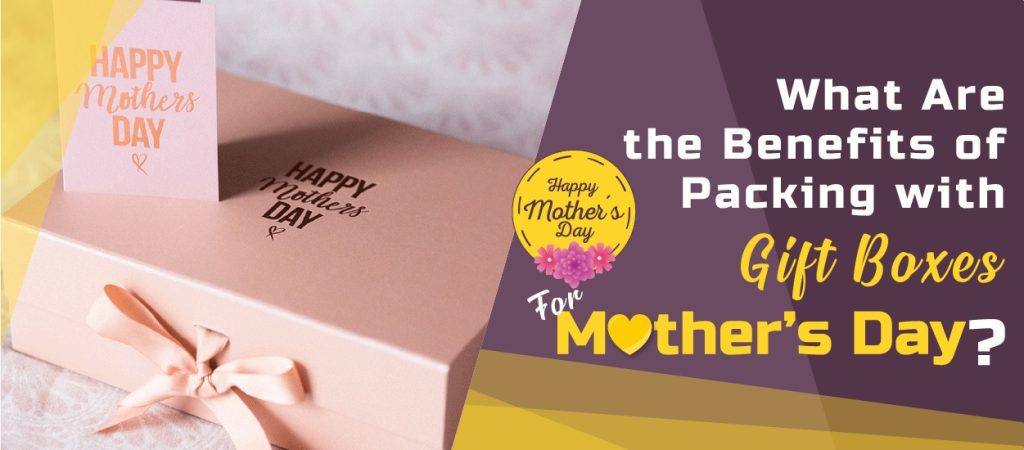 Everyone knows that custom boxes perform many functions. However, only a few brands are aware of the fantastic benefits of lovely gift boxes for Mother's Day. So, let's discuss them!
Provide Maximum Protection for Your Gift Items Inside
Due to their high durability and stability, custom boxes provide excellent protection for the items packed inside. You can design these boxes using customization options. Yes, you can get the boxes designed in a variety of shapes, sizes, and colors.
Custom gift boxes for Mother's Day use this feature to better represent and promote your brand. The materials to produce the boxes make them ideal for delivering your gift items safe and sound. If you are looking for a unique way to wrap your items for this lovely event, these boxes are perfect for you.
You will get the freedom to choose from exceptional materials such as:
Paperboard
Cardstock material
Cardboard material
Kraft material
Rigid material
Corrugated material
Show Personalization for a Special Occasion
A printed Mother's Day gift bag will give your gift a more personal look. The effect of personalizing the bag will eventually enhance the value of your item. In the end, this bag will be something your customers would enjoy seeing and experiencing.
You can personalize the bag by adding the customer's name and lively image. This will make the recipient feel special. As a result, this personalization effort will also help you make an excellent first impression on customers.
Offer Uniqueness and Affordability
If you are new to this gift business, custom gift boxes for Mother's Day can help you establish your own personality. How? By writing your company information and brand logo on the boxes. Another amazing thing from these bespoke boxes is that you can get them at competitive prices. Yet, these boxes will still provide uniqueness and the finest quality for your brand to get.
Step By Step to Design Exciting Gift Boxes for Mother's Day
The beautifully designed boxes speak loud about the items inside. At Silver Edge Packaging, we offer a significant opportunity for you to create gift boxes for Mother's Day. Our team will work closely with you at every step of the design. Additionally, we will assist you in the building process to bring your ideas to life. So, let's go further step by step to design the most exciting boxes for your gift items!
Find the best type of packaging material for your gift items
Whether you need a rigid box for added protection or a cardboard box for minimizing costs and reducing storage space, ensure that your gift items get the best one. You can also consider designing a Mother's Day gift bag to make a huge difference in the market.
Apply your own design
You can apply your authentic design to the boxes by getting full customization options. You will get the chance to apply your brand's theme, colors, and all the branding elements you want. This effort will help a lot in increasing brand awareness.
Choose the finishing option
When you complete the design, you can then move forward to choose the right finishing option. You can go with:
Glossy or matte coating
Soft-touch lamination
UV or Aqua Spot
Gold or silver stamping
Embossing or debossing technique
Of course, leaving your gift boxes unfinished will give them a more natural look. However, completing their look with finishing options will take your gift boxes for Mother's Day to the next level.
Use add-ons
The final step is to use beautiful add-ons and make your boxes look more dazzling. You will find various options for you to choose from at Silver Edge Packaging. You can go with inserts and dividers, or you can also add lovely ribbons to your boxes.
What to Consider When Designing Your Boxes?
When designing your bespoke boxes, there are some things you need to consider. You need to know your audience and the purpose of the gift. You will also need to use creativity and a little storytelling to convey your brand's core message.
Know your purpose
You need to understand the specific purpose of your target audience and send the direct campaigns. For Mother's Day gift bag, your target audience is those customers who want to present gifts to their beloved mothers.
Understand customer expectations
Your customers will always remember how you make them feel. This can turn out to be a big opportunity for you to build trust by fulfilling your customer expectations. This can be through:
Carefully select the finest quality materials
Add personalized notes to complete the package
Show prospects what you care about and that you value their experience
Apply custom graphics
You can add custom graphics to your gift boxes for Mother's Day to get the maximum effect. Leverage the entire space to create eye-catching and striking designs. This effort will let you leave a lasting impression of increasing brand awareness every time a customer sees your gift items. To make the boxes captivating, you can apply vibrant colors, bold prints, stylish typography, and so on.
Add storytelling to your boxes
You can use your gift boxes for Mother's Day to build a strong connection. By having these unique boxes, you can show that you care a lot about your customer experience. Add personal care, the core message of the need to be convenient for everyone.
Or else, you can also grab attention by telling a story of your brand or adding personalized cards for customers.
Consider inexpensive boxes with excellent quality finish
One of the main advantages of using custom gift boxes is to add flair and elegance to your gift items inside. The more beauty and style you add to the decoration of your boxes, the more you can create a neat and elegant box ornament.
Your gift boxes for Mother's Day should be properly constructed by keeping things elegant and simple. On the other hand, the production and shipping costs should also be reasonable. Cardboard material can be your best option to add beauty to your boxes. At the same time, this material will also help to create outstanding and original product packaging boxes.
Shape a Strong Brand Loyalty with Gift Boxes for Mother's Day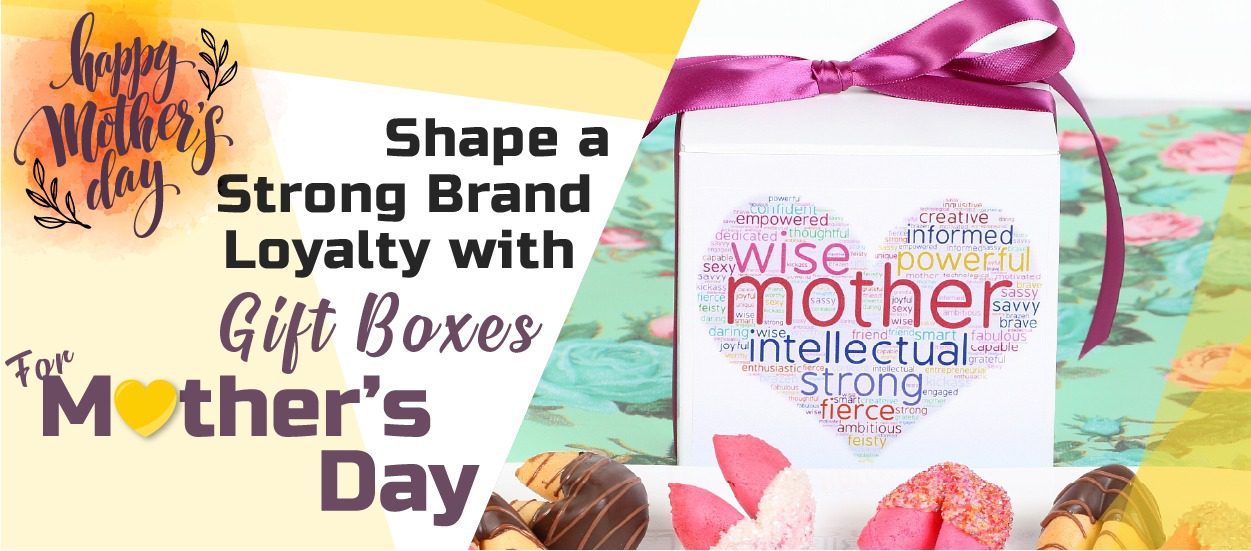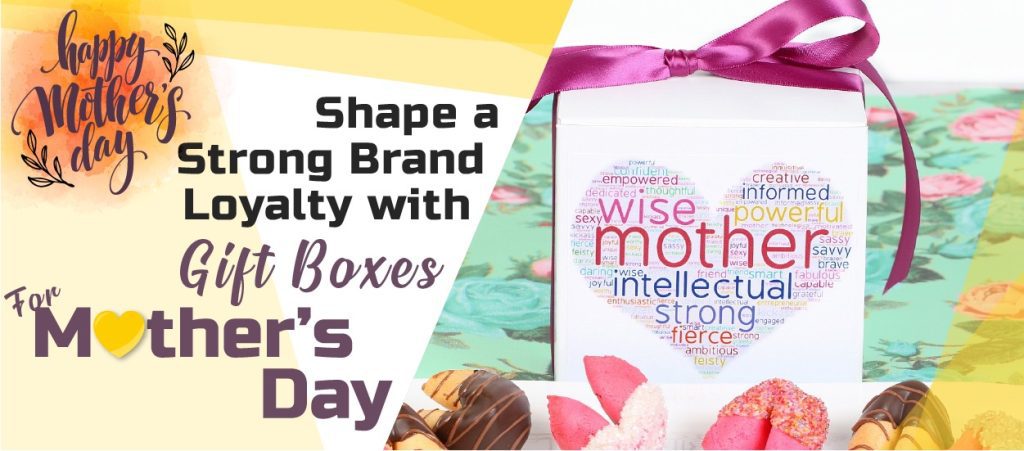 Gift wrapping motivates about 40% of shoppers to make repeated purchases. If you are sincere with how you deliver your items, your customers will come back to your brand.
You can incorporate your branding elements into custom gift boxes for Mother's Day. As a result, they will return to your brand because of their care and their sense of belonging.
Therefore, we can confidently say that it is costly to refurbish many parts of the customers' buying experience. On the other hand, a personalized Mother's Day gift bag adds your imprints and stories to the materials you already have.
Also Think About the Delivery and Handling
Manually ordering, managing inventory, and packaging gift boxes for Mother's Day can become overwhelming. Trying to manage all of this will give a strain if you have limited time and resources. Some small businesses might learn complicated ways.
So, what is the solution?
Partner up with Silver Edge Packaging! We provide the most impeccable seasonal gift boxes that will help you earn more profits in this special event. You will only get top-notch quality custom boxes at the best prices with us. Contact us now!