What Are Some Creative Packaging Ideas for Handmade Soaps?
Handmade soaps are becoming increasingly popular these days. Some reasons for these are they come with natural ingredients and unique formulations. As a result, the market for handmade soaps has grown significantly. Hence, soap makers need to differentiate their products from the competition. One effective way to do this is through creative and attractive packaging. So, do you want to make your handmade soaps look more appealing? Below are some creative packaging ideas you can try!
Why Should We Use Proper Packaging for Handmade Soap?
Have you ever received a beautifully wrapped gift? Obviously, you would have felt that sense of excitement and anticipation as you unwrapped it.
Well, the same idea applies to handmade soaps. Proper custom soap packaging boxes is not only about protecting your lovely soap. More than that, it is about creating a memorable experience for customers.
Picture this: you're browsing through a store, and amongst a sea of soap bars, one stands out with its eye-catching packaging. Of course, you were immediately drawn to it, curious about what lies beneath that enticing exterior.
Yes, that's the power of proper packaging for handmade soap! It not only protects your delicate soap inside. Even better, it also grabs attention, tells a story, and leaves a lasting impression.
Have a look below for more reasons to pack your handmade soaps properly!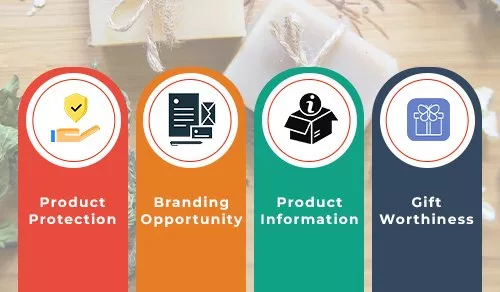 Product Protection
Good packaging helps to protect your soap from damage during transit and storage. Additionally, it prevents your soap from getting scratched or exposed to excessive moisture. After all, we know that these negative factors can affect the quality and appearance of your handmade soap.
Branding Opportunity
Packaging plays a great role in establishing a brand identity. Additionally, it will help you create a memorable impression. Simply put, eye-catching packaging can make your handmade soap stand out and attract potential customers.
Product Information
Your packaging provides an opportunity to communicate important details about your soap. For instance, you can provide its ingredients, scent, benefits, and usage instructions. Remember, clear information helps customers make the right decisions. Eventually, it will help to build trust in your brand.
Gift-Worthiness
Handmade soaps are often given as gifts. In this context, your packaging can significantly enhance their appeal as a present. When you pack your soap beautifully, it will turn into a memorable gift. Hence, increasing the likelihood of repeat purchases and word-of-mouth recommendations.
How to Package Soap for Sale?
Now comes the exciting part: packaging your handmade soaps for sale!
Well, product packaging is like the icing on the cake. Yes, it is what sets your soap apart from the rest and makes customers reach out and grab it. However, packaging for selling isn't just about making your soap look pretty (although that's definitely a plus!).
Better yet, it is about creating packaging that reflects your brand, protects your soap, and entices customers to take a closer look.
So, get ready to make a lasting impression with packaging that wows!
Labeling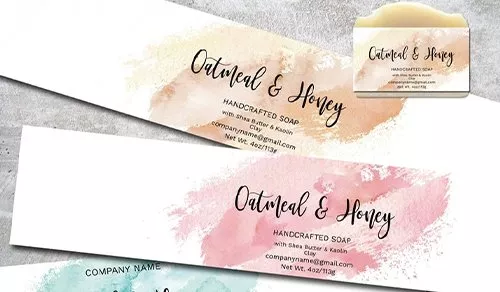 Create custom labels that showcase your brand name, logo, and product information. Remember to use high-quality materials for this. Additionally, you can consider adding a personal touch such as handwritten notes to give your soap an authentic feel.
Transparent Wrappers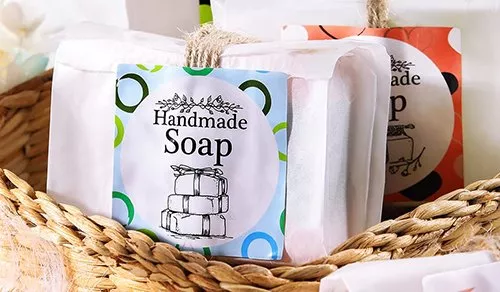 Wrap your soap in clear, transparent wrappers. Surely, these wrappers will showcase the soap's colors, textures, and designs. This approach works especially well for soaps with unique patterns or extra elements like dried flowers or herbs.
Eco-friendly Packaging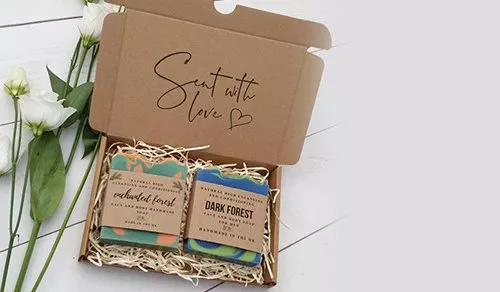 In today's environmentally conscious world, many customers prefer products that come in eco-friendly materials. To respond to this demand, you can use recycled or Eco Friendly Soap Packaging options. For instance, you can choose kraft paper or cardboard boxes, to align with sustainability values. Don't worry, you can easily get them from professional suppliers, such as Silver Edge Packaging.
Unique Shapes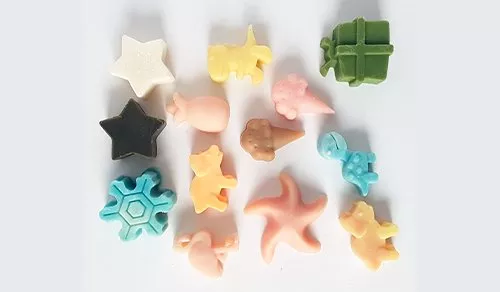 Don't be afraid to experiment with unique soap shapes and sizes that complement your soap's unique characteristics. For example, if you have a soap with a nautical theme, you can try a seashell or a starfish shape.
How to Pack Soap for Shipping?
So, now it's time to share your creations with the world through shipping. But wait, before you seal those boxes and send them off on their journey, let's talk about how to pack your precious soaps for shipping.
Shipping handmade soap requires a little extra care. Yes, you should ensure that your products arrive at their destination intact and ready to impress.
Well then, here are some packaging ideas for soap shipping you can follow!
Protective Wrapping
Wrap each soap individually in a layer of bubble wrap or tissue paper. This way, it will provide cushioning and prevent damage during transit. Remember, this protective layer should be snug but not too tight.
Sturdy Boxes
Place the wrapped soaps in sturdy, appropriate boxes. You can consider using corrugated boxes that offer extra protection against impact and compression.
Fillers
Consider using packing peanuts, shredded paper, or biodegradable foam as fillers. These materials will fill any empty spaces inside the box. Even better, these fillers will prevent your soaps from shifting during shipping. Thus, they will surely minimize the risk of breakage.
Sealing
Seal the box securely using strong packaging tape. Of course, you must make sure to prevent it from accidentally opening during transit. Additionally, you can add labels such as "fragile" or "handle with care" to alert the shipping carrier.
Creative Ideas for Wrapping Soap Beautifully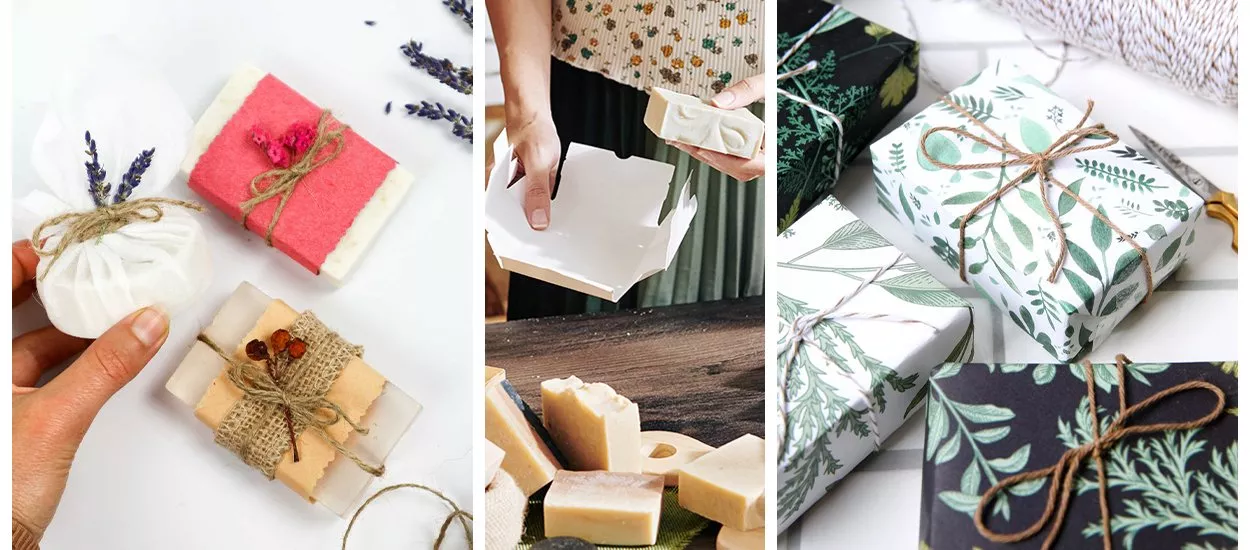 We all know that handmade soaps are a work of art in themselves. But why stop at creating stunning bars of soap when you can take beauty to the next level with creative packaging?
Wrapping soap beautifully is not only about product safety. Instead, it is an opportunity to showcase your artistic flair. Moreover, this effort will make your handmade soaps truly irresistible. Whether you are sending them to customers or displaying them on the shelves, packaging can turn your soaps into striking masterpieces.
Now, let's explore some creative ideas to enhance the visual appeal of your soaps!
Fabric Wraps
Use colorful and decorative fabrics. For instance, you can try out cotton or linen, to wrap your soap like a gift. Make sure to secure the fabric with a ribbon or twine. Plus, you can add a small decorative charm or tag for an extra touch of elegance.
Paper Sleeves
Design custom paper sleeves that slide over the soap. This way, you allow your beautiful soaps to be partially exposed. Don't forget to print your brand name, logo, or a beautiful illustration on the sleeve. Well, this is surely one of the best ideas for soap packaging.
Washi Tape Accents
You can try adding a pop of color and creativity to your soap packaging by using washi tape. In fact, you can create unique patterns or geometric designs by layering different tapes on your packaging.
Nature-Inspired Themes
How about including natural elements in your soap packaging?
Yes, wrap your soap with twine and attach dried flowers, herbs, or small branches!
This way, you can deliver a rustic and botanical look to your handmade soap.
Get Creative with Unique Soap Gift Box Ideas!
We all know that handmade soaps make fantastic presents. These soaps are thoughtful, personal, and oh-so-luxurious. Accordingly, soap gift boxes are like treasure chests filled with pampering delights. Yes, these boxes will make your soaps ready to make someone's day extra special.
Whether it's for a birthday, holiday, or just a gesture of appreciation, these boxes will bring a smile to anyone's face!
Here are some unique ideas you can follow!
Custom Soap Boxes with Window
Go with custom soap boxes with window. This lovely window will allow customers to see your beautiful soap inside. Even better, it will help you showcase the soap's design and color. At the same time, it will surely add an element of anticipation.
Theme-Based Boxes
Create gift boxes inspired by specific themes. For instance, you can try "relaxation," "spa day," or "citrus delight." Then, you can combine your soap, packaging, and additional items like bath bombs, loofahs, or scented candles. Well, these boxes will definitely create a more luxurious experience.
Personalized Boxes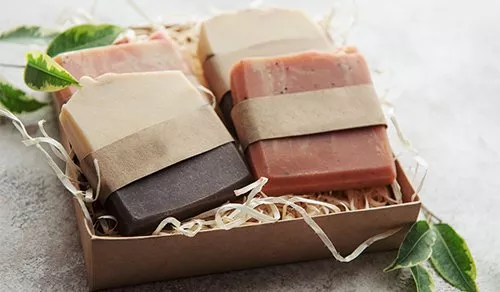 How about personalizing your boxes with the customer's name or a special message?
Undoubtedly, it will add a personal touch and make your soaps feel truly one-of-a-kind.
Recyclable Boxes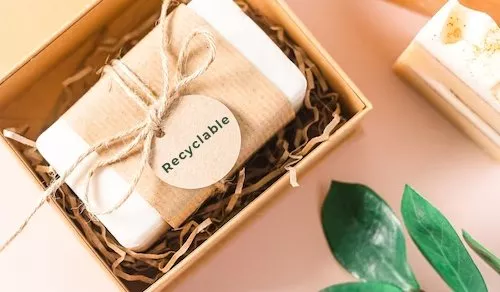 Last but not least, you can consider using eco-friendly boxes made from recycled materials. Additionally, you can provide a note or label that highlights the box's recyclability. By doing this, you can reinforce your commitment to sustainability.
Final Ideas
Yes, proper packaging is essential for handmade soaps. In fact, your packaging will protect your soap product and establish a unique brand identity. Additionally, you can provide essential information and enhance gift worthiness through your packaging.
By using the creative packaging ideas above, you can make your handmade soaps visually appealing. Hence, it will be easy to make them stand out from the competition. So, don't you think that it's time to give your handmade soap the packaging it deserves? Plus, isn't this the right time to delight your customers with beautiful and functional packaging?
Happy packaging!