We all know that 4th July is a holiday that everyone in the United States always waits for and anticipates. Well, as we approach July 4, we should also think about the perfect gifts to present. Whether you are attending a Fourth of July party or want to show your patriotic spirit, any Reason you have, you need unique gifts. In fact, we can say that sending gifts on the Fourth of July is important. So, let's explore some fantastic ideas for your Fourth of July Gifts 2023 here!
The Wonderful Meaning of Sending Gifts on 4th July
Today, people consider sending gifts on 4th July as a way to express their appreciation. Yes, it will be your appreciation for the independence of the country. Well, it is a time to celebrate the country's historical moment. By sending gifts, you can show your support for the country. Additionally, you can show your gratitude for the sacrifices made by those who fought for freedom.
Unique Ideas for 4th of July Gifts
When it comes to selecting the perfect gift for the Fourth of July, you will find various options. Yet, remember that the gifts should capture the spirit of patriotism and celebration. Whether you are looking for a gift for a loved one or a friend, make sure that your gifts will impress.
So, have a look below for some unique gift ideas you can try!
Patriotic Decorations
Show your American pride by giving patriotic decorations. You can try out with flags, banners, and buntings. These items are perfect to decorate your home, yards, or even the party venue.
Grilling Accessories
The Fourth of July is identical with barbecues and outdoor gatherings. In this context, you can consider gifting grilling accessories.
For instance, you can present BBQ tool sets, grill mats, or personalized aprons. All these gifts will enhance the outdoor cooking experience.
American-Themed Apparel
You can also help your loved ones celebrate in style with American-themed apparel. Some unique ideas you should try are such as t-shirts, hats, or even socks featuring the stars and stripes. Believe me, these gifts are great gift options for people of all ages.
Fireworks
We know that fireworks are an essential part of the Fourth of July celebrations. Well, you can surprise your friends or family with a gift of fireworks. This way, they can enjoy a dazzling display of lights and colors on Independence Day.
Picnic Essentials
Many people spend the Fourth of July outdoors, enjoying picnics and gatherings. If you wish to do so, you can consider gifting picnic essentials.
For instance, you can go for picnic baskets, blankets, or portable coolers. These special gifts will surely make your outdoor experience even more enjoyable.
Tips to Hostess Gift For 4th Of July Party
Attending a Fourth of July party is a special occasion. Accordingly, showing appreciation to the hostess for their efforts adds an extra touch of gratitude.
Yet, finding the perfect hostess gift that aligns with the patriotic theme can be a delightful challenge. But don't worry, below are some gifts you can consider!
Exciting Decorations
When attending a Fourth of July party, you should bring a hostess gift that complements the festive theme. Here, you should consider items like red, white, and blue flower bouquets. Or else, how about decorative candle holders or themed table runners? These gifts will surely make the hostess smile!
Food and Beverage Gifts
Another way to show your appreciation is by bringing food and beverage gifts to share with other guests. This could include a basket of fresh fruits or a bottle of sparkling cider. To catch more attention, you can present a homemade patriotic dessert.
Personalized Gifts
Personalized gifts for the hostess will be ideal to add a special touch. You can try gifting engraved wine glasses or monogrammed towels. Or else, you can go for customized cutting boards. To make your gifts look more memorable, you can pack them beautifully in custom gift boxes bulk. Don't worry, you can get these boxes easily from reputable suppliers such as Silver Edge Packaging. By doing this, you will show thoughtfulness and gratitude to the hostess of the party.
Entertainment Options
How about helping the hostess entertain their guests?
Yes, you can do this by gifting board games or playing cards. Besides, you should also consider outdoor games such as cornhole or horseshoes. These gifts will surely encourage interaction and fun for everyone at the party.
What Is the Best Gift for Independence Day?
Choosing the best gift for Independence Day depends on the recipient's preferences. Plus, it depends on the relationship you share.
However, there are some attractive and unforgettable gifts you can consider!
Gift Cards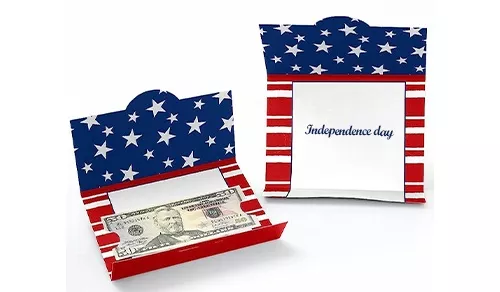 If you are unsure of the recipient's preferences, a gift card will be perfect. You can gift a card to their favorite restaurant, online store, or a local retailer. In fact, this gift will be a flexible and convenient choice.
American History Books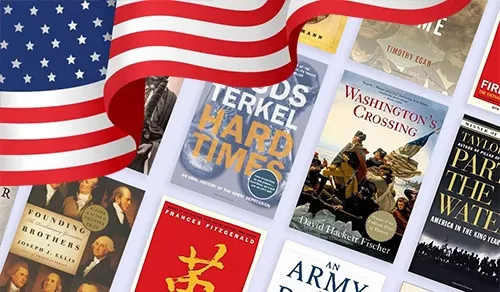 For those who enjoy reading, a book that delves into American history can be an excellent gift. Another option is a book that showcases inspiring stories of patriotism. These books will surely educate and entertain everyone.
Personalized Photo Gifts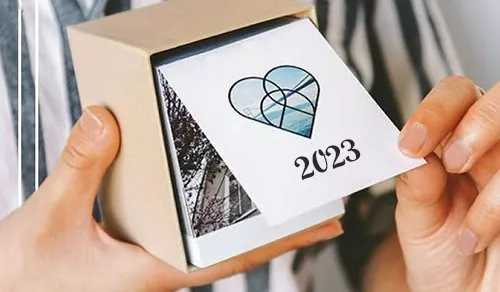 To create a lasting memory, you can try gifting personalized photo items. For instance, you can choose custom photo books, canvas prints, or photo frames. Make sure that they feature precious moments and patriotic themes.
Charity Donations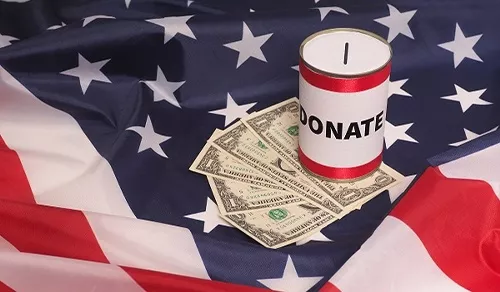 In the spirit of giving, consider making a donation to a charity. For example, you can donate to an organization that supports veterans or active military personnel. Yes, you can find other causes related to independence and freedom.
Handmade Crafts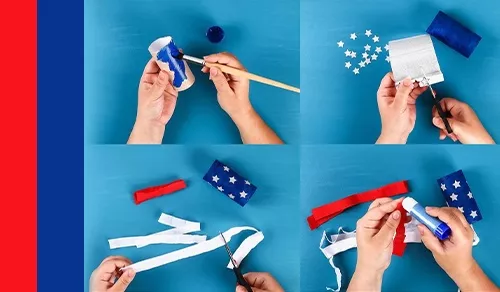 Why wouldn't you showcase your creativity by crafting homemade gifts?
Yes, you can try crafting a hand-painted flag or a knitted scarf in patriotic colors. Or else, you can create a handmade piece of jewelry. These unique gifts will surely cherish your recipients.
How to Decorate Your Independence Day Box?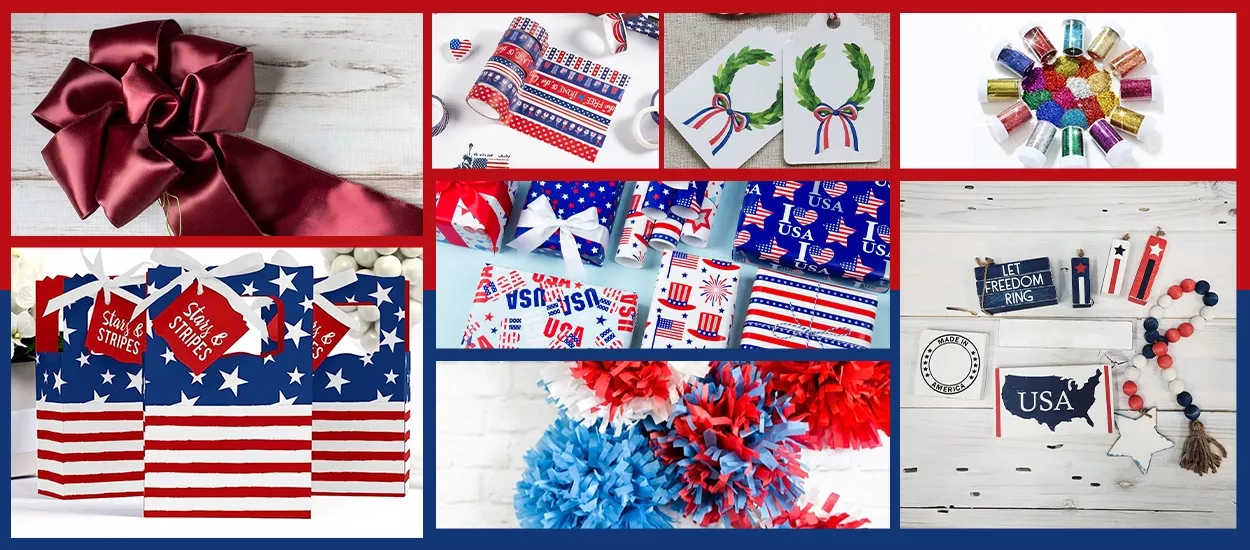 Decorating gift boxes for the Fourth of July can add an extra patriotic touch to your presents. Even better, this activity can help you show more gratitude on this historical day.
Here are some creative ideas to make your boxes shine with red, white, and blue!
Ribbon and Bow
Choose ribbons in shades of red, white, and blue to tie around the box. You can go with satin or grosgrain ribbons for an elegant look. Then, add a matching bow on top for a festive finishing touch.
Stars and Stripes
Make star shapes from colored paper or use star-shaped stickers. These decorations will create a patriotic pattern in your box. Additionally, you can also draw small American flags on the box for a classic touch.
Washi Tape
Use red, white, and blue washi tape to create decorative borders or patterns on your box. Make sure to arrange the tape in stripes or geometric designs for a festive look.
Twine and Tags
Wrap your gift box with natural twine or jute string. Then, you can attach a small American flag or a printable tag with a patriotic message. This way, you can add a rustic and charming feel to the gift.
Stencils and Paint
Find stencils with stars, flags, or patriotic words. Then, use them to paint festive designs directly onto your box. Additionally, you can use acrylic or fabric paint in red, white, and blue for vibrant results.
Patriotic Wrapping Paper
Choose wrapping paper that features the American flag, stars, or other patriotic motifs. Wrap your box neatly with the paper. Plus, you can add a contrasting bow or ribbon for an elegant look to your Independence Day gift.
Glitter and Sequins
Add some sparkle to your box by using glitter or sequins in red, white, and blue. You can apply glue in desired patterns. Or else, you can also sprinkle the glitter and sequins directly onto the box for a dazzling effect.
Tissue Paper Inserts
Line the inside of your box with red, white, and blue tissue paper. Trust me, not only will it add a pop of color. Better than that, it will also enhance the presentation of your gift.
Remember, the key is to incorporate patriotic colors and symbols in your gift box decorations. Thus, you should get creative with different materials and techniques. This way, you can make your 4th of July gift ideas truly stand out and bring joy to the recipients.
Wrapping Up
Undoubtedly, sending gifts on the Fourth of July is a meaningful way to celebrate and honor the independence of the United States. Whether you choose patriotic decorations, practical items for outdoor celebrations, or personalized gifts, your gesture will be memorable. Additionally, you must consider the recipient's preferences and the relationship you share when selecting the best gift for Independence Day.
So, don't you think it's time to let your gifts convey your gratitude and love for the country?
Yes, it's time to make this Fourth of July a memorable occasion for all!