We all know that first impressions matter a lot when it comes to selling any product. When it comes to selling products like board games, your packaging plays an essential role. Yes, this means that your packaging should be attractive. Moreover, it should make people want to know more about your product inside. So, how to design board game packaging that can help you sell more of your products? Check out a complete guide below!
Know What Makes a Good Board Game
Before we discuss packaging, first of all you should know more about a board game. So, basically a good board game is a game that gives experience to engage all the players. Most importantly, the game should create a great and exciting interaction. Plus, of course, it should provide a balance of challenge and enjoyment.
Well, here are some elements to consider in making your board game enjoyable!
Gameplay
Definitely, the rules on your game should be easy to grasp. However, they still have to give their brain a workout. Overall, your board game should be all about having a blast while making smart moves.
Comes with Clear Goals
To get them excited, those players need to know what they are aiming for. Whether it's collecting treasures or outsmarting opponents, having clear goals keeps your game attractive.
Can be Played Together
For sure, all games will be more fun when you can play them with other players. Even better, the interaction with other players will surely add that extra thrill.
Making Choices
Imagine your decisions shaping the game's outcome. From where your players move to what they pick up, the choices you offer should matter.
Getting Lost in the Story
If your game's theme and mechanics match up, those players will feel like they are part of the adventure.
Never Gets Old
A great game will stay awesome no matter how many times you play.
Rules Made Simple
Remember, clear, easy-to-follow rules are a must. If those players can explain your board game without causing brain cramps, they are onto something good.
Looks and Feels Great
Imagine cool game pieces, fancy card game printing and packaging that is all a work of art. For this, you should learn more about how to make board game pieces to make the experience even better.
Innovation and Surprises
If your game brings something fresh and exciting to the table, then it surely will be a winner. In this context, your game should offer some fun twists and surprising moves to keep everything interesting.
Indeed, if you can make your game enjoyable, you will not be questioning how to market a board game successfully. Instead, you can simply relax and watch your sales get increased within a brief time!
How Your Board Game Packaging Should Be – The Basic Elements
If you wish to grab more attention, your board game box design should make them curious. How?
First of all, the attractive appeal of your packaging is a MUST thing you should focus on. After all,  well-designed packaging can instantly grab attention. So, when designing your packaging, you should use vibrant colors, lively illustrations, and a clear representation of your game's theme. Also, remember that your packaging design should resonate with your target audience. Plus, you can also provide a glimpse of the exciting experience your game offers.
Without any doubt, aesthetics of packaging are essential. However, the durability and reliability factors are equally important when it comes to designing a board game box. After all, you need to transport your board games to the stores or to customers, right?
Therefore, the packaging you design must be durable and reliable to withstand all the unexpected factors during transit. Most importantly, do note that you must focus on getting standard board game box size. Also, don't forget to use high-quality materials to ensure that custom board game boxes remains perfect.
In the world of games, communication is always the main key to making everything play a role. This means that your packaging should offer essential information about your game inside. So, remember to provide the number of players, playing time, age suitability, and a brief overview of the gameplay. With all this information, you can help those players quickly assess if the game suits their preferences.
Choose the Right Box Style
If you choose the right box style for your board game, you can enhance the visual appeal and functionality of your packaging.
So, let's have a look at some popular options below!
Two-Piece Rigid Boxes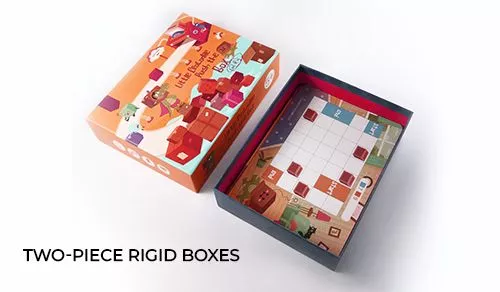 These boxes are like the luxury styles of packaging. They come with a separate lid and base, perfect for showing off stunning artwork. Plus, opening these boxes is like unwrapping a treasure which adds to the excitement.
Mailer Boxes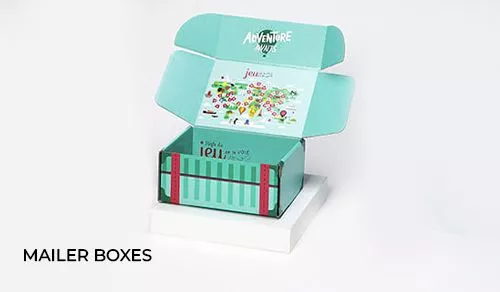 Custom Mailer Boxes are made from tough cardboard and will keep your game safe during shipping. Even better, you can jazz them up with innovative prints and graphics to make the unboxing experience memorable.
Customized Boxes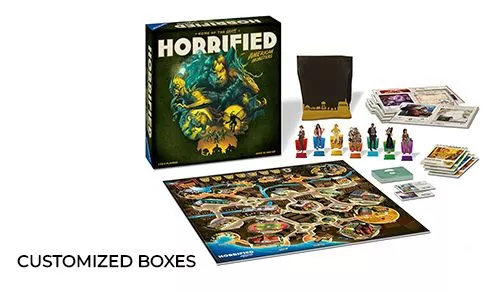 Why not be creative with your board game packaging design?
A unique shape that fits your game's theme can be a real attention-grabber. Just remember, creativity is awesome. However, your box still needs to be practical.
The Best Design Options for Board Game Packaging
Designing the packaging for board games involves a range of creative choices. So, when it comes to design, don't worry, you have to focus on some essential points.
Think of these as the movie trailer for your game. Yes, use those lively illustrations to give players a taste of the adventure that awaits inside.
Fonts act as the voice of your game. So, make sure to choose the ones that match the game's personality.
Choose a palette that matches the vibe of your game. Remember, consistency is key to helping your game's identity shine.
Icons tell players what to expect without bombarding them with text.
Get the Right Printing for Your Board Game Packaging
Now, it's time to talk about the printing options. When it comes to board game box printing your awesome packaging, there are a few ways to go!
Offset Printing
This is like the classic way of printing. Offset printing is perfect for intricate designs with various colors. So, if your packaging needs to be top-notch and you're making a bunch of copies, this one is a solid choice.
Digital Printing
This one is great for smaller batches and prototypes. While it might not have the exact same color intensity as offset, digital printing is catching up and can work wonders for shorter runs.
Screen Printing
Screen printing is your go-to for adding that wow factor. While it might not do the whole packaging, this technique is awesome for adding colorful touches to specific parts.
Flexography
Flexography is good for larger quantities and basic designs with solid colors. If your packaging is more about the brand vibe and simple designs, this printing technique might be ideal.
Gravure Printing
This one is perfect for packaging with intricate images and fine details, such as custom game boxes. Thus, if you're going big and need consistent color, Gravure is worth a look, especially for larger print runs.
While you are choosing a printing method, you must keep these things in mind!
How fancy is your design?
If your packaging is all about intricate designs, you should go for offset or digital. On the other hand, if it is simpler, flexography or screen printing might be your best choice.
Printing costs might be a lot. Offset printing is wallet-friendly for big batches. Meanwhile, digital is kinder to smaller quantities. Plus, you can minimize your budget by working with reliable suppliers, such as Silver Edge Packaging.
Some printing techniques might take longer to set up than others. So, you should think about your timeline before picking.
Of course, different methods play nicely with different materials. Thus, make sure your printing choice matches your packaging material.
Consider what type of finish you want to get.
Link Your Board Game Packaging with Your Branding
Definitely, your packaging should reflect the essence of your brand. Moreover, it should make it recognizable to loyal customers and foster a sense of trust among new ones. For this, you should print your logo, brand colors, and any relevant brand images. This alignment will ensure that customers can easily connect your board game packaging with your company and its values.
Make Your Packaging Unique with Add-Ons
To truly stand out, you can consider applying add-on elements to your packaging!
Have you ever seen that shiny look on book covers? Well, that's foil stamping. This technique can add a touch of luxury and catch the eye.
These techniques deliver raised or pressed designs that add texture and make your packaging feel even more special.
Spot UV adds a glossy effect to specific parts of your design, making them pop.
The window cutouts give a sneak peek of your game components inside.
In Summary
Undoubtedly, your packaging can influence the amount of sales you can get. When it comes to board game packaging, you need the best design that can help you sell more. Hopefully, the tips above will help you design the most unique packaging for your board game!