Have you ever seen some products feel truly premium and luxurious from the moment you lay eyes on them? Well, that's where rigid boxes come into play. With their elegant display, these boxes are ideal to make you love any product, even before opening the boxes. But what makes these boxes amazing? And how can they benefit businesses? Let's unpack the wonderful types and styles of these boxes, shall we?
What Is Rigid Box Packaging?
Now imagine you're holding a box that's not just a box. Instead, it is a piece of art that's designed to hold and present your special products in a way that speaks elegance. Rigid box packaging, also known as set-up boxes, takes your packaging game to a whole new level. In simple words, this packaging is not the everyday cardboard boxes. More than that, it is made to provide top-notch protection and visual appeal.
How Is Rigid Box Packaging Made?
To know better, let's find out how these boxes are born.
First up, you need to get the size things up – literally. Depending on what you're packaging, the box needs to fit just right.
Next, it's time to cut out a shape in a sturdier material and then score lines on it. Accordingly, these score lines act as creases that make folding super easy.
The exterior part of this packaging can be a canvas waiting for your creativity. Your brand's logo, unique designs, artwork – you name it. Yes, you get many options like offset printing, digital printing, and even fancier stuff like embossing and debossing to decorate the packaging.
Your product will be carefully wrapped inside the box, giving it that clean and exclusive look.
How Many Different Types of Rigid Boxes Are There?
Basically, you will find two main types of these boxes, which are partial finish and full finish rigid boxes.
Let's find out the differences!
Partial Finish Rigid Box
This box is all about mixing the textures and materials. In this type, the outer covering of the box wraps around only a portion of the box's surface.
In addition, the design choice allows you to play with the visual and perceptible aspects of the box. For example, you can apply a matte texture on the wrapped part. Then, you can go for a glossy finish on the exposed part. Ultimately, this combination will add depth and sophistication to the overall design.
Full-Finish Rigid Box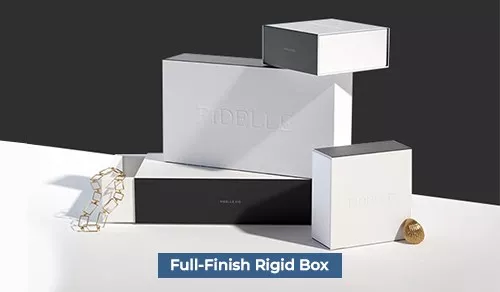 For this box, the entire exterior surface is covered with printed and wrapped material. Thus, it will look like a refined canvas that showcases the design elements all around the box.
Better yet, the visual impact displays a sense of luxury that will be difficult to ignore. Every angle you look at it from, you will see the same attention to detail. Simply put, it is a complete package that leaves a remarkable first impression.
Partial Finish vs. Full Finish: Which One to Choose?
When it comes to choosing between these two types, it depends on the impact you want to create. Plus, you must consider the story you want to tell with your packaging.
Partial finish is perfect if you want to tease the customer's curiosity. This type will make them wonder what's hidden beneath that partial covering. Hence, this is a great choice if you want to deliver a modern and artistic look.
On the other hand, full finish style is the embodiment of elegance. It will help you make a bold statement. Better yet, it can present your product lavishly from every angle. So, if your brand identity revolves around luxury and a timeless feel, this style will be ideal.
The Various Styles of Rigid Boxes
Next up, let's talk about the different styles that can level up the elegance of these boxes.
Imagine a box that closes with a sufficient magnetic snap. Yes, you read it right! It is not just a box, it's a whole new experience.
Have you ever seen those boxes where you slide out a drawer to reveal the products inside? These are drawer boxes that are perfect for jewelry and small treasures.
As the name suggests, this box opens up like a book, revealing what's inside. It will be perfect for certificates, invitations, and other things like that.
Foil boxes come in a metallic finish that defines luxury.
The Pros and Cons of Using Rigid Boxes
Of course, everything has its pros and cons, and so do rigid boxes.
Pros
These boxes can instantly give a high-end feel to your product.
They are not just pretty looks. More than that, these boxes are highly durable to keep your delicate products safe and sound.
With rigid boxes, customization is on your hands. You can play with sizes, shapes, and even printing options.
Opening a rigid box is like unveiling a masterpiece. In other words, the first impression will be priceless.
Cons
Rigid boxes can be more costly compared to regular boxes.
These strong boxes can consume more space due to their structure.
The Do's and Don'ts When Designing Rigid Box Packaging
Designing rigid box packaging is like composing aesthetics, functionality, and brand identity. In other words, there are some things you should do and should not do.
Do's
Include All Your Branding Elements
Make sure your design aligns with your brand's identity, values, and the story you want to tell. For this, you can include your logo, color, and other design elements that match your brand.
Your packaging also needs to be practical. Thus, choose a style that complements your product's use and the customer's convenience. Definitely, a luxurious box that's difficult to open will not leave the right impression.
Undoubtedly, high-quality printing can level up your packaging game. The good thing is that you can choose different printing techniques like embossing, debossing, and foil stamping. Also, your design is clear and aligned correctly on the box.
We know that customers love those brands that prioritize sustainability. To attract them more, you should choose environmentally friendly materials and printing inks.
Focus on Unboxing Experience
The unboxing experience is a chance to create a lasting memory for your customers. Thus, don't hesitate to include elements that heighten the anticipation. For example, you can go with a ribbon or magnetic closure. Eventually, you can design the interior to enhance the presentation and protection of your product.
Don'ts
Don't try to overcrowd your packaging with excessive design elements, colors, and text. Remember, a clean design not only looks sophisticated. More than that, it will also ensure that your brand message is communicated effectively.
While the visual appeal is a priority, the structural integrity of the box is equally important. So, you should never compromise on the quality of materials or construction.
The preferences and expectations of your target audience should guide your design choices. Thus, make sure you know their tastes, demographics, and cultural nuances.
Consistency across all your packaging is essential to improve brand recognition. In this context, your design language, colors, fonts, and logo should be consistent across various products.
Underestimate Packaging Regulations
There might be regulations or guidelines you need to adhere to. So, you should be aware of any legal requirements regarding labeling, safety information, and materials.
How Can Rigid Boxes Benefit Businesses?
So, what's in it for businesses? What can rigid boxes do to benefit your business?
Level up Your Brand Image
These boxes can instantly level up your brand's image. Yes, it will be like giving your products the best boxes they deserve.
Help Your Products Stand Out
In this competitive market, these boxes will help your products stand out and make an impact.
Deliver the Unboxing Delight
The unboxing experience with these boxes is like a gift in itself.
One for All
Rigid boxes work for various products – from watches to chocolates.
Expand Your Horizons
Premium boxes can open doors to new markets and customers who value that touch of luxury.
Wrapping Up
So, there you have it – everything about rigid boxes you need to know. From the way they're made to the styles they come in, it's all about elevating your product's presentation game. In the end, if you think that it's time to give your products the best boxes, you can get premium-quality rigid boxes from a reliable supplier, such as Silver Edge Packaging.
FAQs
How Do You Make a Rigid Box?
Making a rigid box involves cutting and folding strong materials like thick paper or cardboard. Then, the box will be covered with printed paper.
What Makes Rigid Boxes Expensive?
Rigid boxes can be expensive because they are luxurious and made of high-quality materials. In addition, these boxes require special printing, which adds to the price.
What Type of Structure a Rigid Box Has?
The structure of a rigid box is comes with a bottom and a lid that fit together. In addition, the walls of the box are highly durable to protect the product inside.
What Paper Is Used in Rigid Boxes?
Rigid boxes can be made from different types of paper, like shiny paper or special paper. It totally depends on how you want the box to look and feel.
Which Packaging Boxes Are Good: Rigid Boxes or Kraft Boxes?
It will depend on your products and how you want them to look. Rigid boxes look luxurious, while Kraft boxes have a simple, natural feel. Also, you can choose according to what fits your product and style.
What Is the Best Material for Your Rigid Box Packaging?
The best material depends on what you're selling and how you want it to look. You can use strong paper or thick cardboard.