We all know that the art of giving has been roaming around for centuries and is loved by people of all ages. Of course, the reason is that people love to receive gifts. On this Father's Day, you surely don't want to skip celebrating it. But how about the gift itself? If you run a gift business, you know that an object's design can influence or destroy customers' impressions. Thus, it would be best to have perfect Father's Day gift box ideas to make your gift items stand out. How could you win more sales with your Father's Day gift boxes? Read this article completely!
A Better Alternative to Traditional Wrapping and Packaging
Does Wrapping your gift means that you cover it with wrapping paper and tape? Then, you will put your gifts in a perfectly measured box. By doing this, you will protect your valuable gift from damage during delivery. A perfect alternative to this hassle is a gift box.
In the past days, people thought that custom packaging could be expensive. Yet, custom packaging is the best method to protect your gift, whether for individual or business purposes. This applies especially if you would use materials such as ribbons, ribbons, protective tissue paper, and inner packaging (such as bubble wrap).
Create Lasting Impression with Unique Father's Day Packaging Boxes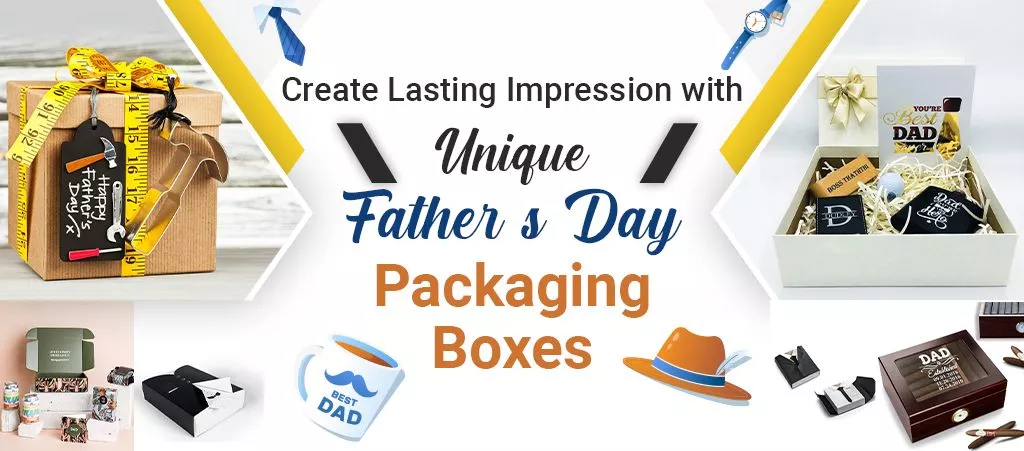 High-quality and excellent product packaging will show the market what you represent as a brand. Additionally, the right packaging boxes will remind people of your brand. By having unique Father's Day gift boxes, you can help potential customers understand if your gift items are suitable for them. Yes, Father's Day packaging box ideas convey all this through color, shape, and outstanding design elements.
How Should You Design Perfect Boxes for Your Gifts?
Before designing the perfect boxes for your gift items, you will need to consider many things. In this post, you will learn how to decorate your Father's Day gift box with unique and creative ideas. In the end, it is your packaging boxes that will make your gifts stand out from all the other gifts. So, let's dive in.
How About Father's Day Gift Boxes?
Designing custom packaging boxes such as Father's Day gift boxes requires you to work with professionals. You can personalize your packaging boxes from available customization options. Or you can apply your brand's theme or seasonal theme to match the occasion.
Custom packaging boxes come in different shapes, sizes and designs. Thus, you will find perfect boxes for every occasion and budget. Most importantly, these boxes provide maximum protection for your gifts from damage during shipping.
Last but not least, one of unique Father's Day gift box ideas is to use the space for small but valuable souvenirs. For example, you can print lively images, letters, and other sentimental items. In simple words, these custom gift boxes are worth investing in!
Unique and Creative Father's Day Gift Box Ideas for You!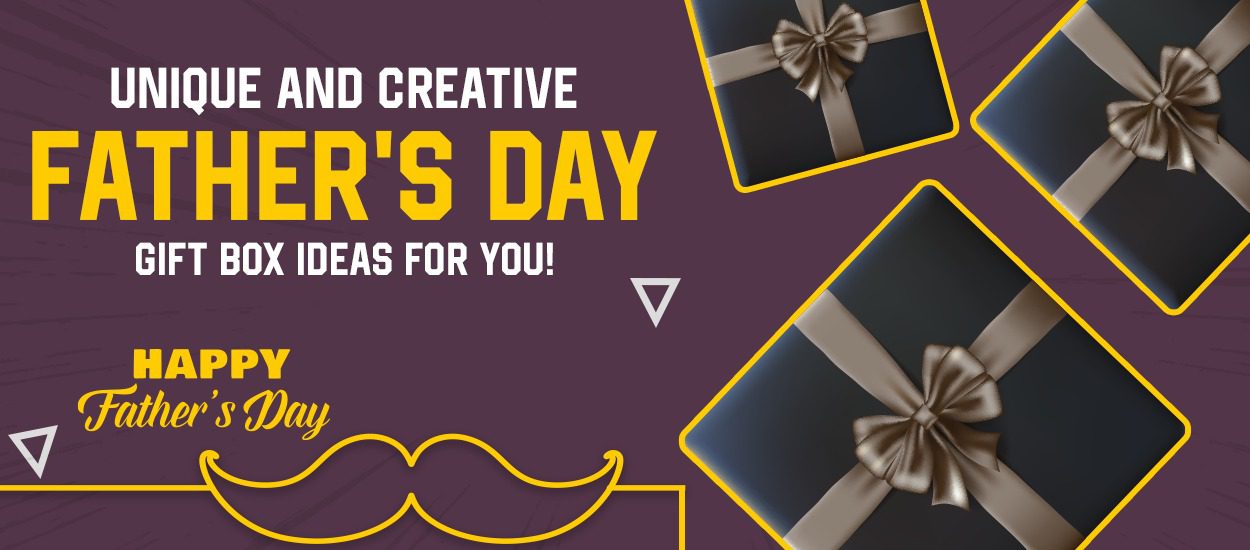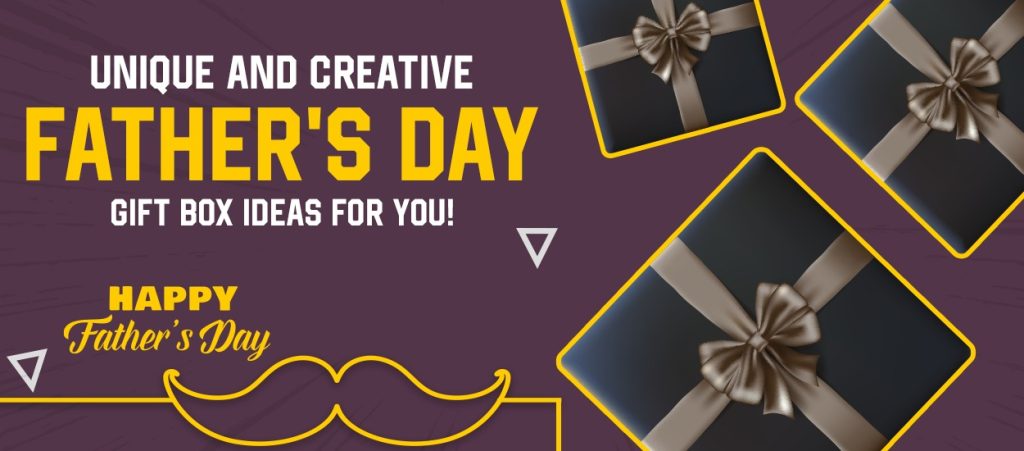 Now let's get to the main point! How to design the ideal boxes that will let you win more sales in this memorable Father's Day event? Below are some unique and creative Father's Day gift box ideas for you!
Focus on all the gift elements
The first thing you need to do before designing your boxes is to think about the types of gifts you need to pack. For example, you might be planning to pack soft items such as lovely shirts for Father's Day. Or else, you might also present exclusive watches for this occasion. Definitely, you need to consider all the elements of your gift items before packing them in the boxes.
Choose the right packaging materials (important one!)
Next, you will need to consider what materials you need when creating unique Father's day gift box ideas? You should consider your packaging purposes in this context. Eventually, you will be free to choose from the material options such as:
Cardboard – Highly flexible and customizable option
Kraft – Elegant and eco-friendly option
Paperboard – Lightweight and affordable option
Corrugated – Strong and durable for the shipping option
Rigid – Luxurious and classy option
You can order rigid boxes as rigid is associated with luxury items. Also note that the cost of your Father's Day gift boxes will vary, depending on the material you choose.
Custom boxes are perfect options
You can personalize custom boxes for any occasion, budget, and style. These excellent boxes come in all shapes and sizes to fit any gift. Even better, these boxes are incredibly durable and perfect for protecting your gift products. This means that your Father's Day gift will stay safe until customers open them.
Best of all, you will find plenty of affordable options available for you. Hence, getting custom boxes at Silver Edge Packaging will not require you to break your savings.
Use dazzling finishing styles to make the boxes look more exclusive
Another excellent way in Father's Day gift box ideas to make your gifts stand out is to apply dazzling finishing styles. You will find some popular finishing styles such as:
Gold silver or copper foiling – For an elegant product display
Matte coating – For a more decent appearance
Glossy coating – For a more sparkling look
UV spot – For a more exclusive appearance
Make sure to choose the right one according to the appearance you want for your boxes.
Leave a memorable impression
If you wish to spice up your gift presentation, you can eventually do this by leaving a memorable impression on customers. How to leave a memorable impression?
Use trendy ribbons or bows on the boxes
Handwritten notes are also an option to add emotion to your gifts
Hangtags with customers' names on the boxes
No matter which designs you choose for your Father's Day gift boxes, plenty of affordable options suit your needs.
Go with unique box shapes
You can choose the unique box shape by partnering up with an expert packaging supplier, such as Silver Edge Packaging. Yes, there are various lovely options to include in these Father's Day gift box ideas.
You will be free to go with:
Pyramid box shape
Pillow box shape
Gable box shape
Round box shape
Window box shape
Drawer box shape
And more other unique shapes you would love to get
Send your brand message
Let's go back to your last purchase. Why did you purchase a product from that particular brand? Did you find it as an impulse purchase, or was it really necessary?
Many customers purchase a product by viewing the appearance of its product packaging. For example, you might be searching for an exclusive watch to present as a gift on Father's Day. But do you need to purchase from a particular brand? Is it because the watch comes with an exclusive display? Or is it because it comes with a discount offer?
If you can design your product packaging creatively, it will ultimately sell your product better. This is actually the main purpose of any product packaging. It is not only about placing your brand logo on the boxes. Nor is it about designing cool labels and stickers for your boxes. Yet, it is more about grabbing the attention, sending your brand messages, and making customers feel special.
So, make sure to send the right brand message through your Father's Day gift boxes! You can print the message in gold, silver, copper, foiling, or using embossing or debossing. Better yet, you can also print memorable or related images to make the boxes look special.
Make your gift boxes more elegant and safe with inserts
Inserts are famous for being the best tactic to increase the safety of your product, customer loyalty, and more. The best part is that you don't have to spend a lot of money to get these inserts in the boxes.
Placing inserts in the boxes will make them look more elegant and captivating at the same time. Additionally, these inserts work well to organize multiple items in a single box. As a result, you can make your gift items look more elegant with inserts.
Catch more attention with the modern printing style
As a brand owner, you know that it is highly essential to have attractive packaging boxes. However, adding a modern printing style can eventually help you create a more professional aesthetic look. This way, you are sure to catch more customer attention.
The modern printing style is perfect for adding perforations, providing custom folding options, integrating die-cutting, and more. You can make your Father's Day gift boxes stand out by getting the minute techniques from an expert packaging provider!
Wrapping Up
At the end of the day, we can never deny that the gift itself is important. On the other hand, if you really want to impress your customers, you need product packaging that stands out in comparison. This is why you need to design and customize your boxes with a professional packaging supplier. Plus, be sure to add your brand messages!
So, if you are excited to apply creative Seasonal Gift Boxes Ideas, Silver Edge Packaging is your best stop. You can appeal to more customers and win more sales with your gift boxes with us. Well, doesn't that sound interesting?
Have a great day!