Packaging is an essential part of any business. You won't see anything sold without a package, whether a generic box or a custom box. Either it's for home products, or it's used in industry. No one will bother to notice if anything isn't packaged well. Packaging for baked goods needs to be able to both impress customers and get their attention. You'll need creative bakery packaging ideas to showcase your bakery items' freshness truly. So, let's talk about the packaging of your bakery products.
Eco-friendly bakery packaging is ideal
The global community as a whole is becoming increasingly environmentally aware. For this reason, companies are now choosing eco friendly bakery packaging. More than half of all consumers worldwide would instead purchase products in eco-friendly packaging. Therefore, environmentally friendly packaging is the best option for your bakery products.
Why? Here is why!
It reduces waste

Improves brand image and reputation

Helps to ensure a more sustainable future

It helps you keep the quality of bakery items

Appeals to environmentally conscious consumers
Maximize efficiency with Bulk Custom Bakery Boxes
Undoubtedly, customization allows your bakery items to look more delightful and wonderful to your customers. Even better, you can eventually increase product visibility by choosing sizes, materials, add-ons, and other aspects for your packaging design. Most importantly, you can print any design, image, or text you want to print.
Speaking about the role of customization for bakery boxes in bulk, we can never deny the benefits the boxes offer. Let's explore some of the most promising roles of these boxes!
Your product looks more enticing and appetizing with custom packaging.

Custom packaging lets people know what brand is behind a tasty delicacy.

Custom packaging helps you deliver your bakery goods safely 

Printing style on custom packaging can also be used as free advertising.

Contact information on custom packaging encourages customers to buy again.
After all, bakery items are soft and delicate. Accordingly, these delightful items surely deserve a defensive and attractive product packaging to present them.
What Are Some Suggestions for Bakery Packaging?


You can never deny that your product packaging is an important part of your marketing and branding strategies. How?
Well, your product packaging will not only convey your brand message to the target audience. In addition, it is your product packaging that can safely deliver your bakery items wherever you need to deliver them. This is why you need creative bakery packaging ideas to impress more customers in the market. The idea of ​​eco friendly or trendy bakery packaging will be part of your product shopping experience.
So, how is your product packaging? Below are some points you will want to note.
Appealing and protected

Friendly interfaces 

Help to promote your brand

It should make a great first impression
Bakery Packaging Ideas for You!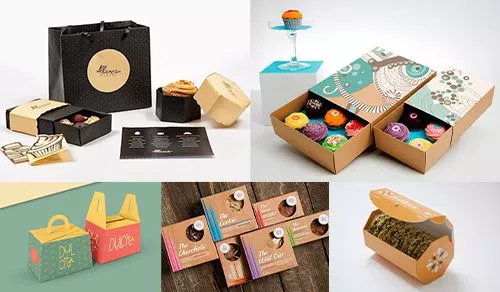 It is of great worth for bakery companies to think of creative ways to package their products. Customization options make it easy for anyone to design their packaging based on their innovative ideas. The packaging for a product can be created in a variety of unique ways.
Creative bakery packaging ideas will boost your brand in the long run. So, if you want to find the most innovative and easiest ways to sell your bakery foods, why don't you start creating your product packaging?
Connect your item with its product packaging
Now let's talk about the best bakery packaging ideas. To be noted, your product packaging should stand out from many others, no matter what it costs. Why? Because it is your packaging that comes up as the best media that drives customers to purchase only from you. As a result, you will get the chance to deliver a lasting impression without any single hassle.
You can make a connection between your product and its packaging by using graphics, colors, and images inside the box that match your bakery item. Ultimately, you can raise client interest in your bakery products by linking packaging with the product.
Apply your brand's theme to eco-friendly bakery packaging.
When you work with an expert Bakery packaging supplier such as Silver Edge Packaging, you will find many themes available when designing your product packaging. However, you always need to ensure the theme you choose will be the most suitable for your items. Most importantly, you must associate this theme with your brand identity and logo.
You can do this by matching the theme of your eco-friendly bakery packaging with the color of your bakery item. Alternatively, you can try out the new market trends by applying gradient color combinations.
Unique Bulk Bakery Boxes Give Competitive Edge
Indeed, the most important point any brand in different industries has is getting customers' attention. Does this seem like a rewarding effort to you? Well, we can say that these small things can make a really big difference.
In this context, having unique bulk bakery boxes helps your brand to achieve a competitive advantage effectively. Not only will these packaging boxes give your customers good insight into your brand. More than that, the boxes will help to differentiate your brand from other bakery brands.
Brand your product packaging
Don't say you don't know branding's importance. Branding your bulk bakery cartons is the most brilliant way to improve brand value. Now, you can easily get all the benefits of branding by making a relationship between your product packaging boxes and your brand. The question now is how to do this. 
By matching the color scheme of the package to the items, you can increase sales. Additionally, you can innovatively use images and short texts to let your customers know about your bakery brand. You can also use lively bakery images. It will be also beneficial. In fact, this branding effort can impress those customers to buy exclusive bakery items.
Or else, you can eventually turn your product packaging boxes into an interesting brand story.
Be creative with your custom boxes and convey your brand message
Without any doubt, you need to be creative in choosing the elements that will help convey your brand message. So what can you really do with your custom boxes?
Apply your authentic brand's theme
Customize the boxes with your brand's colors
Appeal to your brand value by applying stylish text and printing options
Print your brand's slogan in your own font style
Add value by embossing, debossing, and applying coating on the boxes
Use environmentally friendly ink
Whether muffins, donuts, or cupcakes, customers consume bakery items. In this regard, low-quality packaging boxes that leave ink stains can make these items toxic. This is why the design of your packaging boxes should be made with environmentally friendly ink, which is not harmful to human health.
Make sure to include environmentally friendly features in your bakery packaging ideas. Of course, use materials that will not harm human health. In this way, your bakery brand can play its role in a green environment. At the same time, you will provide healthy bakery items to your target audience.
Deliver a better customer experience through your eco-friendly bakery packaging
If you provide excellent quality products or services to your customers, they will always love to come back to you. In this context, we know that product packaging is the main factor that affects or destroys your brand's image. Therefore, if you want to stand out from the competition with your bakery items, you need to offer more than just good taste.
The attractive eco friendly bakery boxes provide the best protective layer for your bakery items. Even better, this packaging will help in preserving your items during transit. In the end, this packaging will provide your beloved customers with the best experience they could ever have. Ultimately, they will pave the way for improved marketing and increased sales for your brand.
This eventually means a completely comfortable and enjoyable customer experience.
Conclusion
Having the tastiest bakery items in the town doesn't guarantee you will get better sales than your competitors. Instead, you will need to make some effort to win the hearts of market customers. This is why you need to have creative ideas to design your product packaging appealingly.
Our competent packaging experts at Silver Edge Packaging will recommend the most creative custom bakery boxes. Even better, we will gladly assist you with our professional design support for free. So, if you are excited to design the best packaging to sell your bakery items more, simply contact us now!