Not a single bakery item in the market, whether homemade or industrially produced, is sold without a product packaging. Maybe not all customers would want to pay attention to it if there is. When it comes to selling your bakery items in the competitive, you will need creative bakery packaging ideas. Why? And how should your product packaging be? Let's explore more!
The Main Reasons for Choosing Eco-Friendly Bakery Packaging
To do business and win in the bakery industry, you need proper packaging for many valid reasons. When it comes to eco-friendly bakery packaging, high-quality packaging works a lot in giving a positive first impression.
Why? Here is why!
High-quality packaging protects your bakeries from dust particles
High-quality packaging makes your bakery items look more tempting to attractive viewers
High-quality packaging is the best way to encourage customers' purchasing behavior
High-quality packaging is valuable for branding and marketing strategies
The Role of Customization for Bulk Bakery Boxes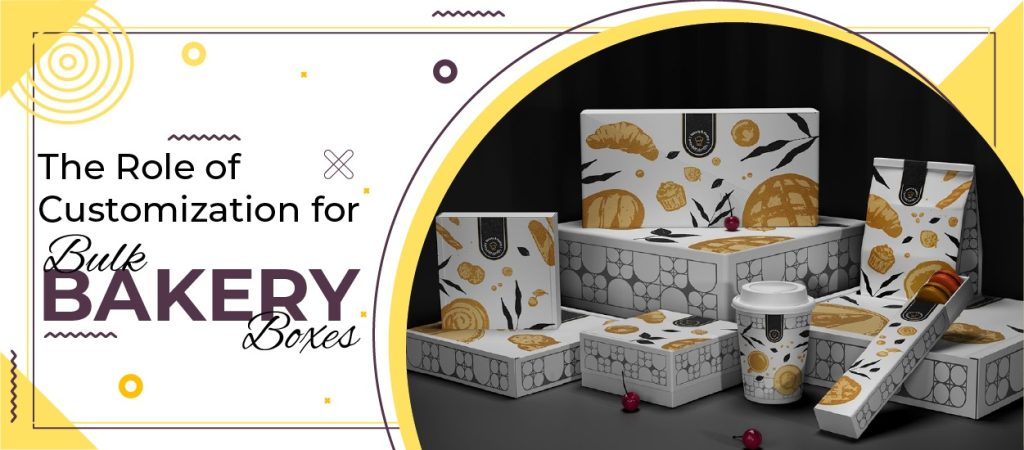 Undoubtedly, customization allows your bakery items to look more delightful and wonderful to your customers. Even better, you can eventually increase product visibility by choosing sizes, materials, add-ons, and other aspects for your packaging design. Most importantly, you can print any type of design, images, or text you want to print.
Speaking about the role of customization for bulk bakery boxes, we can never deny the benefits the boxes offer. Let's explore some of the most promising roles of these boxes!
Custom packaging makes your item look more mouthwatering and appealing
Custom packaging shows the brand behind a delicious treat
Custom packaging helps to deliver your bakery items safely and proudly
Printing style on custom packaging can also serve as a free promotional advertisement
Contact details on custom packaging encourage customers to make future purchases
After all, bakery items are soft and delicate. Accordingly, we can say that these delightful items surely deserve a defensive and attractive product packaging to present them.
How You Should Create Your Bakery Packaging?
We can never deny the fact that your product packaging end up being an important part of your marketing and branding strategies. How?
Well, we can say that your product packaging will not only convey your brand message to target audience. In addition, it is your product packaging that can safely deliver your bakery items wherever you need to deliver them. This is why you need creative bakery packaging ideas to impress more customers in the market. The idea of ​​eco-friendly bakery packaging or trendy packaging will be a part of your product shopping experience.
So, how your product packaging should be? Below are some points you will want to note.
Attractive and defensive
User-friendly
Helps to promote your brand
Delivers a memorable first impression
The Importance of Having Unique Bulk Bakery Boxes
Indeed, the most important point any brand in different industries has is getting customers' attention. Is this seeming like a rewarding effort to you? Well, we can say that these small things can make a really big difference.
In this context, having unique bulk bakery boxes helps your brand to achieve a competitive advantage effectively. Not only will these packaging boxes give your customers good insight into your brand. More than that, the boxes will help to differentiate your brand from other bakery brands.
Check Out Creative Bakery Packaging Ideas for You!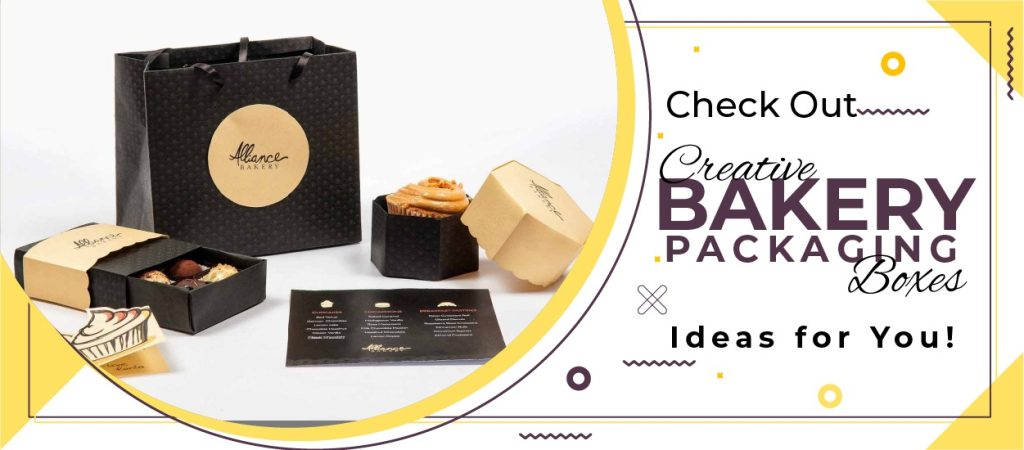 For many bakery brands, devising product packaging is very important. Customization options make it easy for anyone to create their own packaging based on their creative ideas. Different types of customization are available for product packaging design.
Investing in creative bakery packaging ideas and then implementing them into your branding strategy will help your brand in long run. So, if you are looking for the most creative and easiest ways to sell your bakery items, why don't we start designing your product packaging?
Connect your item with its product packaging
Now let's talk about the best bakery packaging ideas. To be noted, your product packaging should stand out from many others, no matter what it costs. Why? Because it is your packaging that comes up as the best media that drives customers to purchase only from you. As a result, you will get the chance to deliver a lasting impression without any single hassle.
You can do this by applying various types of graphics, colors, and images that match your bakery item inside the packaging. Ultimately, you can increase customer interest in your bakery items by associating product packaging with the item.
Use your branding theme and apply them to your eco-friendly bakery packaging
When you work with an expert packaging supplier such as Silver Edge Packaging, you will find many themes available when it comes to designing your product packaging. However, you always need to make sure that the theme you choose will be the most suitable for your items. Most importantly, you need to associate this theme with your brand identity and logo as well.
You can do this by matching the theme of your eco-friendly bakery packaging with the color of your bakery item. Alternatively, you can try out the new market trends by applying some gradient color combinations.
Create a link between your product packaging and your brand
Don't tell me that you are still unaware how important branding is. Branding through your bulk bakery boxes is the smartest way to increase the value of your brand.
Now, you can easily grab all the benefits of branding by creating a link between your product packaging boxes and your brand. How to do this? By ensuring that the theme of your product packaging is related to the item's color inside.
Additionally, you can innovatively use images and short texts to let your customers know about your bakery brand. You can also use lively bakery images. It will be also beneficial. In fact, this branding effort can impress those customers to buy exclusive bakery items.
Or else, you can eventually turn your product packaging boxes into an interesting brand story.
Be creative with your custom boxes and convey your brand message
Without any doubt, you need to be creative in choosing the elements that will help convey your brand message. So what can you really do with your custom boxes?
Apply your authentic brand's theme
Customize the boxes with your brand's colors
Appeal to your brand value by applying stylish text and printing options
Print your brand's slogan in your own font style
Add value by embossing, debossing, and applying coating on the boxes
Use environmentally friendly ink
Be it muffins, donuts, or cupcakes; bakery items are what customers consume. In this regard, low-quality packaging boxes that leave ink stains can make these items toxic. This is why the design of your packaging boxes should be made with environmentally friendly ink, which is not harmful to human health.
Make sure to include environmentally friendly features in your bakery packaging ideas. Of course, use materials that will not harm human health. In this way, your bakery brand can play your role in a green environment. At the same time, you will provide healthy bakery items to your target audience.
Deliver a better customer experience through your eco-friendly bakery packaging
If you provide excellent quality of products or services to your customers, they will always love to come back to you. In this context, we know that product packaging is the main factor that affects or destroys your brand's image. Therefore, if you want to stand out from the competition with your bakery items, you need to offer more than just good taste.
The attractive eco-friendly bakery packaging provides the best protective layer for your bakery items. Even better, this packaging will help in preserving your items during transit. In the end, this packaging will provide your beloved customers with the best experience they could ever have. In the end, they will pave the way for improved marketing and increased sales for your brand.
This eventually means a completely comfortable and enjoyable customer experience.
Wrapping Up
Having the tastiest bakery items in the town doesn't guarantee you will get better sales than your competitors. Instead, you will need to make some effort to win the hearts of market customers. This is why you need to have creative ideas to design your product packaging appealingly.
At Silver Edge Packaging, our competent packaging experts will recommend you the most creative custom bakery boxes. Even better, we will be pleased to assist you with our professional design support for free. So, if you are excited to design the best packaging to sell your bakery items more, simply contact us now!