It's finally time to market your products after all the hassle of starting your baking business. For this customers must first be aware of your brand to drive more sales. It is one of the main reasons why many brands present their bakery items in attractive boxes. That's why Custom Bakery Boxes with window is a top-notch choice for every baker.
Because if your boxes are of poor quality or generic, no one will bother to take a look at your bakeries. With it, food hygiene and product safety are also important considerations. Have you heard about custom bakery boxes with window? These boxes end up being the favorite option for many bakery businesses. Let's check out some top reasons why many brands choose these appealing boxes!
The Importance of Having Bakery Boxes with Window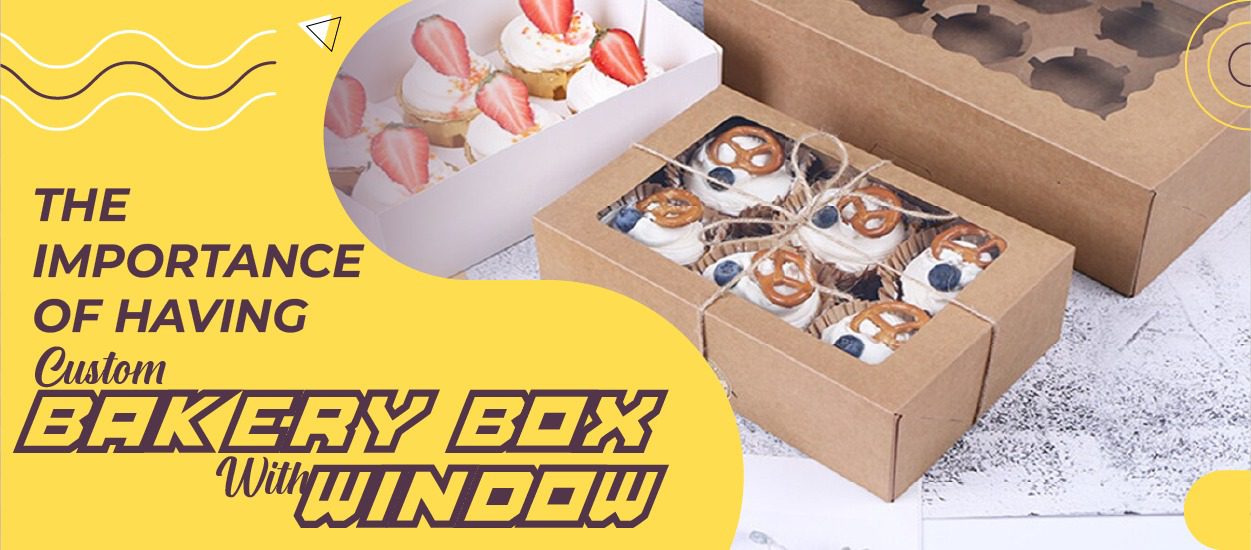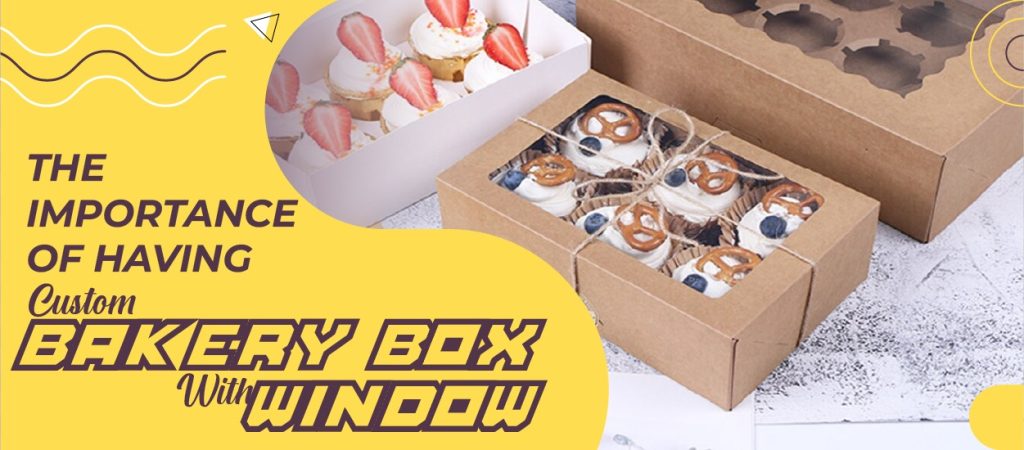 Thinking outside the box is a good idea once you understand the importance of bakery boxes with window. These presentable boxes will not only work well to protect your delicious bakeries inside.
Adding a window shape to your packaging boxes can do more than protect your bakeries inside. Better yet, having a great display through your window can attract more prospects during transit. Printing the logo and other pertinent details of your company will give maximum exposure to your brand. Imagine how many people will get familiar with your bakery business when they receive printed bakery boxes. Yes, you would not want to skip these amazing boxes!
Reasons to Choose Custom Bakery Boxes with Window
First of all, custom bakery boxes with window will be a great option to display your delicious bakery items. Bakery owners love to display their beautifully designed items to attract eyeballs toward their products. Here attractive product packaging boxes will play their role to secure high value.
Bakery items show you creativity and need appreciation. For such items, human interaction is necessary in order to gain popularity in the market. That's why the right packaging is needed to display your product and boost your sales. Additionally, these boxes will grab their attention and your delicious product will secure space in their hearts.
Now let's explore more about the top reasons to choose these presentable boxes for your bakeries!
Boxes with Window Ensure a Classy Look
Boxes with window offer various edges to ensure a sleek and classy look. In addition, these boxes can be made of rigid material. Rigid boxes are a symbol of luxury and delicate items. Which will make your bakery items look more delightful and branded.
Safe and Secure Functions to Prevent Damage
Well, this is actually the main reason why Custom Printed bakery boxes are the perfect option for wrapping any type of bakery item. The beautiful window cut boxes will let your customers see your bakeries inside without opening the boxes. By giving them a wonderful preview, you not only temp them but also trigger impulse buying which will lead them to buy your product.
Bakery Boxes with Window Suit All Your Packaging Needs and Requirements
Bakery boxes with window offer complete customization options. Thus, you can easily design and modify the boxes to your liking. Yes, you have the opportunity to customize the boxes by working with a trusted packaging company.
Which part of the boxes is available for you to customize easily?
● Design variety for the customization of your packaging boxes
You will be free to apply your creative designs and ideas to your food boxes and can even use your brand's authentic design or a seasonal design to create your boxes. Also can add a window to display your item or you can give them different shapes using the die-cut option. Moreover, can use two kinds of styles for minimalistic packaging. Or you can give a touch of functional packaging in order to be unique.
●
Customize your bakery boxes in different sizes
You can precisely size and measure the boxes to fit your bakery items. This way, you can optimally protect your delicate items. For small items you can order small bakery boxes. Or for large and heavy items you can order large bakery boxes.
● The shape
Customers are spoiled by hundreds of bakery items from different brands in the market. The uniquely shaped boxes will make your bakery items end up being the center of attention.
●
A wide range of color combination
It is up to you to choose the color combination you want to apply. Yes, you can make your boxes look trendy, elegant, funny, cute, or whatever you want. You can print your boxes in single color or in a combination of colors using the CMYK palette. Whatever color scheme you choose it must resonate with your brand.
●
Variety of printing styles
You will get the freedom to print anything you want on your boxes. Right from the text, and images to lively visual graphics, every single thing. Use minute techniques to print your boxes. You can choose gold/silver/copper foiling, hot stamping, embossing, or debossing techniques to prominent the area of packaging, where you want to get the attraction of your customers.
Custom Bakery Boxes with Window Provide the Ideal Look for Your Baked Items
Product appearance is very important for customers to purchase cakes, donuts, macaroons, and other bakeries. This is exactly where your packaging boxes play a key role in getting maximum attention.
Beautiful custom bakery boxes with window can go a long way to keeping:
The Freshness of your bakery items

The original and delightful taste of your bakeries

The Hygiene standards for your items

The appearance of your bakery items
In a nutshell, it is sure that delicious bakery items seen through a clear window will increase the craving for the sweet tooth.
Help You Bring Your Brand Name
Boxes with window are growing in popularity as they help many brands to increase their brand awareness. When your product gets the maximum exposure it automatically creates a strong identity of your brand in the minds of your potential customers.
The transparency of your packaging design makes it easy for customers to see your bakery items inside. In this way, you can not only flame their craving for your bakeries. Also, you can easily bring your brand name into the limelight.
Tips to Design the Most Attractive Custom Bakery Boxes with Window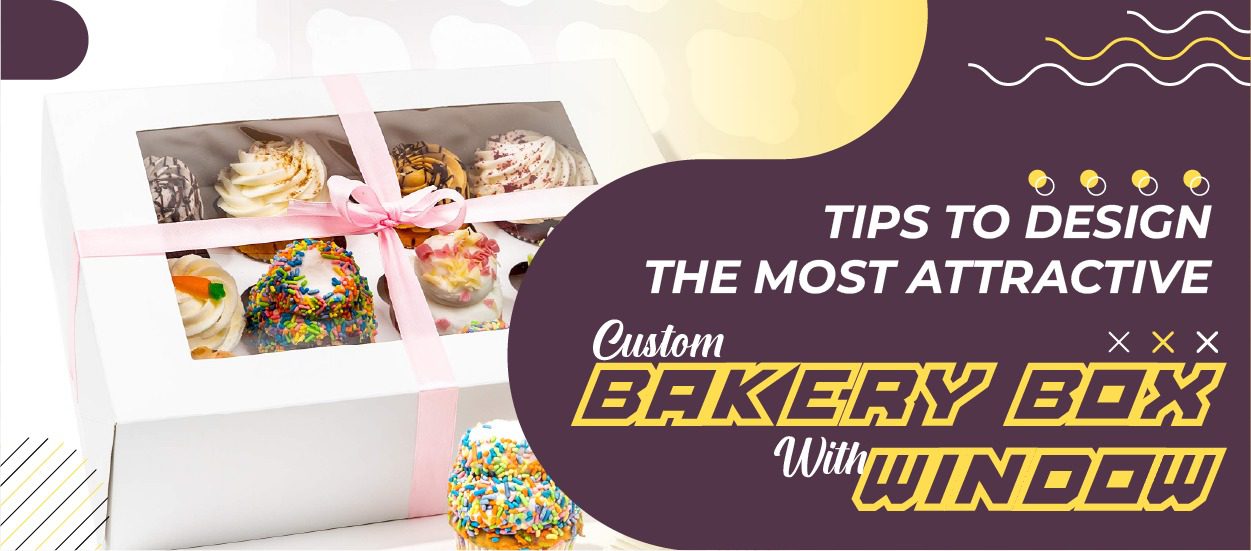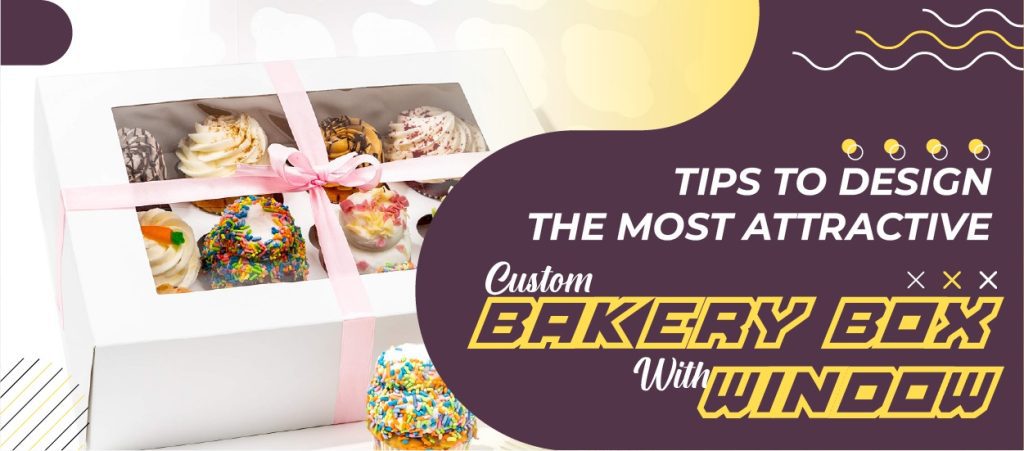 Now that you know why many brands choose custom bakery boxes with window. Aren't you getting excited to get them? But wait! How about designing attractive packages with your creativity? Yes, you can do that easily by following some creative tips below!
Print All the Details!
Why is it significantly important to print all the details of your company on your packaging boxes?
First of all, you can provide all the pertinent details to convey additional information in a visually appealing way, through bakery boxes with window. This effort will leave a more positive impression on your target customers. Additionally, printing all the details will make it easy for customers to contact you. Also, it can increase their retention rate.
So, what details should you provide to convince customers?
The list of ingredients (of course!)

Production and best before dates

Product's weight

Calories and nutritional information

Your company details, brand story, and brand logo
Also, you can provide some tips to excite customers. Or else, you can provide the health benefits of consuming your bakery items. Customers will love to purchase items that are valuable to their lives. You encourage them to purchase only from your bakery brand by highlighting all the health benefits. Well, doesn't that sound amazing?
Customize the Boxes with Your Branding Style
It will be helpful if you customize your boxes with your branding style. You can also design them with your own style to suit the bakery items you are selling. Even better, you can choose different styles for different items.
For instance, you can go with:
Die-cut boxes for cupcakes

The sleeve box style will be ideal for donuts and macaroons

The two-pieces box style is perfect for displaying delicious cakes
What's better, you can also add some decorative elements such as a lovely ribbon or a classy tie to make the boxes even more charming. Ultimately, being creative with your custom boxes will help your business to grab more customers' attention.
Make Sure to Use High-Quality Packaging Material
Using high-quality packaging material is something that you should never make any compromises with. Packing your bakeries in poor-quality boxes will only leave you worried and disappoint customers. Even if you have the most delicious bakeries in town, they will not get sold in poor-quality packaging boxes.
To protect, pack, and present your tasty bakery items, you need to make sure that your custom bakery boxes with inserts will be of premium quality. For this, designing them using high-quality packaging material is highly essential. There are many packaging materials available out there. Yet, remember to choose the one that suits your packaging needs.
Final Ideas
The packaging boxes you use for bakery items should not only be ideal for protecting your bakeries. More than that, a tasteful design is important to captivate more customers. Many brands choose elegant custom bakery boxes with window as the best option. When it comes to displaying your bakeries delightfully, these boxes are your best option. By having these boxes wrapped and displaying your bakery items, your brand is just a step away from reaching success. Thus, don't you think, are these boxes not worth having? If you do think so, you can count on Silver Edge Packaging. Together, we can design exceptional boxes with your own style to display your bakeries beautifully!
Happy designing!