Retail and grocery stores are highly competitive. Customers can easily find hundreds of new brands that continue to enter the market. Accordingly, each food item comes with its own needs and requires the right product packaging. In the context of cereals, the packaging box must have the ability to influence many customers. For this, you will need to make your packaging look more attractive. After all, only appealing packaging has the power to boost your sales. To help you design the best packaging, below are 10+ cereal packaging ideas you can try!
Why Do You Need Appealing Cereal Packaging Boxes?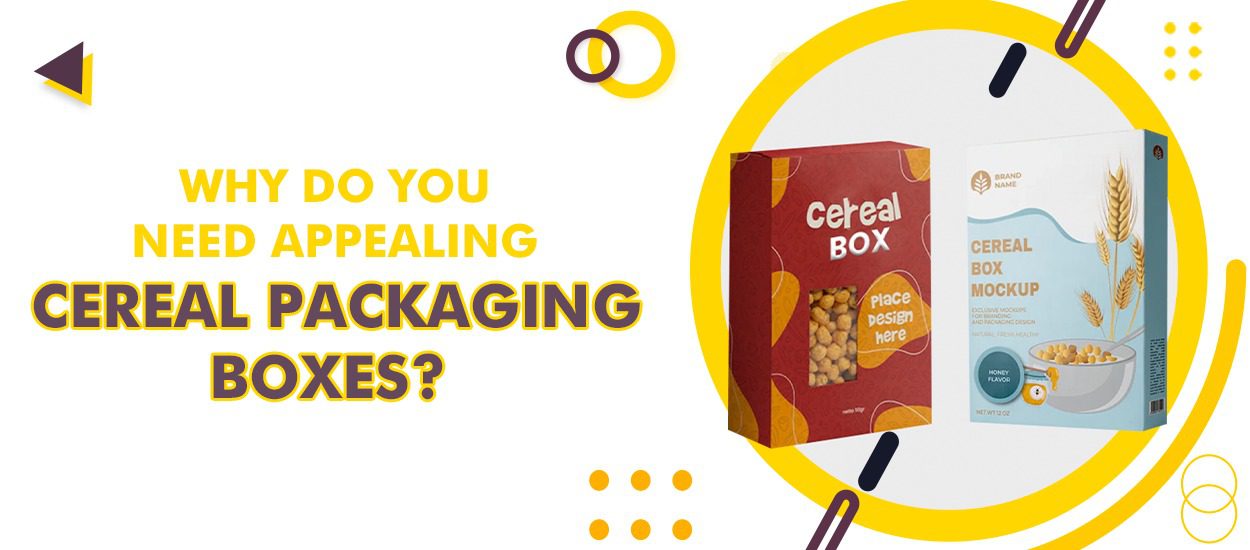 Do you know that more than 95% of new products fail to survive in the market each year? Accordingly, poor packaging is to blame here. Indeed, product packaging is the key to getting your customers' attention. More than that, it will be your best tool to inspire them to spend money on your healthy cereals.
In the case of cereals, appealing cereal packaging boxes are highly important. Not only will you need these boxes to protect your healthy cereals properly. Far better, these boxes play an important role in boosting your sales.
Unique Cereal Packaging Ideas for You!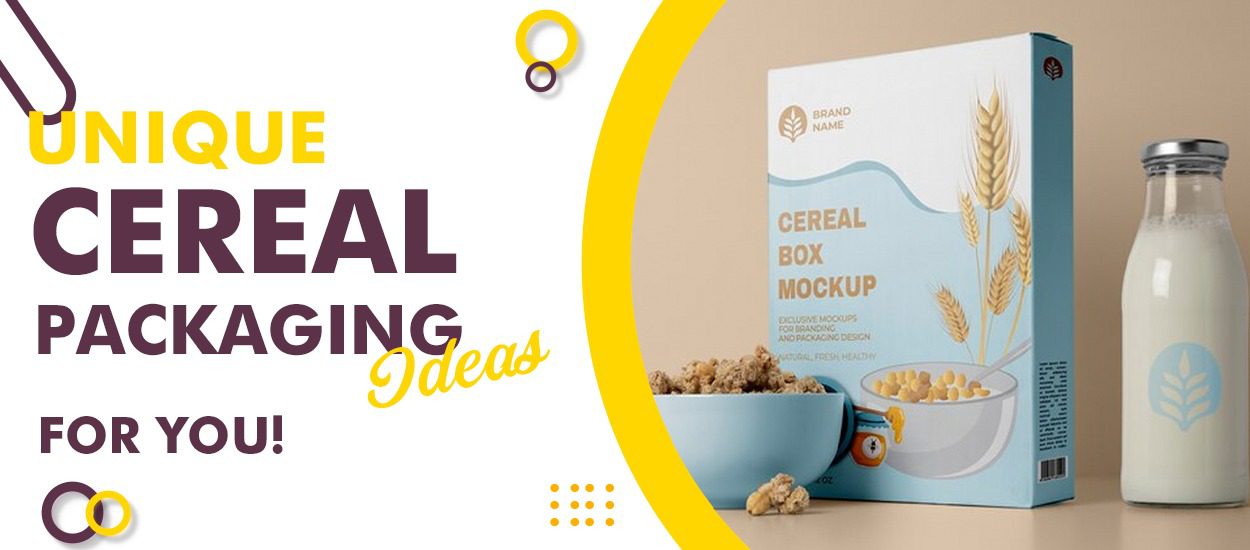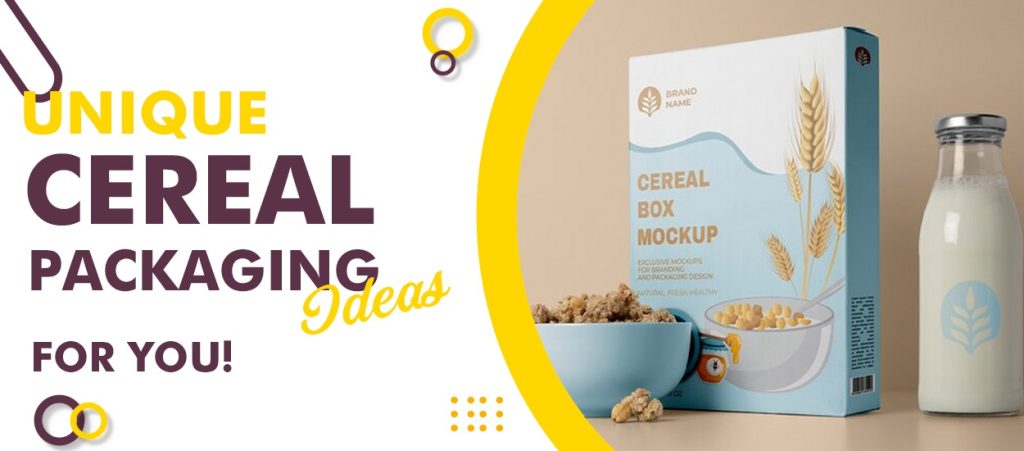 So now you must be wondering how to create unique boxes for presenting your cereals? Worry not! To make things easier for you, below are unique cereal packaging ideas!
Ready to get started?
Know your target audience better and properly
A perfect packaging design will help you attract your target audience. You need to personalize the design of your cereal packaging boxes to meet the customers' needs. We know that there are different types of cereal customers you can find there. From light breakfasts to low-calorie meals, cereals meet different needs.
This is exactly why you need to know your target audience better and properly before designing the boxes. For example, you can design the boxes with animated images for children. Or else, you can mention the description such as "low calories" to attract those health-conscious customers.
Introduce your healthy cereals attractively
Your cereals should always be the stars of your design. In fact, it should not be just the bookends of the rest of the images. Yes, it is important to make sure that your cereals will stand out from all other content. Unfortunately, some brands still don't understand how important this is. Well, the fact is, if those customers are unable to see your product, how would they ever purchase it? So, make sure to introduce your cereals attractively.
Never make any compromise on the material you use
This is one of the most important cereal packaging ideas you should always focus on. You will find a variety of high-quality packaging materials available. However, by working with Silver Edge Packaging, you will have no restrictions on using the material you want.
For example, kraft paper will be a perfect recyclable option. Alternatively, you can go with highly customizable cardboard. However, you also need to focus on your product specifications when choosing the right packaging material.
Add a personalized touch to the design
By adding a personal touch, you will be able to create a memorable experience. This will eventually make customers want to purchase your cereals. This is why we mentioned above that you need to identify your target audience.
For instance, if you want to advertise to kid customers, you can use large fonts, bright colors, and custom patterns. Also don't forget to add those cartoon characters, puzzles, and even mazes. These variations will surely make your boxes look more exciting.
After all, breakfast time should be filled with fun and enjoyment for a kid. On the other hand, this doesn't mean that you should overdo it. Instead, the packaging design of your cereal packaging boxes should not be too complicated.
On the other hand, if you sell weight-loss cereals, you need to advertise all your cereals' nutrients and beneficial properties.
Present your cereals in the best way
You can present your cereals in the best way by using images. Images can be perfect for promoting the product's effectiveness. In this way, you can convince those customers that they are buying products that positively impact their lives. Yes, adding this personal touch will encourage them to connect with your brand. Eventually, this will convince customers to buy your cereals over and over again.
Your brand logo is important to be on the boxes
Adding your brand logo to your cereal packaging boxes is one of the easiest ways to make your business visible. This will make your cereals look unique. Even better, your customers will always remember your brand every time they see your boxes.
To convince you more, recent research has shown that visible logos and brand names significantly impact purchasing decisions. This is why you need to present your brand logo on the boxes in the unique way possible. Whether you will make it a very simple design or a big and creative way, your logo is essential. So, make sure the logo you use will enhance your unique brand identity. Most importantly, make sure it will reflect your brand's mission.
Stylish texts will help you get high sales
Believe it or not, the text style you choose for your cereal packaging boxes will play a big role in boosting your sales. You can create attractive packaging design by choosing simple and clear typography. Before designing your boxes, you can go to the market to see what your other competitors are doing. Yet, it would help if you always tried to be different from them. Most importantly, keep in mind that the text on your boxes should be easy to read.
Apply innovation to your boxes
The recent trend of applying innovation to packaging boxes ends up becoming more popular these days. Modern customers love smart boxes that come with innovation for more data and easy access. For example, you can get your cereal packaging boxes with chips and QR codes printed on them. This innovative design will eventually allow customers to know more about your cereals and your brand.
Go for sustainable packaging
In this modern society, customers have become more environmentally friendly. This applies further when it comes to product packaging. In order to appeal to more customers, you need to shift to sustainable packaging. For example, paper packaging material can help you eliminate the need for plastic inner bags. Or else, you can also go with recyclable plastic. Recyclable plastic bags can keep your cereals fresh longer. This way, you can give consumers peace of mind.
Try to mix and match with contrasting colors
You surely want to always highlight your product in the packaging. You can make the text and other images stand out to do this. You should also consider using multiple different colors to create a contrast. Yes, try mixing and matching everything outside of your boxes. Applying three or more bold colors will help you to draw attention.
Use a clever brand slogan
A clever brand slogan is one of the smartest cereal packaging ideas you can try out. Make sure the slogan will be short, memorable, and unforgettable. Ensure that customers will easily remember it without looking at it for a while. This will help you make a huge difference between someone picking up your boxes and passing by.
You can try to create some different slogans and test them with different audiences. This way, you will see which one works the best.
Provide function-related information on the back of your boxes
Most customers are attracted to cereal packaging boxes for their colorful finish. However, another way to make your brand stand out is to provide useful information on the back of your boxes. You can use this space to highlight product attributes, nutritional information, and other details. When they see your boxes, customers will have all the details they need to purchase your cereals.
Keep your packaging design simple
Never try to overdo or decorate an extravagant packaging design. Instead, you need to make the important elements stand out so that customers will understand. KEEP IT SIMPLE. Yes, remember that simplicity is essential. Ignore the temptation to overload your packaging design with some unnecessary elements. Alternatively, you can let the most important information speak for itself.
Create Your Cereal Packaging Boxes Now!
Creating unique Printed cereal boxes that attract customers can be a daunting task. To appeal to a wider audience, you would want your packaging boxes to tell your brand story. Whether you will use funny characters for kids or promote weight loss for adults, a glance at your boxes should invite customers to get your healthy cereals.
So, if you are interested in applying those 10+ cereal packaging ideas to boost your sales, you are on the right path. Simply contact Silver Edge Packaging, and we will be happy to assist you!