The design of your product packaging is highly important. This applies more when it comes to promoting your product. We know that bath bombs today have become the best-sellers in the health and beauty market. On the other hand, no product can promote itself in the market. In this regard, you need attractive packaging to interest more customers. Moreover, unique packaging will create a higher demand for your beautiful products. So, if you wish to sell more by using your product packaging, you will love to know the creative bath bomb packaging ideas below!
Using the Right Packaging Materials Is Important for Bath Bomb Packaging Ideas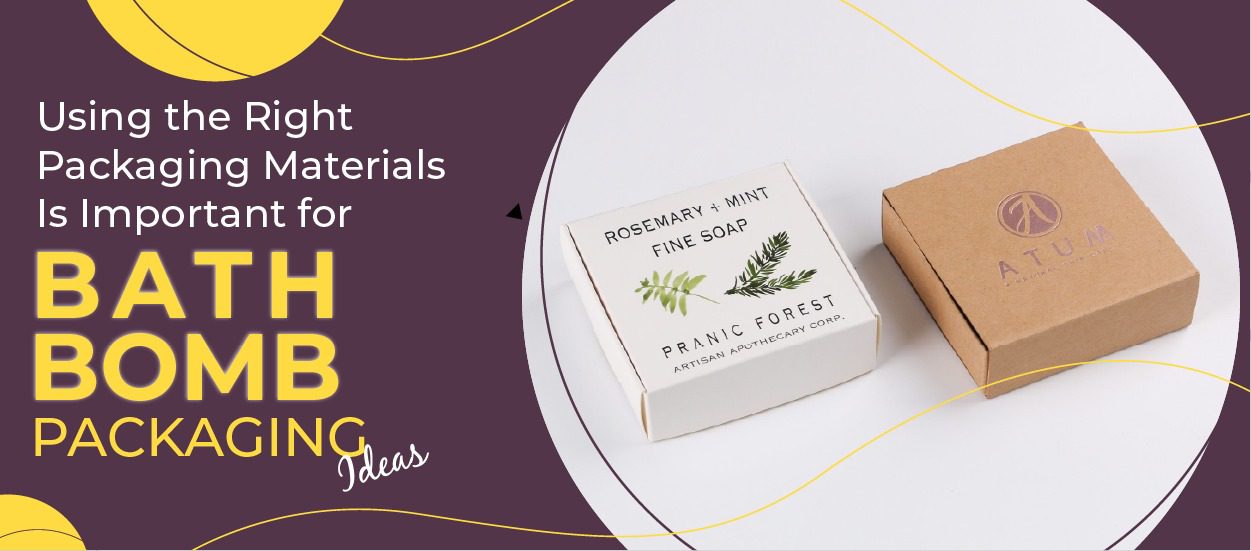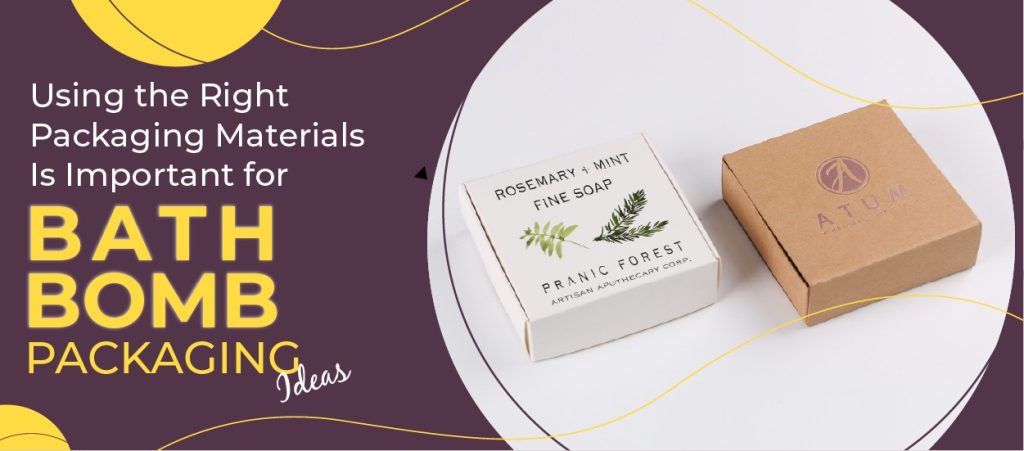 Undoubtedly, the packaging material you choose for your product packaging is important. The material you use influences the success of product selling. You need to use durable material to protect delicate bath bombs from damage during delivery.
You should also consider using biodegradable or recyclable materials. Using these materials will let you shape a reliable brand image. After all, environmentally friendly packaging is one of the most imaginative bath bomb packaging ideas.
Your Bath Bomb Packaging Should Be Aesthetically Appealing
Your packaging should make your product look excellent to grab more sales. Of course, it should also catch customers' eyes. An aesthetically appealing packaging can do this very easily. But wait, do you know what it means by aesthetically pleasing packaging?
This simply means that your bath bomb packaging should:
Look appealing even from a far distance
Grab the attention of all passers-by
Turn those prospects into your potential customers
Make it easier to display your products on the shelves
Express your brand with a stunning logo that convinces customers
Make Your Packaging Vibrant and Lively
You should make your product packaging look more vibrant to get more attention. You can do this by combining eye-catching colors and vibrant images. Combining the right color combinations and images makes your bath bomb packaging look attractive. Even better, this combination will catch every eye as the packaging. You can also create an exciting feeling by applying a bright color outline. What's more, you can use relevant images to present the benefits of your product. This will surely attract customers.
Provide a Convincing and Clear Product Description
The product description on product packaging should be easy to read and understand. Obviously, you don't want customers to get confused. Worse, you don't want them to reconsider their purchasing decisions.
So, what description should you provide?
The instructions to use your product
The ingredients of your beautiful product
Your company name along with complete contact details
Warnings and precautions (if any)
To be noted, remember to use a stylish font that will be easy to read.
Let's Try Out the Die-Cut Technique to Create Unique Bath Bomb Packaging!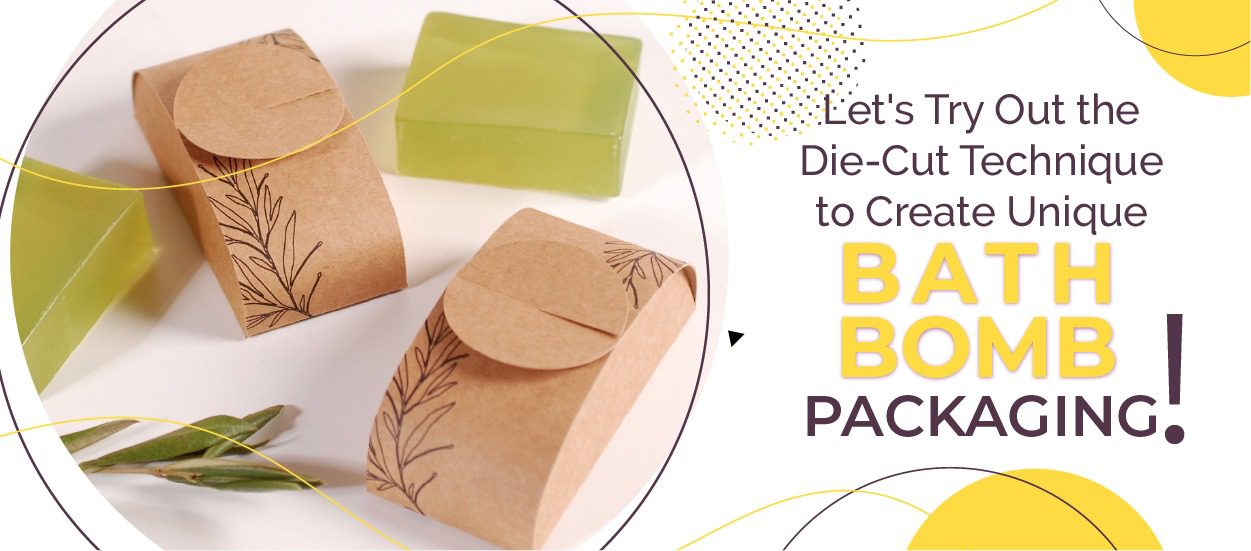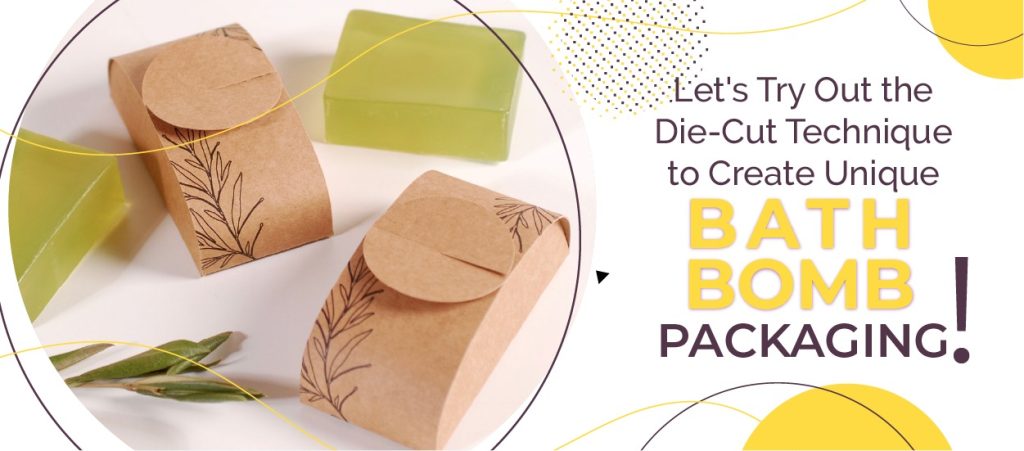 You will love the die-cut technique regarding unique bath bomb packaging ideas. This unique and low-cost technique makes your packaging look more impressive. This technique will help you get the right shape you want for the packaging, including:
Pyramid shape
Window shape
Pillow shape
Cylinder shape
Hexagonal shape
And other unique shapes
Make Your Packaging Look More Luxurious with Interesting Ways
You can add a luxurious touch to your bath bomb packaging. This way, you can easily turn those heads and grab more attention. Doing this can convince more customers to purchase your beauty products and bring them home. How can you possibly do this?
Well, there are various exciting ways to do this, such as below.
Apply Embossing or Debossing Technique
Embossing and debossing are two amazing ways you can apply to your packaging. The embossing technique will create an elevated texture for your product packaging. Meanwhile, the debossing method will create a shadow impact. These techniques are also ideal for making your brand logo pop up.
UV Spot Is Ideal
UV Spot is another ideal technique to feature a shinier sideline on your packaging. The best part is that this technique will additionally add an extra layer of product protection.
Provide Special Treats for Your Beloved Customers
Yes, you can provide some treats for your beloved customers. Another best way to make your customers happy is to include some packaging treats. By giving treats to customers through your packaging, you can encourage them to make future purchases.
You can add some lovely small items such as
Perfume sachets
Small bottles of bath bubbles or shampoo
Small unique items to play with in the bathtub
Unique thank you notes to gratitude your customers
Discount price coupons
Never Ignore the Premium Printing Style for Bath Bomb Packaging
The printing style can eventually create a specific identification of the brand. Indeed, the lack of brand logo components is not desirable. Instead, you need to make sure that all your branding elements will make those customers feel interested. Yes, you need to apply premium printing style on bath bomb packaging. With the right printing style, product packaging doesn't only look professional. In addition, modern printing styles will attract more customers.
Make Easy-to-Handle Packaging
Easy-to-handle packaging ensures that customers will be unable to resist your product. This is why you should never think of using poor-quality packaging to pack your products. Poor product packaging will not be durable to protect your products in transit. In fact, poor-quality packaging can make your brand image worse among customers. Remember that your product packaging should always protect your delicate products from moisture and punctures. Eventually, the packaging should not get damaged during the storage and delivery process. Simply put, when it comes to bath bomb packaging, it needs to be easy to use and handle.
Make Your Bath Bomb Packaging Captivating with Finishing Options
Finishing options work perfectly to present an extra layer of safety to your packaging. The suitable coating will make your bath bomb packaging look more captivating in customers' eyes.
Below are some popular finishing options many brands love to apply to their product packaging! You should also try them out!
This coating is extraordinary for giving your packaging a more elegant and conventional appearance.
A sparkling glossy coating
As the name suggests, this coating is ideal for providing a smooth shine to your design. Thus, making your packaging look luxurious.
This coating provides your bath bomb products with maximum safety for moisture damage.
With the right bath bomb packaging ideas, you will get the chance to create lovely packaging. More than that, your product packaging can eventually bring in higher profits for your business. As a result, not only will you make those customers unable to resist your lovely products.
Custom Stickers and Labels Make Your Packaging Look More Exclusive
Smart alternatives such as custom stickers and labels will make your packaging look more exclusive. These two options will also work perfectly to make your brand look more professional.
A Sleeve Box Style Is Perfect for Presenting Beautiful Bath Bombs
A sleeve box style is another way to make your bath bomb packaging look classier and lavish. This style will help you turn those eyes to pay more attention to your products. Customers will see hundreds of products on the shelves with their packaging boxes. Yet, if you can highlight your products perfectly, they will surely pay more attention.
Go Green!
The demand for environmentally friendly packaging is growing. Accordingly, more customers are aware of climate change. Going green with your bath bomb packaging ideas is no longer an option today. Instead, performing perfectly is part of your brand's corporate social responsibility.
Recyclable packaging materials will be perfect in this regard. This effort will improve the market demand for your beautiful products as many people admire recyclable and green packaging.
Print the Inside and Outside of the Packaging
You should print a lovely image or brand message on the inside of your product packaging. For the outside, you can print special prints such as graphics and the detailed description above. Providing the correct description on the wholesale bath bomb packaging will make your brand more prominent. This effort will be valuable when it comes to delivering your products to customers. Why?
Imagine how many people will come in contact with the product packaging in transit. Yes, you can get more customers and earn more sales!
Wrapping Up
In order to win this competitive market, you need to present your products as appealing as you can. To do this properly, you should understand how to create appealing product packaging. Not only will the right product packaging add more appeal to your products. Far better, the right packaging will help you deliver an unforgettable unboxing experience to customers. At the end of the day, attractive packaging will help you perform your corporate social responsibility.
Hopefully, the creative bath bomb packaging ideas we revealed in this post inspire you to design exclusive packaging. Plus, if you are ready to create the most excellent packaging that will sell more, you can feel free to contact Silver Edge Packaging!