Many wine brands still rely on simple, standard packaging to get the job done. How can you expect to reach your sales goals if you don't invest in your product presentation? See, you have a great product, but you are not focusing on one thing – your packaging! Wine paper box packaging is a great way to get the attention of customers both in retail stores and online. Often overlooked by most brands, you can eventually make your packaging as unique as your wine! How? Well, below are some design tips you can try out!
How Can Customized Wine Packaging Boxes Help You Promote Your Business?
The presence of wine bottles at dinners and parties around the world has driven the industry. Along with the increasing market demand, many new brands have started joining the race. The main goal of every single brand is obvious; to get high sales and promote its brand. How? Customized rigid wine packaging boxes with inserts play a decisive role in making things easier for you.
Custom boxes help your business to:
Protect your wine bottles in transit
Tell your unique and interesting brand story to engage with your target audience
Provide product benefits and valuable information
Make your brand noticeable for customers
Drive the customers' purchasing decisions
In simple words, these boxes will help your wine business to hit the market easily!
Let's Design Unique Wine Paper Box Packaging for Your Unique Wine!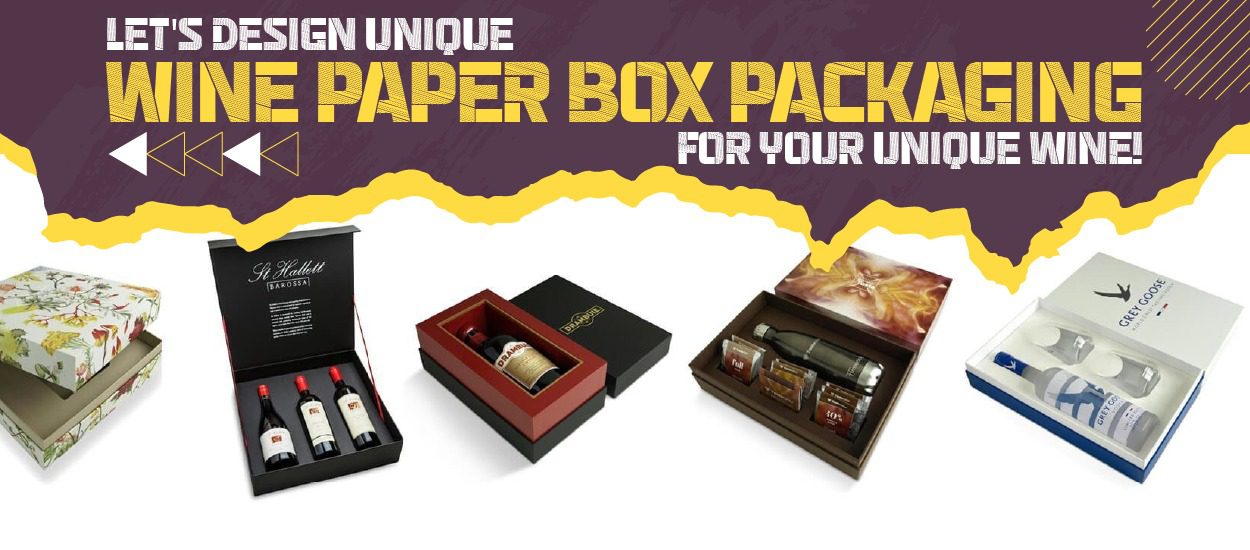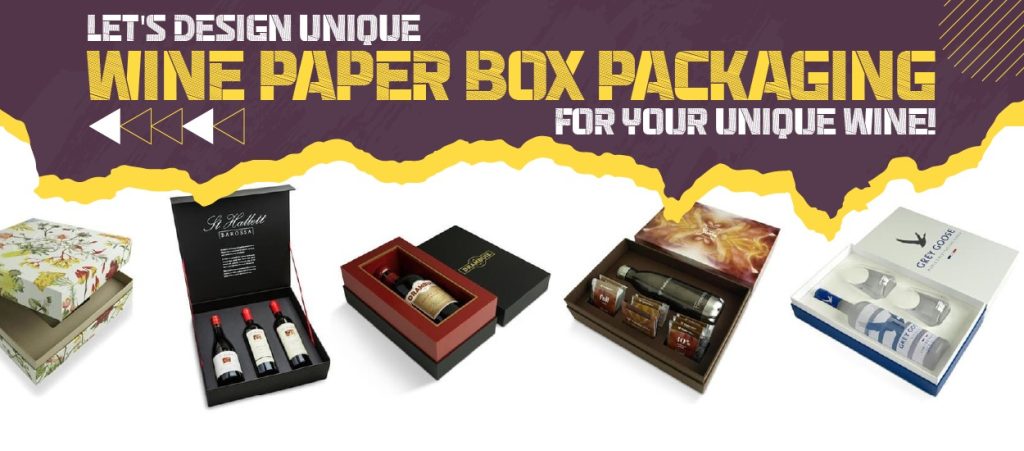 Most winemakers take great care to make their labels stand out. Well, their marketing strategy is correct. We know that it is an eye-catching label that persuades customers, most of whom aren't wine experts, to try their products.
The challenge is to make something as unique as your wine itself. Yet, it can be challenging to include the story and heritage of your brand into standard packaging. Designing a unique packaging is a real test to bring your wine history and heritage to life. Yes, you need the right packaging that blends your brand story and heritage. Thus, unique wine paper bags packaging can further highlight your brand.
So, how about designing the packaging that complements your unique wine? Let's get started!
Decide Your Packaging Needs
The first thing you need to do is think about what your packaging needs are. Try to answer the questions below before designing your wine packaging boxes.
Should you implement modern innovations in your boxes?
How many quantities of wine paper box packaging do you need?
How can you make your product packaging an extension of my brand?
How many packaging variations do you need?
Set Your Budget for Product Packaging
The next step is to set your budget for product packaging.
There are two types of costs when we talk about new product packaging. What are they?
This is the initial cost of design and the price of the product packaging itself.
This will be additional filler, breakage, and more you need for your product packaging.
Don't forget to include the cost of packaging and shipping your packaging boxes.
Deliver a Unique Look Through Colors, Fonts, and Graphics
All wines are unique. We can see many brands offer so many opportunities to celebrate this uniqueness through their packaging boxes. Well, it is no denying that you can solidify customer loyalty with unique wine paper box packaging. By having unique packaging wrapping your exclusive wines, you can make customers your brand ambassadors.
The choice of colors, fonts, and graphics can influence your product packaging. Accordingly, adding unique accents such as attractive gold and metallic foil finishing, contrasting matte and soft touch elements, or the addition of embossed details allows you to deliver a better customer experience.
Present the Essence of Your Wine Better
The way you display the text on the packaging will be immediately impressive. Why? Because our brain processes visual information faster than reading the text. Accordingly, lively visual graphics are great for drawing in more customers. Even if they don't know much about your wine or can't distinguish between flashy terms, the visual graphics will show the quality of your wine and how it tastes.
Luxurious custom rigid boxes can be your best options among the most popular types of wine packaging boxes. What's more, you can use bright colors and whimsical fonts to present your wine as fruity and refreshing. Elements such as a map of where the vines are grown and graphics that reveal the keynotes of the taste will work to tell a unique brand story.
One thing to note here is that it is a good idea to match your wine packaging boxes with your brand's colors. We know that each color speaks differently to customers with a different emotional level. This is something that all designers know. So, why not use that on your packaging boxes? There is a great opportunity when you put that knowledge into practice. Eventually, you can create the packaging boxes that match your brand in a powerful way.
Remember That Wine Is Perfect for Gifts
Be it for an anniversary, wedding, housewarming, or holiday, we all know how a wine will be the perfect gift. Uniquely designed packaging can fit any occasion.
In this context, you need to see from the customers' point of view. Interacting with beautiful packaging (and eventually opening it) will be a memorable part of the experience. Most importantly, it will be perfect for gift-givers as they will not have to worry about packing your wine as a lovely gift.
Wine Paper Box Packaging – Bring Your Brand Story and Heritage to Life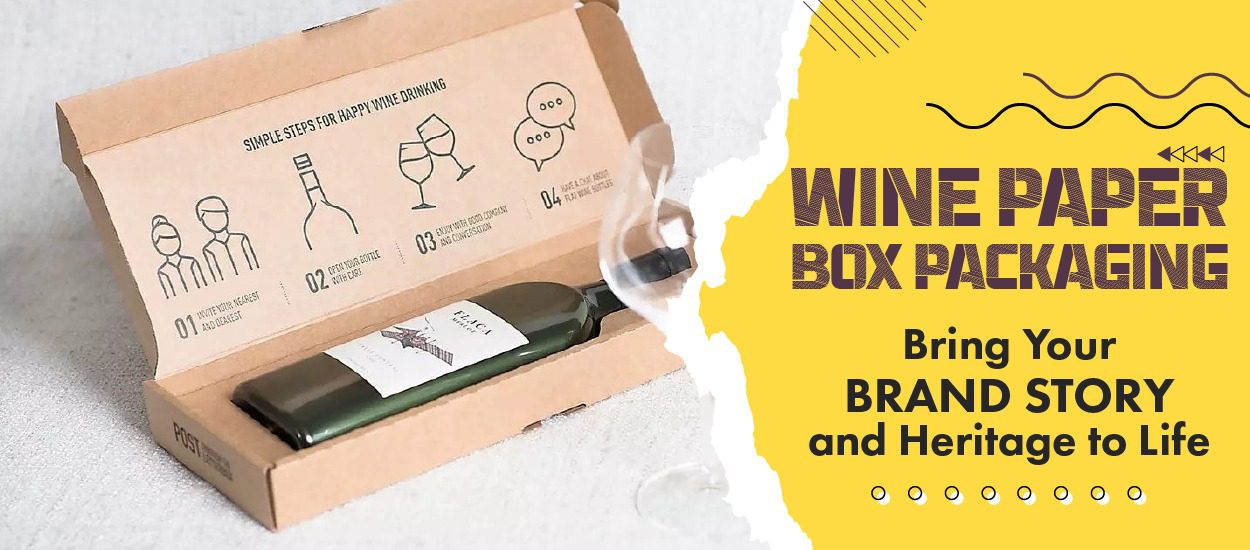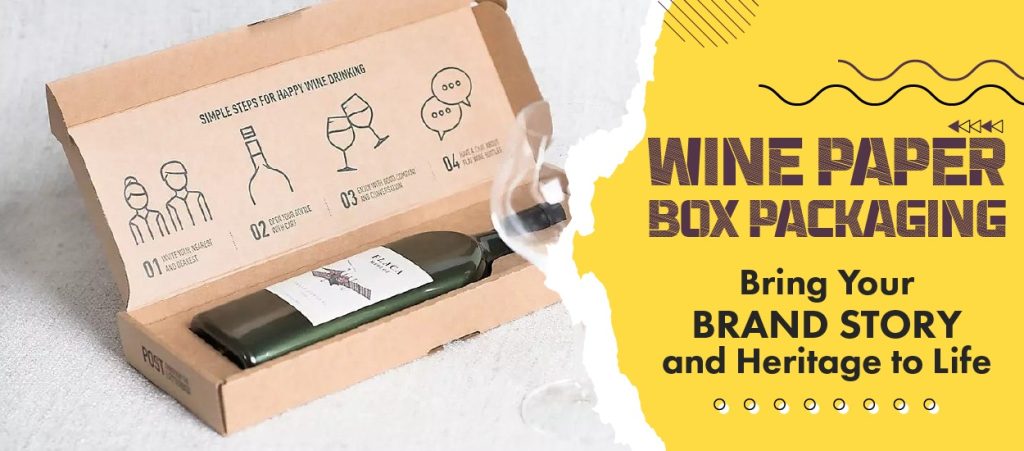 Now let's talk about the more brand-oriented elements. You can eventually present your brand story and heritage to life through wine paper box packaging. So, what are the best ways to do that?
Apply your brand's theme to show your unique identity
Tell the story of your exclusive wine with great copywriting
Try out the billboard effects by combining multiple packages to create an impressive wall
So how can you provide a memorable brand story through wine packaging boxes?
Modern customers are hungry for a good brand story. To provide a memorable brand story through your wine packaging boxes, you should:
Choose the suitable color palette that compliments your label and brand
Provide some iterations-it takes time to make the "right choice"
Spend time doing market testing with your packaging boxes and labels
Remember that credibility, community, and sustainability will be the first best keywords. In addition, the graphics you use should be in a shape that is easy to remember, clear, easily recognizable, and of course, easily identifiable.
Follow the New Packaging and Marketing Innovations
There are many new packaging and marketing innovations you can try out when designing unique wine paper box packaging.
For example, you can try out:
A QR code that tells customers about the expiration date and brand details
Double insulation inside the wine bottle keeps the wine cool and reduces the need to refrigerate the open bottle
Flatter or recyclable bottle designs and more flexible packaging
The Digital printing technique enables better customization and customer personalization
Eco-friendly packaging
Go for Fully Customized Wine Packaging Boxes!
Don't forget that this is an exclusive wine we are talking about here. Thus, you need to take your campaigns and ads to the next level with customized wine packaging boxes. The boxes will be your competitive edge to be a step ahead of your competitors and get full attention.
To make your wine brand look more exceptional, you can try to use custom foldable beverage boxes. Or else, if you wish to deliver an eco-friendly image, you can go with custom kraft eco-friendly beverages boxes. Make sure they match your brand identity regardless of the boxes you choose.
Final Thoughts
Exclusive products and labels are just the beginning in the highly competitive wine market. Investing in unique packaging is all you need to stand out. Careful planning and outstanding innovation can help you create a packaging design that enhances your wine brand. Even better, this effort will help you emphasize the uniqueness of your wine itself.
In the end, a wow product presentation from unique wine paper box packaging will let you grab more customers and sell more. Thus, this packaging is surely worth having. So, if you are excited to show off how unique your wine is, Silver Edge Packaging offers the best packaging solutions you need. Contact us for more details!