Luxury packaging and regular packaging, what are the differences? Well, luxury custom packaging is preferred as they add exceptional value to your products and brand. There are many benefits that luxury custom packaging offers for your brand instead of regular packaging. So, let's compare the two!
Why Luxury Packaging Is More Profitable than Regular Packaging?
Regular packaging is useful, that's for sure. However, it is all around what you need to secure and protect your shipments. On the other hand, this packaging will not offer a unique product presentation. Thus, it is not the perfect box if you want your brand to stand out.
Luxury packaging, on the other hand, is a great way to mark up customer experience and promote your business. Yes, it will be a bit more expensive than the regular packaging due to the manufacturing effort involved. However, the benefits it offers are immense. One of its huge benefits is the protection it gives your brand's reputation because only you have the printed pattern. You will not see it on your competitor's box as you will have the power to apply your own creative design.
In the end, you will understand why luxury packaging turns out to be more profitable than regular packaging. 
So now that you know the properties of luxury custom packaging compared to standard packaging box, how do you decide between the two? Let's dive further!
Luxury Custom Packaging Deliver an Exclusive Customer Experience
Sometimes all you need for your product to be highlighted is to get the right packaging. There is a reason luxury custom packaging is produced in large quantities. This packaging box is tried, tested, and true, guaranteed to support your shipping. This way, not only will your customer's order be provided. More than that, you will deliver an exclusive level of experience for them. How? 
The word custom here means you can customize every single detail of the packaging box. Thus, those customers will receive a unique box that they may not find from other brands. 
All you need to do is print your stunning brand logo, apply your creative design, and use branded colors. There you go! Have no idea how to design the box? No need to worry! The professionals in Silver Edge Packaging are always ready to assist you!
Luxury Packaging Allows You to be More Creative
Regular packaging will help keep your packaging from looking too overwhelming. This packaging works well if you have no time to design your own product packaging. On the other hand, it might be quite difficult when it comes to finding the perfect size that fits your product. 
Meanwhile, if you want to get the perfect box for your product, then custom product packaging will always be your best bet. 
By ordering luxury custom packaging, you will get the chance to explore a wide range of collections for custom designs. Even better, when you work with Silver Edge Packaging, you will get the most professional design support for free. Yes, you read it right! For free!
Silver Edge Packaging has the most modern equipment and quality materials to let you get your dreamed packaging box. Thus, it is fair to say that luxury custom packaging allows you to be more creative.
What Are the Benefits of Using Luxury Custom Printed Boxes?
Before we discuss the benefits of using luxury custom printed boxes, let's discuss the printing methods you can use to make the boxes splendid.
Yes, you can use an optional printing solution to make your luxury custom printed boxes even more attractive. The most common are digital and offset printing methods. Both methods offer the finest quality results. 
For example, digital printing are used to print your packaging box with unique strategies and procedures.
Offset printing, on the other hand, offers top-of-the-line luxury custom packaging at a staggering cost. 
So when you need to print boxes in bulk, you can go with digital. This is because less ink will be used, which will help you save money. In other words, digital printing will be ideal to let you get innovatively printed boxes at affordable rates.
So, speaking of the benefits of using luxury packaging for your products, there are many. Below are some of the most promising ones. 
Custom product packaging increases brand awareness, enhances brand value, and improves customer service over regular packaging. A dull, standard packaging that looks dull and uninteresting will not attract customers.
Instead, if you can add value to your brand with luxury custom packaging, you can build strong relationships with your customers. Strong relationships make customers loyal to your brand. Most importantly, it also offers many benefits to your business.
Deliver the Best Customer Experience
As mentioned above, better packaging improves the customer experience. A beautifully crafted custom box will always stand out. Eventually, luxury custom packaging will please your customers with its unique appearance. Meanwhile, standard, regular packaging will make your brand look inferior.
In this modern business world, having a modern integrated website is not enough to withstand tough competition. Instead, if you neglect to pack your product properly, you are missing out on a great opportunity to build your brand. 
Now, imagine how surprised you would be if you ordered your men's trousers and showed up on your doorstep with luxury packaging with a custom printed logo. Well, that's what your customers expect from you as well. They want you to impress them and care about their experience. Silver Edge Packaging helps you to meet your customers' expectations with custom luxury boxes!
Provides Better Product Protection
If you have a uniquely shaped or fragile product, custom packaging is a great alternative to better shipping insurance. The last thing you need is product damage during shipping because the standard packaging you are using doesn't have enough protection. 
Luxury custom packaging boxes from Silveredge Packaging are durable and sturdy. Thus, they are very ideal for protecting your products from damage.
Multiple Material Options to Choose from
The first step in creating these luxury custom packaging is to choose a material that is strong and durable. So, be careful before making a final decision. Some of the materials available on the market are cardboard, kraft, corrugated, and rigid.
Cardboard is very common. It is a strong and durable material used to make custom packaging boxes. Another great option, kraft material is the most eco-friendly one. This material is an ideal natural product. Best of all, this material can be adapted to a variety of printing styles. Thus, it will improve the appearance of your luxury custom packaging.
Apart from this, an expert packaging service provider like Silver Edge Packaging will provide you with various add-ons to make your packaging box more captivating. For example, die-cutting technique, a window shape, a handle shape, all are possible for luxury custom packaging. In brief, you will get the perfect packaging that meets every single of your expectations.
Which Type of Luxury Custom Printed Packaging Is Right for Your Business?
Now find out which type of luxury custom printed packaging is best for your business. Let's check out the most popular ones below!
With the rapid growth of e-commerce, custom mailer boxes are becoming the best way to offer a variety of products to customers. These boxes also help build brand awareness. If you are running an online brand, you know exactly how important it is to build customer trust and loyalty. It all starts with packaging style!
Rigid boxes are ideal for protecting products in exclusive presentations. So you don't have to worry about whether your products are safely packed during transit. The great thing about the boxes is that they never go out of style. 
Known for its strong and protective packaging, custom cardboard boxes are perfect for product safety. In many industries, these boxes have become the best option for delivering large numbers of products.
As the environment changed, people realized that the best packaging should be environmentally friendly. This is where custom kraft boxes fit perfectly into this market demand. These boxes will increase customers' confidence to purchase your products. Yes, those customers today love to get their products in eco-friendly boxes. So why not give them what they love?
Custom window boxes allow potential customers to see directly without opening your boxes. This will help you build their trust as they will be able to see the actual shape of your products inside. 
Other Points of Differentiation between Luxury Packaging Vs Regular Packaging 
Apart from the benefit and type comparison above, there are some other points of differentiation between luxury packaging and regular one.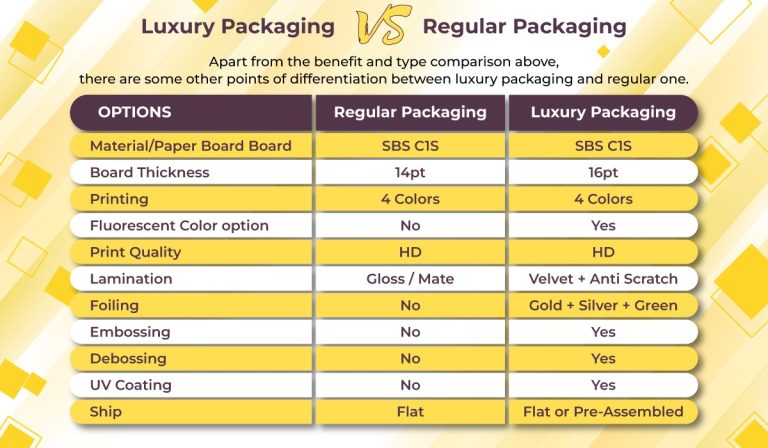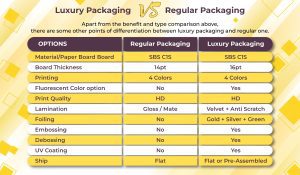 Wrapping Up
Many famous brands are starting to use these luxury custom packaging rather than regular packaging. The reason is very clear, custom packaging has more benefits and attracts more customers. What's more, by getting luxury custom packaging, you can design the box as to how you want them to be. This will eventually help to build brand awareness. 
So, don't you think that your exclusive product deserves luxury packaging? If you think so, then you know where to go. Start customizing your product packaging and get high-end results with Silver Edge Packaging!