The makeup aisle is like a colorful battleground of eyeshadows vying for your attention. Well, that's where packaging comes in. Imagine when you are strolling down the aisle, and an eyeshadow catches your eye. That first impression? Yes, it is the packaging doing its magic. So, why do you need custom eyeshadow boxes to grow your business? Let's explore more about this!
The Difference Between Standard Packaging and Custom Eyeshadow Packaging
So, if suppose you are using standard packaging, of course, this packaging gets the job done. Yet, it might not make you do a double-take. Then there's custom eyeshadow packaging. This one is like getting a tailored suit instead of an off-the-rack outfit.
Here's how custom eyeshadow boxes make all the difference!
Add a Unique Touch to Your Brand
Basically, custom boxes are all about personality. On these boxes, you can splash your logo, your brand colors, and other unique touches. Standard packaging? Not so much.
Let Your Creativity Free
We all know how eyeshadows are all about creativity and colors. Well, custom packaging lets that creativity spill onto the box. Yes, you can imagine eye-catching designs, vibrant colors, and shapes that match the awesomeness inside.
Standing Out in the Crowd
Standard packaging sometimes blends in like a wallflower at a party. Meanwhile, custom packaging is presenting your product in a flashy outfit. This way, your eyeshadow product will be the star of the show.
Tell a Story
Custom packaging can act as your storyteller. How?
This packaging speaks about your brand, the product's magic, and why it's the best option. Eventually, it will be like giving your customers a perfect display of your makeup masterpiece.
Make Your Product Look Extra Special
Well-designed custom packaging can make your product look extra special. Don't forget that customers are often willing to pay more for products that come in exclusive single eyeshadow packaging.
How Can Custom Eyeshadow Boxes Help Your Business Growth?
When you are walking into a makeup store, surrounded by an array of vibrant eyeshadow palettes, what catches your eye first?
Well, it is likely the stunning packaging that draws you in. In the highly competitive cosmetics industry, appealing eyeshadow sleeve packaging has a powerful tool to help businesses grab attention. More than that, it will also help you foster substantial growth.
Have a look at below for the ways this packaging helps your business growth!
Branding Bliss
Your eyeshadow palette packaging acts as a mini billboard for your brand. Yes, custom packaging makes it a canvas for your brand's personality to shine.
A Better Shopping Vibe
Have you ever struggled with a stubborn package that just wouldn't open?
Well, custom packaging can fix that. This packaging can be made user-friendly, easy to open, and might even get reused. Thus, it will surely make unboxing feel like a grand event.
Product Differentiation
In a crowd of eyeshadows, standing out is a victory. Accordingly, custom eyeshadow boxes gives you a chance to show off your unique style. That alone can convince customers to give your product a chance.
The Pro Vibes
Well-crafted custom packaging will show that your product is exclusive and professional.
Social Media Worthy
In the Instagram era, pretty packaging can be really worth to be shared online. After all, those customers love showing off cool makeup products they bought. So, it will be like free publicity for your brand as well.
Limited Edition Hype
Do you offer a limited edition eyeshadow? Well, custom packaging takes it to the best status. With this packaging, customers will rush to get your product before it's gone.
Word-of-Mouth Magic
Attractive custom packaging will get people talking. Eventually, those recommendations are like golden tickets for your business.
Tips to Design Custom Eyeshadow Boxes That Sell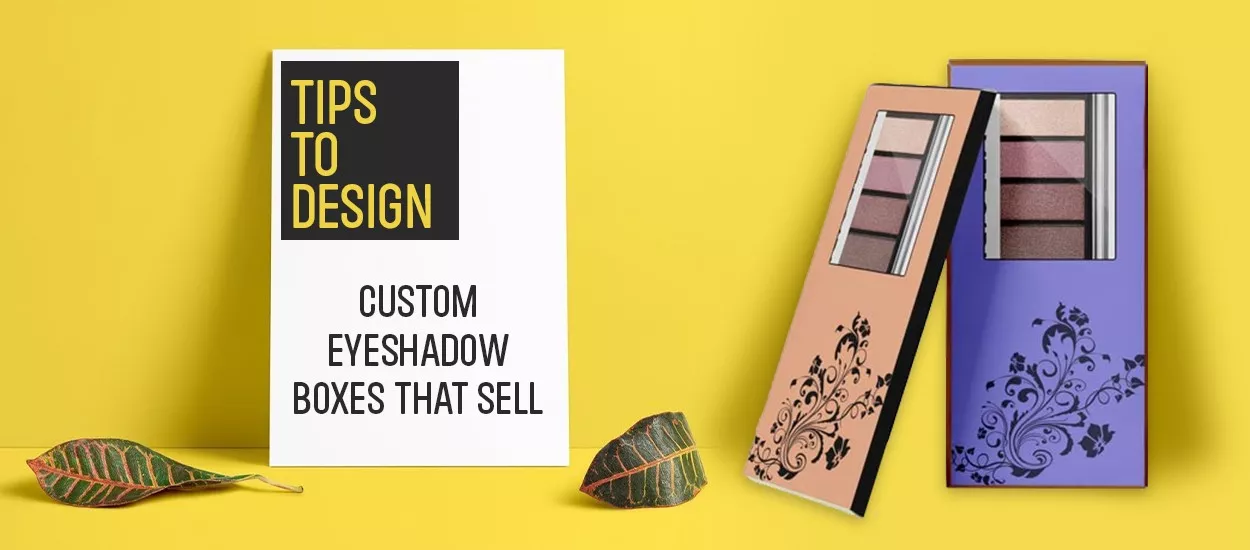 Do note that designing custom eyeshadow boxes is not just about aesthetics. More than that, it is a journey of crafting an experience that resonates with your audience. Better yet, when you can design and customize eyeshadow palette packaging, it will be a skill that can set your brand on a path to success.
To help you out, check out some tips to design custom eyeshadow boxes that will help you sell more!
Know Your Vibe
Before diving into designs, you must know your brand's vibe. For example, what colors, fonts, and feels define you? Yes, those are your starting point.
Match Them with Your Products
Of course, your packaging should fit your eyeshadow. In this context, the size, shape, and style should match what's inside.
Focus on Visualization
Remember to apply colors and images that speak to your target audience. Yes, you need to make them feel something when they look at your box.
Eco-Friendly Love
Design your packaging with the planet in mind. Show your love for Mother Earth, and watch eco-conscious customers flock to you.
Function Meets Form
Of course, looks matter, but so does practicality. Thus, your packaging should protect your product and be easy to handle. So, focus on combining the form and function together.
Tell Your Story
Use the right words and visuals to tell your brand's story. After all, who doesn't love a good story?
Test and Improve
Remember that you should not rush the design process. Instead, you should get feedback from potential customers and tweak your packaging accordingly. Plus, it will be a good idea to work with professional eyeshadow packaging manufacturers, like Silver Edge Packaging!
Keep Your Packaging Consistent
Last but not least, your product packaging should match your online presence. For example, if your website is all modern eyeshadow products, your packaging should also reflect that. Don't forget that consistency is the main key to focus here.
Final Words
In the cosmetics jungle, custom cosmetic boxes will act as your secret weapon. Yes, these boxes are not just boxes that pack your products. More than that, they can be your brand ambassadors, attention grabbers, and storytellers rolled into one. With personalization, uniqueness, and a sprinkle of creativity, these boxes can turn casual customers into your loyal fans!