In the competitive world of retail, we know that packaging plays a great role in grabbing the attention of customers. Plus, the way you pack your products will influence the amount of sales you can get. Well, this is especially true where products like shoes require packaging that not only protects the products but also reflects the brand's identity. Accordingly, this is why many famous shoe brands put their best effort into designing their shoe boxes as attractive as possible. So, are you interested in getting higher sales like those brands? You would love these 10 unique shoe box designs to inspire your brand!
Why Unique Shoe Packaging Matters?
Now, have you ever wondered why some shoe brands have packaging that's so different and eye-catching?
Basically, it is not just about making your shoes look good on the shelf. More than that, unique packaging is like the first interaction between your brand and a customer. Thus, it will be a chance for your brand to show off your style, values, and personality. Even better, an attractive shoe box packaging design can give your brand a competitive edge.
Get the Packaging that Speaks Your Brand's Language
To make Brand Identity Packaging, you should answer some questions first.
What would your brand stand for?
What is your brand's story?
The answers are exactly what you want to convey through your packaging.
For example, if your brand is all about eco-friendliness, then eco-friendly materials and earthy colors are your best bet.
Or else, if you are all about modern and sleek designs, make sure your packaging reflects that.
So, we can say that consistency is key here. For this, you must consider using the same colors, fonts, and vibes across all your packaging. Don't worry, you can design the best shoe packaging that matches your brand by teaming up with professionals, such as Silver Edge Packaging.
Let's Match the Packaging to Your Shoes!
Different shoes, different vibes, right?
If you want to attract more customers, you need to make them pay attention to your shoe box design, even before they open the box. In this context, you need to match the packaging to your shoes inside.
Luxury Shoe Boxes
Luxury shoes deserve packaging that represents elegance. So, consider applying textured paper, maybe a touch of velvet or leather, and some fancy embossing. Plus, you can make opening the box a grand experience with a magnetic closure.
Shoe Box Artwork
If your brand is into artsy stuff, why not turn your shoe box into a canvas?
Yes, you can collaborate with artists and create designs that customers would want to frame. Eventually, these boxes will not be just for shoes. Instead, they will end up being collectible art pieces.
Designer Shoe Boxes
If your brand always wants to push the boundaries of shoe design, your packaging should match your creativity. For instance, how about boxes with unique shapes or jazzy openings?
By designing your packaging properly, it will become an extension of your shoe's unique style.
Creative Shoe Box Design for Casual Shoes
Now, for everyday casual shoes, let's get practical. Here, you should design a box that will be more than just a box. How?
Try out a box that turns into a mini shoe rack when opened. Or else, you can go with a magnetic closure box that's perfect for storing small things after the shoes are out.
10 Unique Shoe Box Designs to Inspire Your Brand
It's always a good idea to check out what those famous shoe brands are doing with their custom shoe boxes. Even better, you can get inspired by their packaging designs.
So, check out these awesome shoe box design ideas that can really give your brand a unique edge!
1. Jordan's Signature Style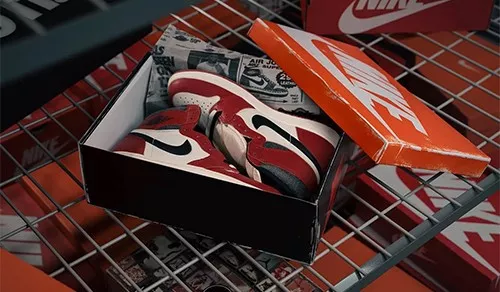 When we talk about timeless shoe boxes, the ones from Jordan Brand will surely come to mind. Beyond being just simple containers, these boxes are a statement of class. At first glance, you might see them as simple black boxes, but there's more than meets the eye. The golden Jumpman emblem and the iconic number 23 are artfully hot stamped. Hence, creating an upscale and dazzling appearance.
And that's not all! The emblem and number 23 are embossed too, giving them a perceptible quality that exudes luxury. This blend of techniques is often reserved for premium products. Yes, this design is a perfect match for the prestige of the Jordan Brand.
2. Nike Air Mag Futuristic Vibes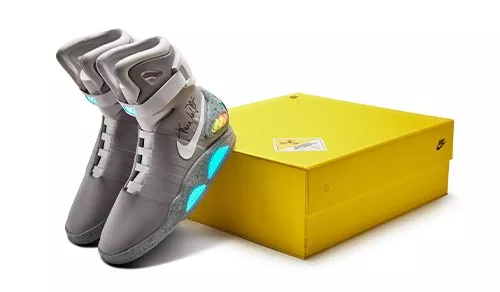 Definitely, you have probably heard whispers of the legendary Nike Air Mag sneakers. But wait, have you ever checked out their equally legendary shoe box?
Well, this limited edition is squared up with a display case that boasts the signatures of design maestros Tinker Hatfield and Tiffany Beers. For sure, this isn't just a box. Instead, we must name it an artifact.
Come with transparent acrylic, silver accents, and black grip handles, this box is more like a treasure chest. Plus, the surprises within are as delightful as the sneakers themselves – charger, T-shirt, pins, stickers, and even a booklet DVD filled with exclusive content.
3. Adidas Goes Green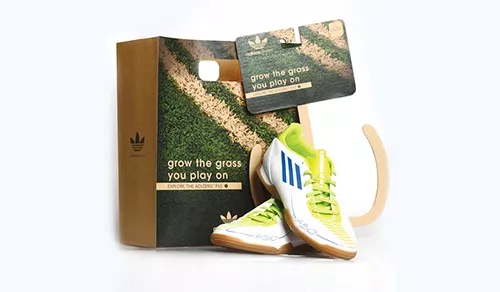 A revolution in best sneaker boxes, courtesy of Sanket Patel, an industrial product designer with a vision. Designed with a desire to break free from mundane shoebox designs, Patel created an eco-friendly marvel that's collapsible. This box is crafted from recycled materials and inventively designed to minimize waste.
Simply put, in a world where environmentally conscious choices matter, this eco-friendly shoe box isn't just packaging. Instead, it is a statement about values.
4. Kyrie 5 Concepts Ikhet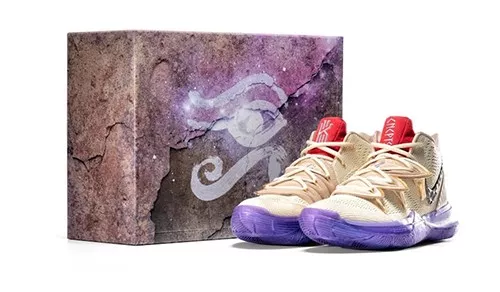 The Kyrie 5 Concepts Ikhet shoe box takes us back in time and into the mystique of ancient Egypt. This box is about immersing yourself in a theme. The color scheme pays homage to Egyptian aesthetics. In addition, the all-seeing eye of Horus at the heel adds an air of mysticism.
For sure, this shoe box takes you on a journey even before you unbox it. Just imagine its pyramid textures, the Eye of Horus, and celestial motifs. Then, opening the box reveals a starry sky, reminiscent of the concept of "beautiful light." Overall, this shoe packaging is a testament to the depth of thought behind the design.
5. Converse Thinks Outside the Box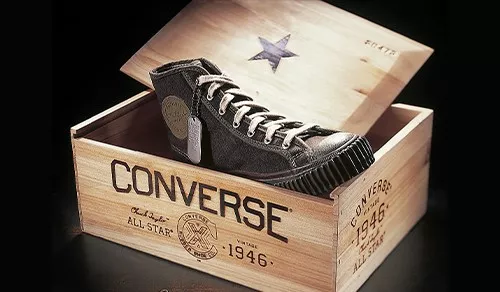 While iconic brands like Nike and Adidas play with patterns and colors, Converse takes the game to a new level by innovating the shape of the shoe box. Yes, you will see a triangular shoe box as an art piece in itself. And the brilliant touch? Stack five of these boxes, and they will form the Converse star logo. Wow, a symbol of loyalty that's sure to resonate with die-hard fans.
6. Nike Air Force 1 Low 1World CLOT Red Silk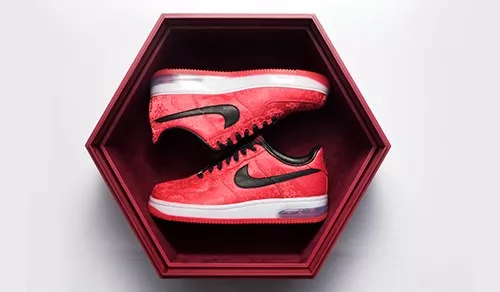 After all, it's not just about shoes; it's about encapsulating culture and symbolism. The AF1 red silk shoe box isn't just a packaging. Yes, we are talking about a work of cultural art here. Reflecting the festivity of the Spring Festival, the box mirrors the allure of a Chinese treasure box.
Plus, the layers are carefully crafted, holding stories from the characteristic patterns of the silk upper to compartments for multiple pairs of shoelaces. Indeed, opening this box is like unveiling a piece of Chinese heritage.
7. Plae Packables – Sustainable Chic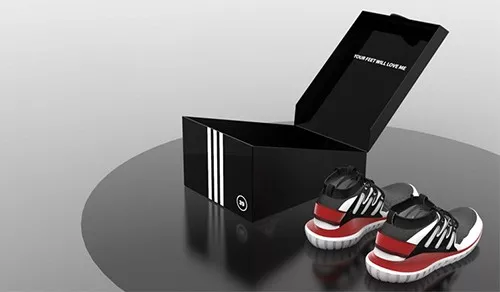 Plae isn't just a footwear brand. Far better, we know this brand with its movement towards sustainable fashion. Apparently, their commitment to the environment goes beyond just the shoes and seeps into the packaging. Now imagine receiving your flexible footwear in an airtight bag that not only showcases their adaptability but also protects them on their journey.
Plus, here comes the brilliance; this bag is designed to be reusable. In brief, this bag fits perfectly with Plae's values and the growing demand for eco-conscious choices.
8. Concepts X Asics Gel Respector Coca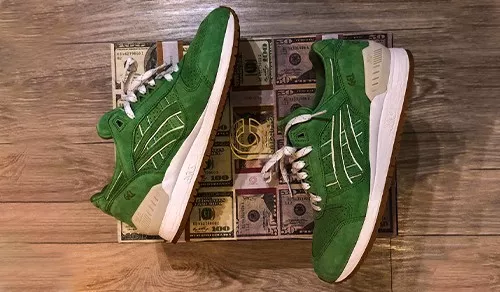 Welcome to the world of Concepts x Asics Gel Respector Coca, where the shoe box is a statement piece on its own. The box comes with the shape and design of a US dollar bill, perfectly scaled. This box represents uniqueness, setting the stage for the treasures it holds inside.
9. Gört Bird Children's Shoe Box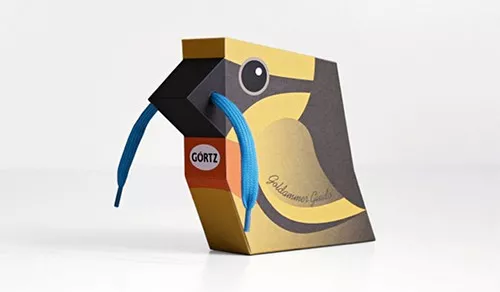 The joy of unboxing shoes can be as playful as the shoes themselves. Görtz, a German brand, inserts a dose of whimsy into their children's shoe box design. You will find the box resembles a cute cartoon bird, complete with shoelaces peeking out like the bird is playfully clutching a "bug." Well, this design isn't just about shoes, it's more about the magic of childhood.
10. Fisherman Waterproof Rubber Shoe Packaging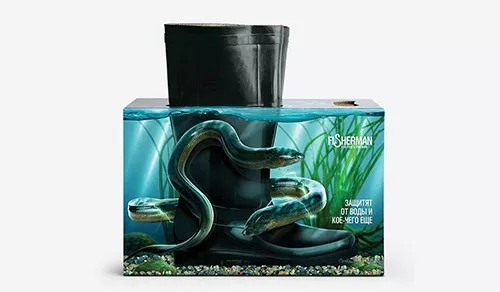 Igormitin, a creative genius from Australia, blurs the lines between packaging and storytelling. Fisherman's waterproof rubber shoe packaging is a testament to this creativity. The packaging features 3D illustrations of aquatic creatures that the shoes protect you from. In addition, the visual journey perfectly communicates the product's features while standing out in a sea of similar products.
Wrapping Up
In summary, when you're thinking about shoe box designs, remember that you're not just creating packaging. Instead, you're crafting an experience, an extension of your brand's essence that will linger in the minds of your customers.
Well, don't you think it's time to redefine what a shoe box can be?