Life can be really sweet when you learn that baking is a magical art. Just imagine how you are about to make something very beautiful and delicious using all the ingredients! Choosing from various cake toppers, sprinkles, frosting, and small decorations. All to enhance the beauty and flavor of your delightful cakes. To reflect the heavenly taste of the cakes your offer, you will need the right boxes. This applies further when it comes to presenting your cakes at wedding parties. You will need the most attractive wedding cake boxes. Eventually, you can grab more customers with your custom cake boxes.
The Importance of Custom Cake Boxes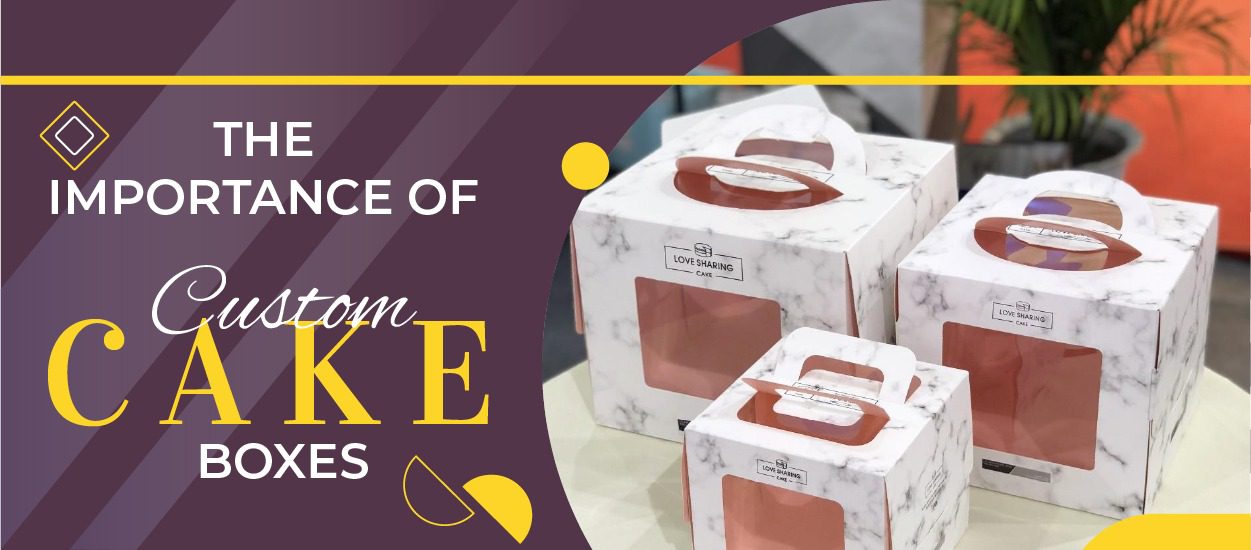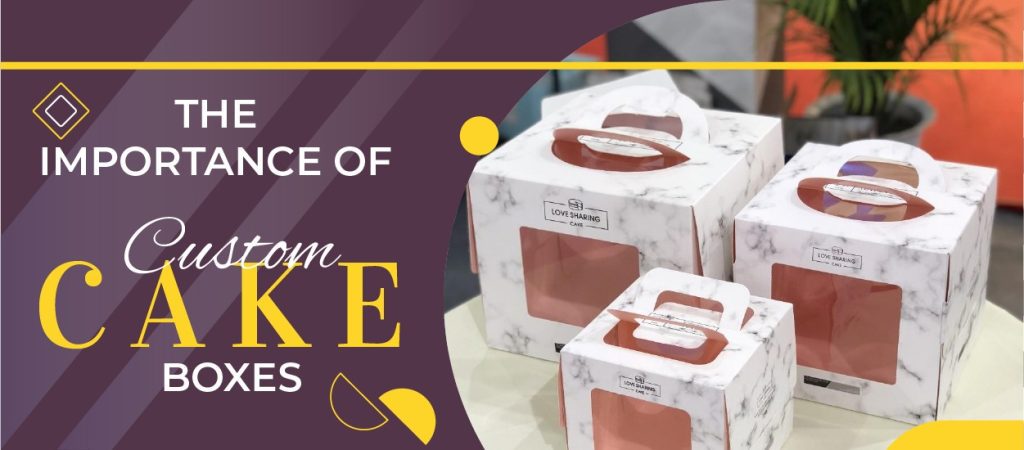 The Importance of Custom Cake Packaging Boxes for Your Bakery Brand
As a bakery owner, you understand that cakes are one of the most sought-after and popular items in the market. People love to order cakes for various occasions, and as the themes change, so does the cake decoration. To maintain a consistent and cohesive brand image, it is essential to change your product packaging to match the cake theme. This is where custom cake packaging boxes come into play.
Kraft cake boxes are a popular choice for environmentally conscious customers. Made from recycled paper, they are biodegradable and recyclable. These boxes are sturdy and durable, making them perfect for safely transporting and storing cakes. Their natural brown color also gives them a rustic and charming appearance, making them an excellent choice for bakeries and cafes that want to give a more handmade and eco-friendly feel to their products.
Below are some top reasons why custom cake packaging boxes are essential for your bakery brand:
Serve as Promotion Tools for Bakery Items: Custom cake packaging boxes can serve as an effective tool for promoting your bakery items. By customizing the packaging boxes with your logo and brand message, you can create brand awareness and attract new customers.

Help to Attract More Attention: Eye-catching and attractive packaging can grab the attention of potential customers and make them more likely to choose your bakery over others.

Help Brands Stand Out: With so many bakeries in the market, it can be challenging to stand out from the competition. Custom cake packaging boxes can help your brand stand out and create a unique identity that customers will remember.

Act as a Powerful Marketing Device: Custom cake packaging boxes can act as a powerful marketing device, especially when they are shared on social media platforms. People love to share pictures of aesthetically pleasing cakes and their packaging, which can lead to a free promotion for your bakery brand.
Quality You Can Add In Custom Cake Boxes
When it comes to wedding cake boxes, the quality of the packaging is crucial. You want to ensure that the packaging boxes appeal to the guests at the party. Therefore, your boxes should have the following qualities:
Top-notch Quality: The quality of your packaging boxes should be of the highest standard. This ensures that the boxes can protect the cakes and maintain their freshness during transportation.

Lightweight: The packaging boxes should be lightweight and easy to handle, making it convenient for guests to take them home.

Come with a Bakery Theme and Design Companion: The packaging boxes should be designed with a bakery theme in mind, and they should match the cake decoration. you can make custom design cake boxes to make your cake more valuable.

Flexible and Easy to Handle: The packaging boxes should be flexible and easy to handle, making it easy for guests to take the cakes out of the box.

Come with a Memorable Presentation: The packaging boxes should come with a memorable presentation, such as a ribbon or elegant inserts, to make the guests feel special.
Customization is an excellent way to make your wedding cake boxes stand out. By working with a reliable packaging provider, such as Silver Edge Packaging, you can customize the boxes with various options, including:
Fancy Ribbon: Adding a fancy ribbon to the packaging box can create a luxurious and elegant look.

Elegant Inserts: Elegant inserts can add a touch of sophistication to the packaging boxes.

Gift-like Boxes: Gift-like boxes can create a memorable and special experience for guests.
Custom cake packaging boxes offer an excellent opportunity to offer your tasty wedding cakes in unique styles and colors. By choosing the right packaging, you can make a lasting impression on the wedding guests and create a memorable experience for them. With custom cake packaging boxes, you can elevate your bakery brand and take it to the next level.
Tips to Customize Your Wedding Cake Boxes and Grab More Prospects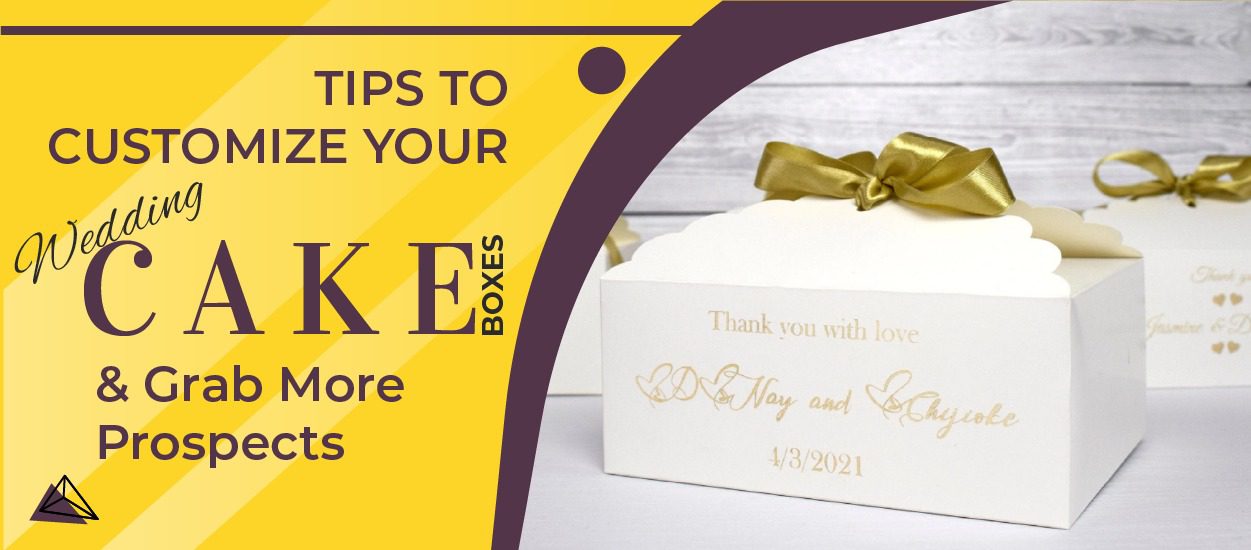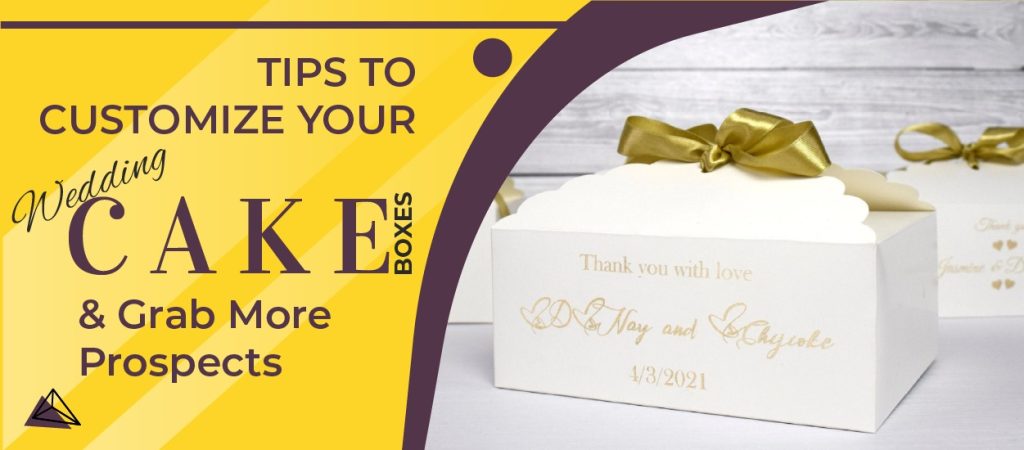 So, are you ready to customize your wedding cake boxes and grab more prospects? Check out the tips below!
Apply relevant graphics and design
When designing wedding cake boxes, there are many ways to make them stand out. Here are some tips to help you create custom boxes that will impress your customers:
Be creative with your design
When it comes to designing your custom cake boxes in bulk, the sky is the limit. You can make your artwork and design as creative as you want. Alternatively, if you prefer a simple and elegant look, that's fine too. If you don't have any design ideas, don't worry. The team of packaging experts at Silver Edge Packaging can help you create a unique custom design for your boxes. Simply let us know the design or theme you have in mind, and we'll take care of the rest.
Choose the best box style
There are many box styles available to choose from, such as cake boxes with PVC window box style, round shape boxes, two-piece boxes, and more. Be creative with your box style, and choose one that will complement your cakes and brand.
Match the packaging theme with the party theme
To impress your customers and their guests, match the packaging theme with the party theme. This will make your boxes look more cohesive and professional. You can also match the packaging theme with your brand's unique identity to promote your brand.
Apply relevant printing techniques
Consider using relevant printing techniques to make your boxes more attractive, such as foil printing, adding a simple wedding wish or brand slogan, or using die-cutting, embossing, debossing, and other printing techniques.
Check out custom cake boxes with handle
Custom cake boxes with handles not only help with the careful carrying and storage of your cakes but also add a new level of beauty to your cakes' appearance.
Ribbons and bows always work!
Adding bows and ribbons to your boxes is an elegant way to decorate them. You can tie the ribbon in various attractive styles and use a soft and bright color that matches your boxes. Another option is to make flowers from a cloth ribbon and attach them to your boxes.
Choose a unique shape
With the help of high-tech printing machines at Silver Edge Packaging, your boxes can be cut into various unique shapes, such as butterflies, origami, or hearts. Choose a shape that will make your boxes stand out.
What about wedding cake boxes with windows?
Adding a clear window to your wedding cake boxes is an easy way to make them look more stylish and allow customers to see the beauty of your cakes.
Wrapping Up
The moment you start investing and placing effort into your product packaging, you will see how your customers love your brand. In the context of custom cake boxes with PVC window, they will feel delighted to see your cakes inside these lovely boxes.
The fact is, attractive packaging will help to add value to your brand. Even more, this packaging will help you get a competitive edge over competitors. You will find countless ways for you to customize your tasty cakes according to the event theme. At the same time, you need to be creative to customize your packaging boxes. As a result of customizing your boxes, you will make a better brand reputation and attract more customers.
So, if you are ready to customize your wedding cake boxes, Silver Edge Packaging is ready to help you out. With us, you can win the market customers within seconds!
Have a nice day ahead!