Life can be really sweet when you learn that baking is a magical art. Just imagine how you are about to make something very beautiful and delicious using all the ingredients! Choosing from various cake toppers, sprinkles, frosting, and small decorations. All to enhance the beauty and flavor of your delightful cakes. To reflect the heavenly taste of the cakes your offer, you will need the right boxes. This applies further when it comes to presenting your cakes at wedding parties. You will need the most attractive wedding cake boxes. Eventually, you can grab more customers with your custom cake boxes.
The Importance of Custom Cake Boxes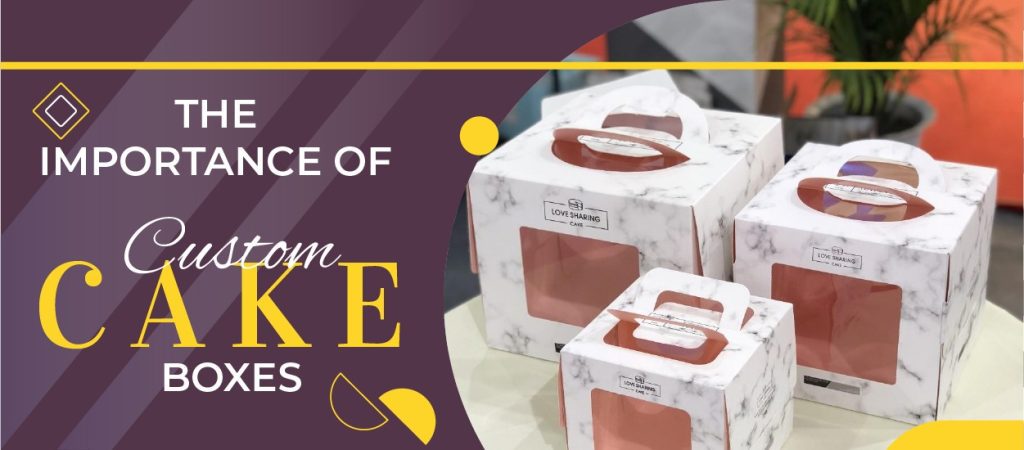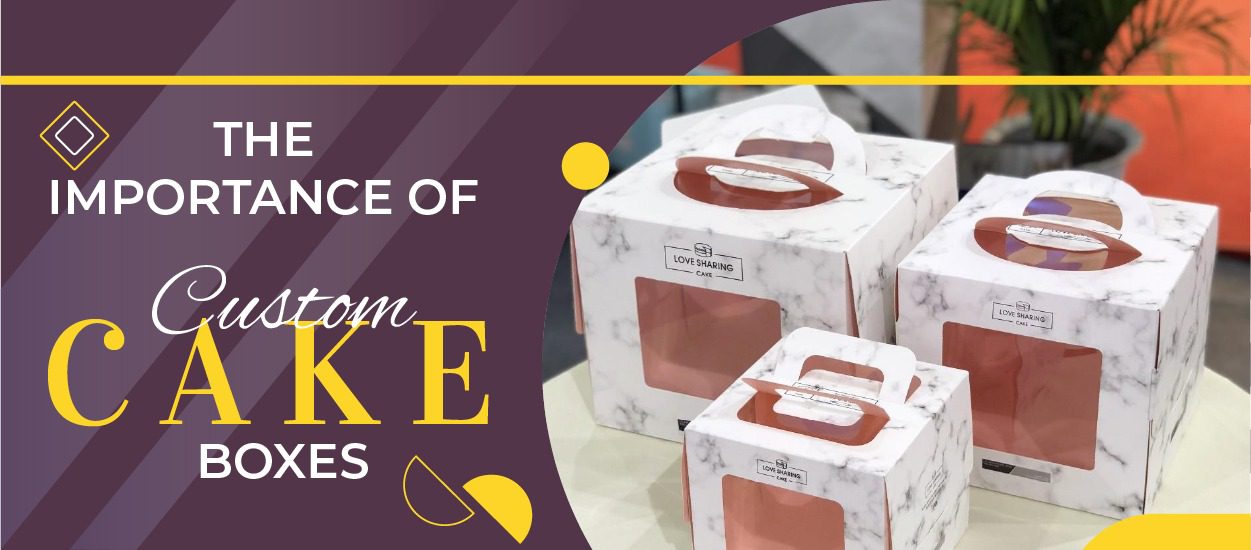 As a brand owner, you know that cake is one of the most popular and best-seller bakery items in the market. Accordingly, people love to order cakes for celebrating various occasions. As these themes change, so does the cake decoration. To connect everything, you need to change your product packaging to match the cake theme. This is where custom cake boxes play an important role.
Speaking of the importance of using custom boxes to pack your sweet cakes, below are some top reasons!
Serve as promotion tools for bakery items
Help to attract more attention
Help brands stand out
Act as a powerful marketing device
The Qualities Your Wedding Cake Boxes Should Have
Without any doubt, the quality of your packaging boxes depends on the quality of the materials to produce them. In the context of wedding cake boxes, you need to appeal to the guests at the party.
Thus, your boxes should be:
Top-notch quality
Lightweight
Come with a bakery theme and design companion
Flexible and easy to handle
Come with a memorable presentation
Wonderful Customization You Can Get Wedding Cake Boxes for Guests!
You can apply various customization options to your wedding cake boxes for guests. Yes, working with a reliable packaging provider such as Silver Edge Packaging allows you to customize the boxes. Yes, you will get the freedom to choose from various wonderful options.
To decorate the boxes, you can go with:
Fancy ribbon
Elegant inserts
And even gift-like boxes
You know that you will get the chance to offer your tasty wedding cakes in unique styles and colors. This way, you are making customers happy and perfecting their special occasions. With the right boxes, your bakery brand can make a lasting impression on those wedding guests.
Tips to Customize Your Wedding Cake Boxes and Grab More Prospects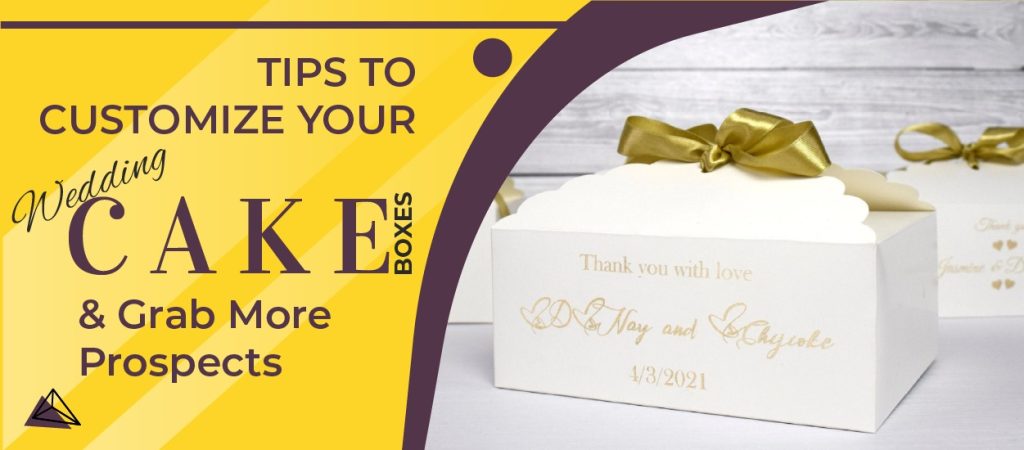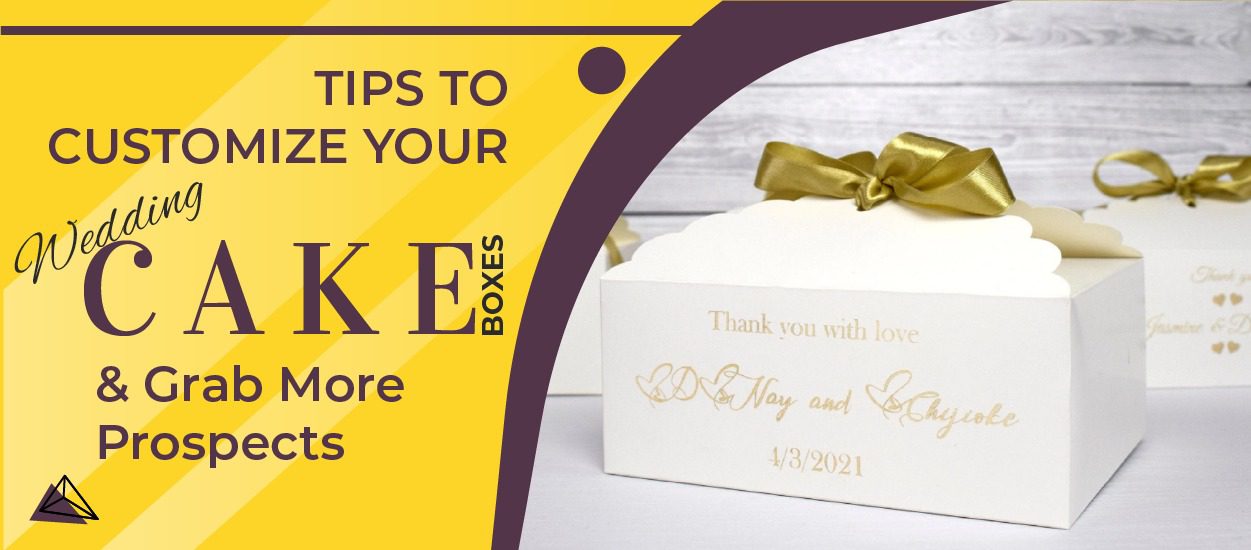 So, are you ready to customize your wedding cake boxes and grab more prospects? Check out the tips below!
Apply relevant graphics and design
Speaking of designing wedding cake boxes, the sky is the limit you can get here! You can make your artwork and design as creative as you could. Or else, if you want to make your boxes look simple and elegant, you are free to decide. If you have no idea about the packaging design, you don't need to worry at all. The team of packaging experts at Silver Edge Packaging will help you create a unique custom design for your boxes. Simply let us know the design or theme you have in your mind. We will handle the rest.
Be creative when choosing the box style
When it comes to choosing the best style for your custom cake boxes, you will find many options available to choose from. For instance, you can always go with a simple and classic design. Or else, you can also be creative with your own artwork and design. There are many captivating styles you can choose from including:
Window box style
Round shape box
Two-piece box
And other beautiful styles
Match the packaging theme with the party theme
To impress your customers and their guests, you can match the packaging theme with the party theme. Yes, you can eventually design your wedding cake boxes for guests according to the wedding theme. For example, if the party theme uses a pink color for the ambiance, you can use the same color.
Or else, you can also match the packaging theme with your brand's unique identity. By doing this, you will open up a big opportunity to expose your cake brand. As a result, those guests who are unfamiliar with your brand can turn out to be your customers. Well, isn't that sound interesting?
Apply relevant printing techniques
Once you receive your order for a wedding event, you will have to consider many customization options. For example, you will have to adjust the shape, size, and decoration of your cakes with the event. Accordingly, you need to adjust the packaging boxes according to the event as well.
In this context, standard packaging will no longer be possible. Instead, you should try relevant printing techniques for your wedding cake boxes. For example, you can apply an elegant foil print for your logo on the boxes. Or else, you can add a simple wedding wish or brand slogan. You should also try die-cutting, embossing, debossing, and other printing techniques. Remember, the mission here is to make your boxes look more attractive at the event. Silver Edge Packaging offers complete customization for all types of printing technology.
Check out custom cake boxes with handle
Custom cake boxes with handle not only will help with the careful carrying and storage of your cakes. More than that, the boxes will also add a new beauty to your cake's appearance. This unique box style will also help your brand stand out.
To add a more luxurious touch to the boxes, you can apply innovative colorful prints and patterns. Or else, what about adding glitter to your boxes? Your customers will surely enjoy unboxing your cake in front of the crowd. For those who open your unique packaging, this experience will be even more exciting.
Ribbons and bows always work!
Adding bows and ribbons will be the most elegant way to decorate your wedding cake boxes for guests. Even if you have solid color boxes, you can simply add a contrasting color ribbon or a glittering ribbon. These add-ons will make the boxes look classier.
It will be best to choose a soft and bright color of ribbon or bow that matches the color of your boxes. You can eventually tie the ribbon in various attractive styles. In most cases, you can go with a fly style in which the loose end is rolled up.
Another great option you can do is to make flowers from a cloth ribbon. You can simply tie the flowers and stick them to the boxes with a tape or stapler. Doing this will help you add a gentle touch of elegance to your boxes.
Always choose a Unique shape
With the help of high-tech printing machines at Silver Edge Packaging, your boxes can be cut into various unique shapes. For instance, you can make the handle of your boxes in the shapes of butterflies, origami, or hearts. Many other elegant and unique shapes you can choose to make your boxes look more appealing. The best part is that you can do this to both small and large boxes.
What about wedding cake boxes with window?
A beautiful and clear window shape on wedding cake boxes will be an easy way to get attention. Far better, this will make your cakes look more stylish. See-through windows will also let you monitor the cakes inside.
The window box style also can serve the display purpose. Eventually, the beautiful window allows your customers to easily see the beauty of your cakes. What's more, this box style will help you gain more trust from customers as they can see the actual look of your cakes.
Wrapping Up
The moment you start investing and placing effort into your product packaging, you will see how your customers love your brand. In the context of custom cake boxes with PVC window, they will feel delighted to see your cakes inside these lovely boxes.
The fact is, an attractive packaging will help to add value to your brand. Even more, this packaging will help you get a competitive edge from competitors. You will find countless ways for you to customize your tasty cakes according to the event theme. At the same time, you need to be creative to customize your packaging boxes. As a result of customizing your boxes, you will make a better brand reputation and attract more customers.
So, if you are ready to customize your wedding cake boxes, Silver Edge Packaging is ready to help you out. With us, you can win the market customers within seconds!
Have a nice day ahead!