In a world where first impressions often mean everything, the cosmetics industry stands as a testament to the power of effective branding. It's a realm where colors, shapes, and logos become more than just design elements; they become the very essence of allure and self-expression. As you delve into the fascinating world of cosmetic branding, remember that your strategy isn't just about selling products; it's about crafting an identity, evoking emotions, and instilling trust. In this article, we'll unravel the secrets of successful cosmetic branding and explore the key elements you should keep in mind to make your brand not just noticed but unforgettable. So, grab your brushes and palette because the art of cosmetic branding is about to take center stage.
To create a successful international marketing strategy, you need to consider some important factors.
What are they?
Check out things to note when it comes to marketing for cosmetics internationally!
Research Your Target Market
Before expanding your business globally, you need to properly research your target market. This means that you should understand all about:
The local culture
Consumer behavior
My favorite cosmetic products
Then, you need to adapt your products and marketing strategies to meet cultural preferences.
In this context, you need to know the market you're expanding into.
Here are some promising international cosmetic markets you can target!
Europe
The UK, France, and Germany comprise most European cosmetics demand. In fact, France ended up being the world's largest exporter of cosmetics and skincare products.
Here are some cosmetic products you should offer in the European market!
Protective cosmetic products
Innovative and trendy products
Spa and treatment products
North America
The North American cosmetics market is very dynamic, in fact, this market comes along with its changing trends regularly. To enter this market, you should note that the beauty customer's demand is natural and eco-friendly cosmetics.
So, what types of products can you offer in this market?
Health-conscious cosmetic products
Certified beauty products, specifically eco and organic ones
Niche products for damaged skin
Exclusive or limited edition products
Latin America
Skincare products for men are growing in popularity in this market these days. Yes, speaking of the market in Latin America, these products are getting a high demand. In fact, Brazilians, both men and women, have a fondness for exclusive cosmetics.
So, here's the list of cosmetic products you should offer!
Skincare and grooming products for men
Haircare for a wide variety of hair types
Cosmetic supplements
Asia
Do you know that China is the second biggest cosmetics market in the world? Yes, it is the biggest in the world for skincare products as well!
Here are some popular beauty products you can sell high in this market!
Skin lightening products
Delicate makeup colors
Non-scented products
Middle East
Considering the highest per-capita spending in the world, the Middle East is definitely a profitable market.
What products can you sell in this market?
Men's grooming and beard care products
A variety of colors for makeup products
Custom fragrances
A Strong Brand Identity Is Necessary
Now, have you decided on the international market you want to enter?
If you have, the next thing you need to focus on is creating a strong brand identity.
Here's what you should do!
Create a unique brand name and logo
Use exclusive custom printed cosmetic boxes
Provide a special brand's messaging that resonates with your target audience
Develop a Multilingual Website
With a multilingual website, you can reach customers in different countries. Also, remember that you need to optimize your website for search engines. Of course, your website must be in the language you offer.
Create Engaging Content
Once you have built your website, you can create engaging content. For example, you can create blog posts, videos, and infographics. Believe it, these marketing tools will help you attract new customers. Better yet, they will help you build brand loyalty among existing ones.
Don't Forget to Leverage Social Media
Social media platforms can be powerful tools for reaching new customers. Far better, they work well in building brand awareness. On these platforms, you can partner up with Instagram influencers. To get better results, you can also consider running targeted ads to reach your target audience.
Partner with Local Distributors
Partnering with local distributors can help you navigate local regulations. Furthermore, this will help you understand the specific business practices. At the same time, this partnership provides access to excellent distribution networks.
Attend International Trade Shows
Attending international trade shows can help you showcase and promote your cosmetic products. Better yet, these events will help you connect with potential customers.
Research Your Competition
By researching your competition, you can identify gaps in the market you are targeting. As a result, it will be easier for you to differentiate your cosmetic brand.
Stay up-to-date with the Beauty Industry Trends
Staying up-to-date with the beauty industry trends will help you identify new opportunities. Eventually, this effort will help in growing your business on an international scale.
How to Create International Print-on-Demand Beauty Products?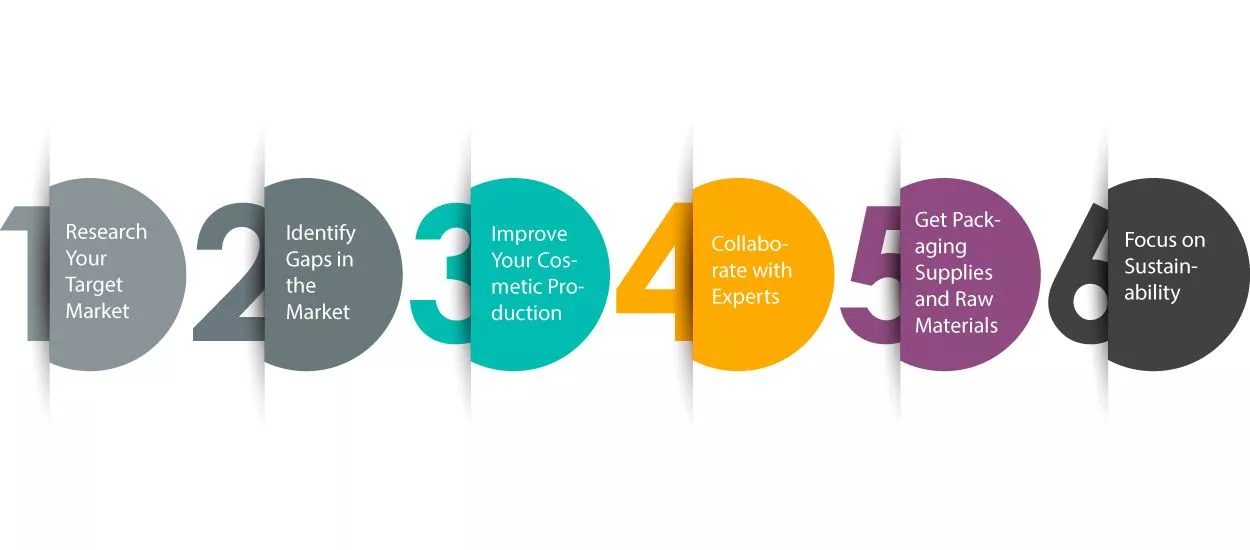 For sure, creating international cosmetic products can be a challenging task. But wait, it will not be too difficult to complete. As long as you have the passion and motivation, you can reach success.
Have a look at some tips to create your international cosmetic products!
Research Your Target Market
Before creating new products, you should research your target market thoroughly. From this research, you will understand what products sell best in the international cosmetic market.
Identify Gaps in the Market
Next, you need to identify gaps in the market. This way, you can create unique cosmetic products that meet the needs of your target audience. Well, this is where you should look for areas with a lack of competition.
Improve Your Cosmetic Production
Of course, you must calculate the cost of your international expansion. Accordingly, your production location has a massive effect on the financial cost. In fact, this location is where you will produce your cosmetic products.
For example, if your cosmetic products are made domestically, international shipping will be a hurdle.
Moreover, there are some problems you will need to solve, such as:
Customs fees
Import tariffs
The cost of international shipping
Simply, offering cosmetic products to a foreign segment requires you to manage those abovementioned problems. Plus, remember that your global expansion might create a range of entirely different problems.
Collaborate with Experts
You should also consider collaborating with experts to meet the international demands. For example, you can work with dermatologists, chemists, and other professionals. These experts will help you create high-quality beauty products. Even better, you can meet the needs of your international target audience.
Get Packaging Supplies and Raw Materials
Getting packaging supplies and other raw materials abroad can be quite overwhelming. Sometimes, manufacturing abroad can be cheaper. However, it might not mesh well if you want to sell high-end cosmetic products.
Thus, finding the best solution is an essential decision here. This means you must decide whether to manufacture your products locally or internationally. Plus, with proper knowledge of beauty industry marketing, you can manage operational costs.
Focus on Sustainability
We know that customers across the globe are increasingly concerned about sustainability and environmental impact. To meet this demand, consider using eco-friendly packaging and natural ingredients. You can seek reputable suppliers like Silver Edge Packaging to get the best packaging for your cosmetic products.

Utilize High-Quality Labels
In the cosmetics industry, every detail counts in shaping your brand's image. From the choice of packaging materials to the design elements, each aspect plays a pivotal role in capturing the attention of potential customers. When it comes to leaving a lasting impression, consider the importance of high-quality cosmetic labels. These labels not only convey essential product information but also reflect your dedication to quality and aesthetics.
Expand your Beauty or cosmetics Business World Wide
If you want to grow your cosmetic business, you should take some real action. In this context, expanding your cosmetic business internationally is a motivation you should focus on. However, of course, you need to have a good understanding of marketing your business internationally. Well then, check out the guide below to help you expand your cosmetic business internationally!
Reasons to Go Global with Your Cosmetic Business
Going global with your cosmetic business can be a great way to increase your customer base. In addition, international expansion can generate a high revenue. According to a report, the global cosmetics market size was valued at USD 299.77 billion in 2022. And yes, this number is projected to grow to USD 417.24 billion by 2030.
Overall, you should note that the cosmetic business will grow across all categories, including:
Hair care products
Skincare items
Makeup products
Other beauty products
However, for sure, expanding internationally can be challenging. Thus, it requires you to implement careful planning. Also, you need to modify your beauty products to meet local regulations. This means that you should offer products that meet specific cultural preferences. Most importantly, you should understand different legal systems. Ultimately, you should also get familiar with business practices in your target market.
The Importance of Global Cosmetic Advertising
Of course, you are surely aware that a beauty brand marketing strategy is essential. Well, this applies, especially if you want to go global with your cosmetic business.
Moreover, having effective marketing for the beauty business is beneficial for:
Increase profits
Manage attitudes
Adapt to social values
Even better, the right marketing strategy can be a great contribution to highlighting your cosmetic business. Besides the financial benefits, advertising your brand cosmetics can help you build brand awareness. Ultimately, an effective advertising campaign can help you establish a unique brand identity.
Wrapping Up
In the enchanting world of cosmetics, the power of effective branding knows no borders. As you navigate the intricate path of international expansion, remember that your brand's journey is a tapestry of cultures, aspirations, and dreams. Your cosmetic empire can transcend borders by delving deep into target markets, forging a compelling brand identity, and adapting to shifting trends. So, let your brand be the beacon that illuminates the global stage, and may your products continue to inspire beauty, confidence, and self-expression around the world.
FAQs
How to advertise makeup on social media?
You can work with Instagram influencers to promote your makeup products. Moreover, you can consider creating engaging content on your website.
How to grow my beauty business?
To grow your beauty business internationally, you should adapt your products, plus, you have to adjust your marketing strategies to meet cultural preferences.
Why should you consider international expansion for your cosmetic business?
Going international with your cosmetic business can increase your customer base and revenue.
Which country exports the most cosmetics?
France is the largest exporter of beauty, cosmetics, and skincare products
Which country is best for the cosmetics business?
North America is a very dynamic cosmetics market you can target.
Which country has the largest cosmetic industry?
Asia is the biggest cosmetics market in the world.