The world of jewelry has always excited fashionable people with its unique allure. In fact, we must say that each piece of jewelry tells a story that describes reflection of personal style and elegance. Accordingly, anklets have been adorning customers for centuries. These jewelry pieces work well in adding a touch of elegance, charm, and intrigue to their attire. This is where custom anklet boxes come as a solution to protect and display these masterpieces beautifully. But how do these boxes make a great impact on branding and sales? If you are one of those brands selling anklets, you will need to read this post completely!
The Impact of Customized Packaging for Anklets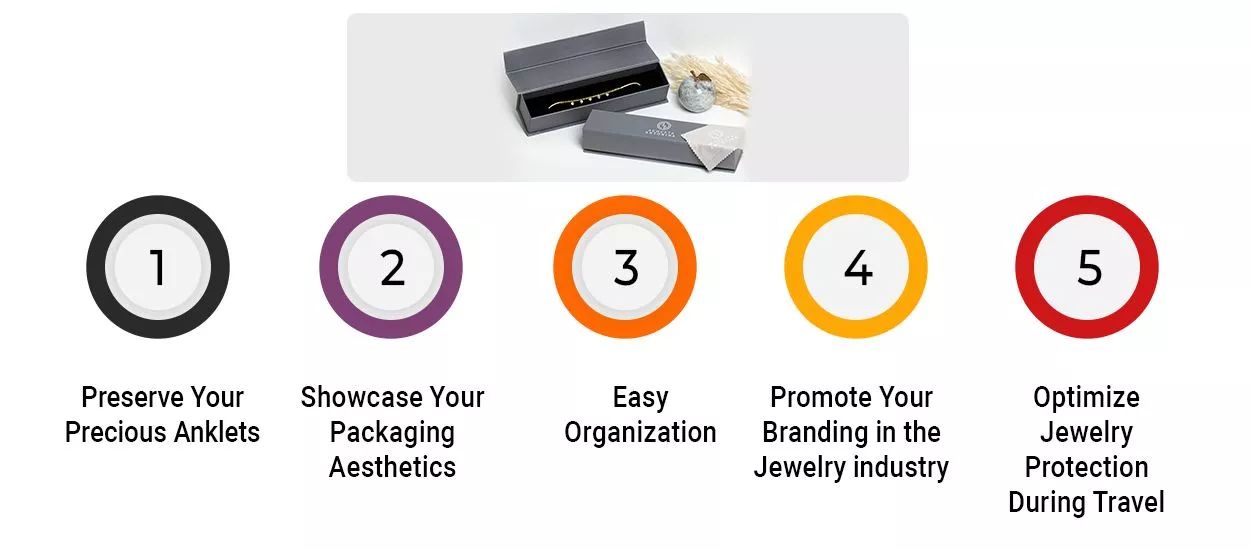 Beautiful anklets serve as delicate adornments that symbolize status, culture, and personal style. Simply put, these pieces deserve more than just a corner in any jewelry drawer. This is where custom jewerly boxes can make a significant impact that help in branding. Come with personalized packaging design, these boxes can help your brand to make a great impact. How?
Preserve Your Precious Anklets
Just the same as other jewelry items, anklets are delicate and vulnerable to damage when exposed to air, moisture, or abrasion. However, by designing durable jewelry packaging, you can keep your anklets safe from environmental factors. Better yet, this packaging will also help in preventing oxidation. Hence, you can expect your jewelry pieces to shine for years to come.
Showcase Your Packaging Aesthetics
One thing you should remember is that designing your custom boxes is not just about functionality. More than that, they should also be a statement piece in themselves. How?
Well, you can design these boxes in a variety of styles, colors, and materials. This way, you can enhance the visual appeal of your jewelry presentation further.
Easy Organization
Another significant impact of custom product packaging is the organization it can provide for your anklet products. Yes, you can design your packaging by adding compartments or custom dividers. These additional features will make sure that each anklet you placed inside is neatly tucked away. Even better, they will also help you prevent your anklets from tangling. What's more, adding compartments or dividers also offers easy accessibility for your customers to get your anklets.
Promote Your Branding in the Jewelry industry
Again, you can customize your packaging to reflect the unique and lovely styles of your anklets. Yes, this means that from choosing the material to adding your brand's special message, you can promote your branding through this packaging.
Optimize Jewelry Protection During Travel
No doubt, some customers might get hassles when travelling with anklets. However, if you pack your valuable anklet products in eco-friendly packaging, you can solve their problems. This packaging will optimize your jewelry protection during travel. Even better, it will be a compact way for customers to carry your anklets.
Things to Consider When Creating Your Packaging Design
Now, when it comes to designing custom anklet boxes, you must consider some essential things.
What are they?
Choosing the Right Packaging Material Is a Great Matter
The fact is, your packaging material is responsible for the safety and longevity of your anklet products. Accordingly, this is the main reason why you must choose the most durable material when it comes to designing your boxes.
After all, we know that anklets are delicate pieces with vulnerable nature. Thus, they surely require careful handling. In this regard, you must preserve them and make sure they remain tangle-free. Well, to tackle this, you can consider including some extra features like compartments and dividers. By including these features, not only will you organize your anklets neatly inside the boxes. More than that, there will be no unnecessary entanglements that might damage your fragile anklets.
Include Your Personal Touch for Unboxing Experience
When you personalize your boxes, you will be free to choose your favorite colors, texture, and even the addition of your personal touch. As a result, you can add a unique touch to your anklet product presentation. Ultimately, delivering a personal touch will surely help you deliver an unforgettable unboxing experience for customers. Just imagine when customers receive your beautiful anklets in remarkable packaging boxes with your personal touch. Well, these boxes will definitely make them excited to purchase from you. In the end, you can boost your sales within a brief time!
Focus on Safe Transit
If you plan to ship your anklets to customers, a secure locking mechanism becomes very essential here. So, make sure you go for custom anklet boxes with reliable mechanism features. This closing mechanism not only will protect your anklets during transit. Far better, it will also add an extra layer of security. Hence, it will ensure that your valuable jewelry pieces remain perfect and lovely.
Scratch Protection
Of course, you surely don't want scratches to reduce the beauty of your anklets when sending them to your customers, right?
To prevent scratch from happening, you should consider including some cushioning materials like velvet lining or soft padded compartments. These materials will be the perfect cushioning to protect your anklets from any potential harm, all through the delivery journey.
Compatibility
When designing the right boxes for your anklets, you should strike a balance between elegance and practicality. This means that you should measure the boxes in the accurate size that fits your anklets comfortably. In addition, make sure that the boxes will not take up excessive space. By focusing on compact design, you can give convenient storage for customers to keep your products in vanity or in their jewelry drawer. This way, they will easily reach your anklets.
Displaying Visual Appeal Is Important
Last but not least, your boxes should be visually appealing to attract those customers. Moreover, the aesthetics of the boxes should complement the beauty of your anklets inside. For this, you can create a design that resonates with your style and the essence of your anklets. Whether it's a classic box with intricate carvings or a sleek modern design, the visual appeal should be aligned with your jewelry pieces.
Tips to Design Custom Anklet Boxes According to Packaging Trends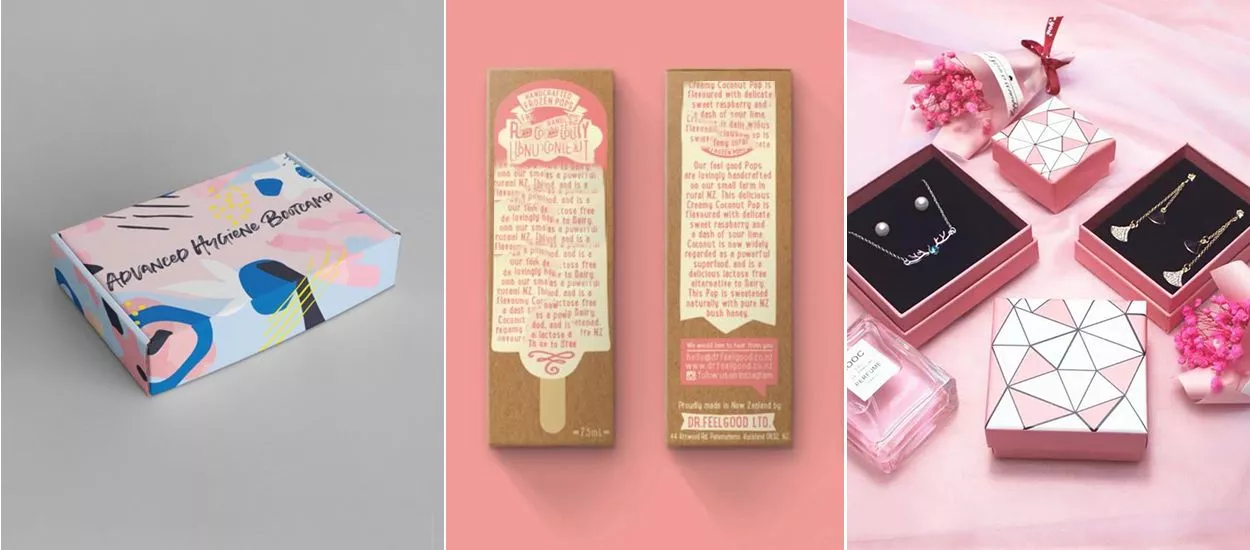 So, are you ready to refresh your custom anklet boxes?
Below are some packaging trends to impress your customers with your elegant anklet products!
Go for Abstract Shapes and Bold Patterns
Abstract shapes paired with bold patterns can influence customer perceptions. Better yet, this design will give them an idea about your anklet products inside.
Apart from patterns, you can also use flat illustrations on the inside and outside of your boxes. For example, you can use stand-out colors and block patterns that speak just as loudly as vibrant designs.
By designing your boxes this way, you can make them visually engaging and intriguing to customers. Most importantly, these exceptional boxes will tell a story and captivate your audience as they unbox your anklet products.
Try Out Retro Packaging Design
Retro-themed packaging is a great way to give your customers that nostalgic feeling. In addition, this design will encourage them to relish your anklet products by traditional techniques. The best part is that a retro design can share a meaningful message about your brand values. Eventually, it will give a fun sense of charm to your packaging as it takes customers through an unforgettable unboxing journey.
Minimalist Branding That Highlights Your Anklets More
With a minimalist design, you can make a bold statement while highlighting your anklets inside the packaging. Yes, combining simple artwork with neutral colors can benefit your brands in a variety of ways.
So, what do you need to do to create a minimalist design?
Choose a design that requires minimal ink coverage
Highlight your logo to extend brand awareness
Simple artwork allows you to scale efficiently over time
A minimalist branding makes larger volume print methods like flexography more accessible for your brand.
Well, it might seem as though minimalist design and solid colors make your packaging less engaging with a limited palette to experiment with. Yet, keep in mind that the idea here is to let unconventional and unique colors do all the talking.
Wrapping Up
Indeed, beautiful anklets serve as delicate adornments that symbolize status, culture, and personal style. Accordingly, custom anklet boxes can make a significant impact that help you in branding with personalized packaging design. Moreover, the impact these boxes can do include preserving your precious anklets, providing easy organization, and displaying packaging aesthetics. In addition, these boxes provide jewelry protection during travel and help your branding in the jewelry industry.
Well then, are you ready to design your custom anklet boxes and make a great impact? If you are, you can work with professionals at Silver Edge Packaging!