Hat products come in various sizes and dimensions. Well, this makes it very tricky when it comes to shipping them. Hence, if you need to ship your hat products, you will need hat shipping boxes with the exact size and dimensions. To help you out, let's find out how to get the best size and dimensions for shipping your hats in the boxes!
Sizes and Dimensions Matter: How to Get the Hat Box Dimensions?
Measuring the size and dimension of your hat is the first step in getting the right custom hat boxes for shipping it. Yes, with this measurement, you can decide the appropriate hat shipping box size you will need for safe shipping.
What should you do?
Count the Measurement with a Measuring Tape
First of all, you should use a measuring tape and wrap it around the widest part of your hat. From here, you will get to know the exact edges and boundaries of your hat.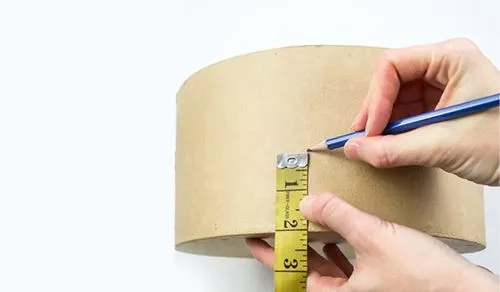 Count and Consider Your Hat's Height and Width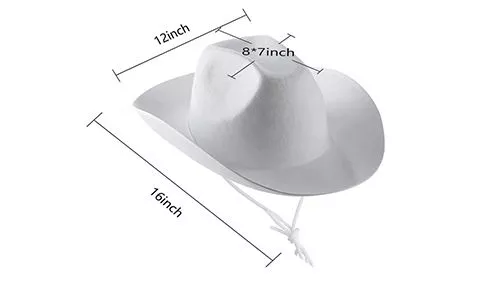 No doubt, you need to consider the height and width of your hat as well. So, the next thing you should do is measure the height and width of your hat. This means that you should measure it from the brim to the highest point on the crown of your hat. Then, make sure you write down all these measurements as they will be very essential in getting the correct shipping box dimensions for hat.
Without you realizing it, the height and width of your hat also influence the size of the box to ship your hat safely and securely.
How?
Let's suppose you need to ship a tall or wide-brimmed hat, you will need to get an extra-large hat box. Why?
Because the brim of your hat needs enough room to prevent it from being crushed.
Moreover, if you need to ship a delicate hat made of materials like straw or felt, you will need a deeper box. With this type of box, you can prevent the brim from touching the base of the box.
Once you get all the right measurements along with the height and width of your hat, it will be easier for you to decide the right box size you need for shipping.
What Size Box to Ship a Hat?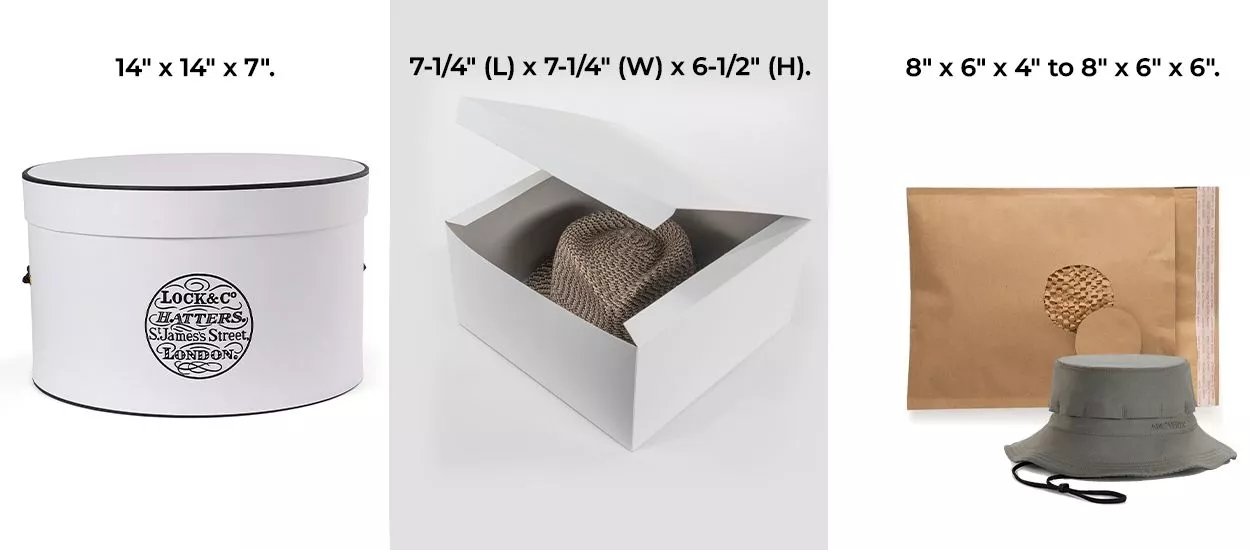 In general, the size of custom product packaging you need to ship a hat depends on the type and shape of the hat you want to send. For sure, different hats require different boxes to protect them from damage that might occur all through the shipping journey.
Have a look at the guidelines below for the best box size to ship hats!
A Small Square or Rectangular Box
If you are planning to ship a baseball cap, snapback, or any other hat that has a bill, you should consider using small square or rectangular extra-large hat boxes that are larger than your hats. Typically, the dimensions you need for the box should be 7-1/4″ (L) x 7-1/4″ (W) x 6-1/2″ (H).
A Round or Oval Box
If you are shipping a fedora, bowler, or any other hat that has a brim, you need a larger round or oval Fedora hat box that can house the hat's shape and size. Mostly, these boxes come with dimensions of 14″ x 14″ x 7″.
A Smaller Box or a Padded Envelope
For shipping a beanie, bucket hat, or any other hats that can be folded, you can consider getting a smaller box or a padded envelope. Usually, these boxes range from 8″ x 6″ x 4″ to 8″ x 6″ x 6″.
Pro tips: Remember that whatever hat box size you use, you should wrap your hat in tissue paper or bubble wrap before placing it inside the box. Also, you should fill any empty space with packing peanuts, crumpled paper, or air pillows to give a better product protection. With these additional materials, you can prevent your hat from moving around or even getting crushed during the shipping journey. For branding purposes, you can also include a thank you note or a care instruction card for your customers as well.
How to Ship Hats?
Now that you know about what size do I need to ship a hat, you also need to ship your hat products exclusively and safely.
How to do that?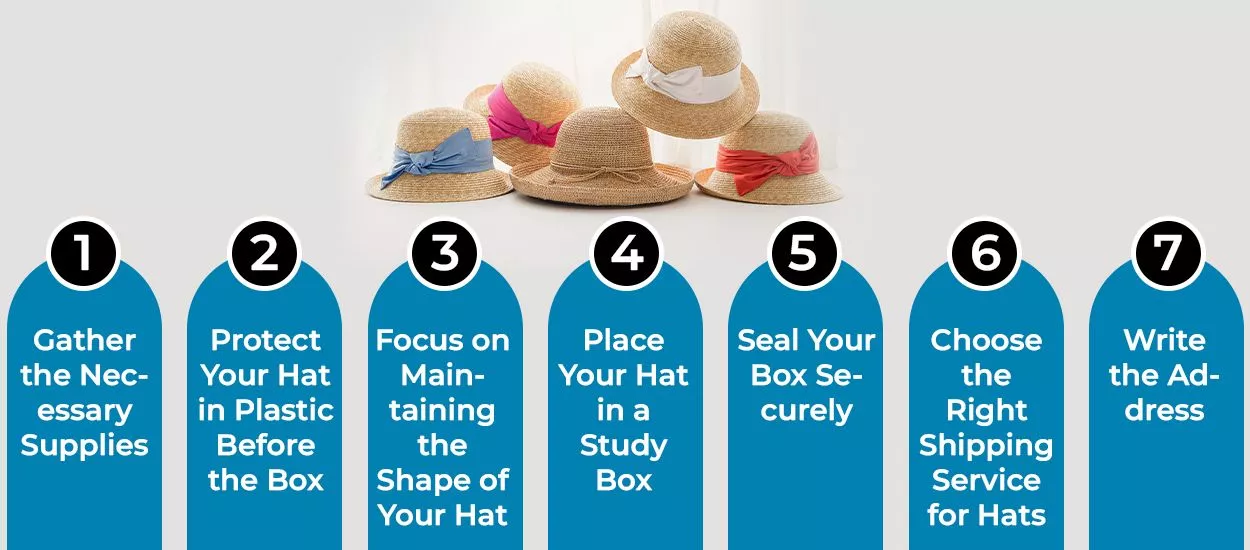 Gather the Necessary Supplies
You should start your hat-shipping journey by gathering all the necessary supplies.
A sturdy shipping box
Whether you will go with a hat box for fedora or other types to ship your hat, the box should be at the accurate size. More than that, remember that your box should be durable to withstand the inflexibilities of shipping.
In addition, you should consider using some additional materials like tissue paper and bubble wrap. These materials will serve as cushioning that maintains the shape of your hat. Even better, they will provide the best protective layer that keeps your hat safe.
Protect Your Hat in Plastic Before the Box
Of course, you have to take an extra precautionary step before placing your hat in the box. In fact, you need to safeguard it from moisture. Well, you can place your hat into a plastic bag before placing it in the box. Believe it, this effective measure can really help in preventing damage to your hat, especially the damage from unexpected exposure to water or humidity.
Focus on Maintaining the Shape of Your Hat
As a brand owner, you know that the shape of your hat is its identity. Hence, you also know that preserving the shape of your hat during shipping is essential. To do this, make sure you gently fill the interior of your hat with crumpled tissue papers. Yes, these tissue papers not only maintain its form. More than that, they will also add an extra layer of protection for your valuable hat.
Place Your Hat in a Study Box
Now it's time to place your carefully wrapped hat inside the sturdy box. Also, remember that you need to fill any empty spaces within the box with tissue paper. With this additional material, you can ensure that your hat stays in place and gets maximum protection it needs. Most importantly, tissue paper will also minimize the movement of your hat within the box. Ultimately, you can reduce the risk of damage to your hat.
Seal Your Box Securely
You can use strong packing tape to seal your box securely and keep your hat safe all through the shipping journey. Most importantly, before shipping it, you should also check all edges and seams of the box as well. By doing proper checks and precautions, you can prevent your hat boxes from accidentally opening in transit.
Choose the Right Shipping Service for Hats
Without any doubt, choosing the right shipping service is essential to ensure that your hat products are delivered safely. In this context, you need to team up with a reliable shipping provider that offers tracking and insurance options. This way, you can track the journey of your hat. Better yet, you can have peace of mind knowing that your hat is covered in case of unforeseen events during transit.
Write the Address
Make sure you write the address of your customers clearly on the box. This way, you can rest assured that your hat will reach the right destination. Plus, don't forget to write down your return address as well. Who knows, some cases might end up with the package needing to be sent back for any reason.
Transportation Cost You Should Know When Shipping Your Hats
You should keep in mind that transportation costs are going to vary drastically depending on a handful of factors.
Hence, when it comes to choosing which company to use, you should select one that you know and trust.
Of course, every company comes with its shipping prices depending on size and weight. For example, the United States Postal Service (USPS) provides flat rate boxes that you can use for smaller and more flexible hats.
So, generally speaking, the size of the box and the weight of your hat will be the most contributing factors to transportation cost. That being said, you should know how much does a hat weigh. To know the basics, most hard hats can weigh from 1.3 pounds to 2.5 pounds depending on the model.
Final Notes
Without any doubt, we must say that shipping hats can be tricky as these products come in various sizes and dimensions. Thus, for safe and secure shipping, you will need to get hat shipping boxes with the exact size and dimensions. To decide the right size of the box you need, you should first measure the size and dimensions of your hat. In addition, you need to add materials like bubble wrap and tissue paper to cushion your hat inside the box. Ultimately, by shipping your hat products in the right boxes, you can expect them to reach their destination safely and exclusively.
Need further guidance? You can contact professionals at Silver Edge Packaging!