What is the most important thing that will make everyone look at your products? Yes, you are right; it is a product presentation! Whatever type of product you want to sell to the market, it is your product presentation that will make it stand out amongst thousands of others. Well, this applies especially when offering food products like delicious pizzas. For sure, those pizza lovers will have a look at your product presentation before deciding to purchase your pizzas. Accordingly, this is where custom pizza boxes come into play. These boxes can do wonderful things for your business, IF, you can design them exclusively. No idea in your mind? Check out the top design ideas for wholesale pizza boxes that stand out below!
How to Make a Pizza Box?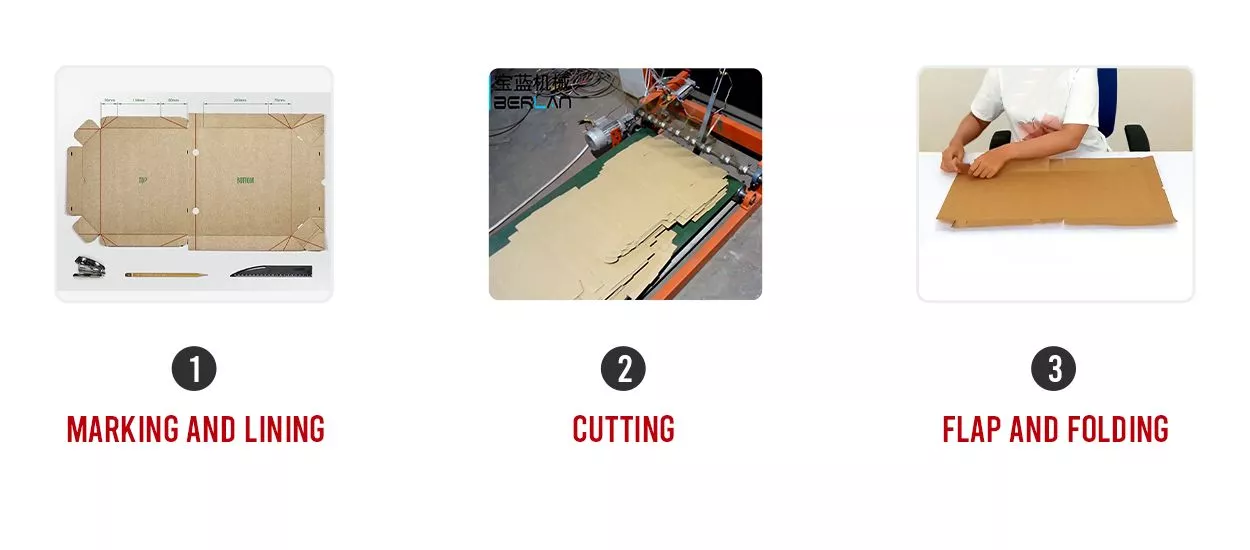 Now, let's know the basic part first; how to make a pizza box?
A pizza box is basically a cardboard container designed to protect and preserve pizza. For this reason, the box should be slightly larger than the pizza you want to place inside. Most importantly, it should also be at least waterproof to avoid damage from oils and moisture.
As we know, there are many pizza box manufacturers you can find out there. Hence, when you choose to work with a reliable one, like Silver Edge Packaging, you will not have to get headaches in making the box yourself.
However, to get a better understanding, here are the steps to make a pizza box!
Marking and Lining
First of all, the packaging designer will mark one of the 12-inch sides of the cardboard with a series of four 1-inch lines. Then, they will make the first line one inch from one edge. Next, they will create the second line at 5 1/2 inches, the third at 6 1/2 inches, and the fourth at 11 inches. Yes, they will repeat on the other 12-inch side. Meanwhile, the second series of four lines should be exactly opposite the first.
Cutting
By using scissors, they will cut slits along each one of these eight lines. This way, they will create 10 tabs. Next, the designer will bend each of these tabs backward and forward to become flaps.
Flap and Folding
The next thing is flapping one of the 8-inch sides of the cardboard. Then, they will take the central area between the two flaps, and fold it up and in toward the rest of the cardboard. To make the front edge of your box, they will fold the two flaps sideways toward each other.
Meanwhile, the sections of cardboard will be folded toward the center of the box to make them stand up. Here, their front ends will overlap the front of the box.
Top Ideas for Pizza Packaging Design Those Customers Will Love
Alright, now that we know how important custom pizza boxes are to help your business stand out, let's start designing the boxes that customers will love.
Here are the top ideas for your pizza packaging design!
Minimalist
Minimalist designs will deliver a more elegant vibe. Even better, when it comes to speaking of how to make your product stand out, these sleek and simple design ideas are perfect.
Interactive Packaging Designs
Interactive packaging designs can make your customers feel happier enjoying your delightful pizza. Yes, along with the innovations in technology, now you can turn your boxes into fun games. Or else, you can even give customers those remarkable augmented reality experiences.
Retro Vibes
We all love embracing nostalgia and returning to our sweet memories, don't we? As a pizza brand, you can make these memories even more enjoyable for your customers. How?
By designing your boxes with retro-inspired designs. For example, you can design the boxes in black and white color background or classy typography.
Make Special Designs for Special Occasions
Yes, how about making special occasions more memorable with your pizza boxes?
For example, create a wedding-themed pizza box design to add a personal touch to the event. Or else, you can apply a Halloween theme to make your design look more visible.
A Pizza Money Gift Box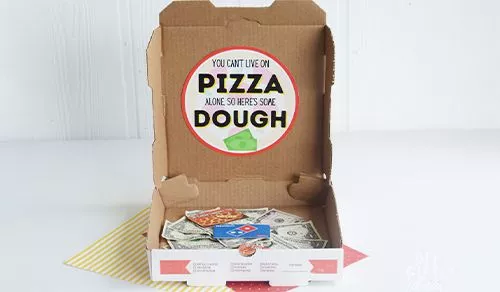 You must have heard about a pizza money gift box, right?
Well, this box is basically designed to give a surprise. Accordingly, the surprise lies in the design when you insert some money inside the box. This way, undoubtedly, this type of packaging design will be perfect to help your customers in their gift-giving purposes.
Popular Movies and Pop Culture-Themed for Pizza Boxes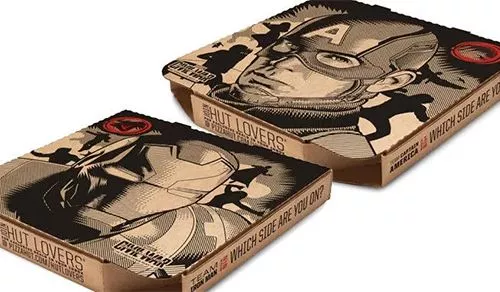 Popular movies or pop culture trends are the best ways to highlight your delicious pizza and sell them better. Most importantly, by designing your boxes with these themes, you can generate buzz and attract customers. Without any doubt, this type of packaging design for your pizza boxes will help you go viral with your delicious pizzas!
Focus on Your Takeaway Pizza Box Designs
As a pizza brand, you know that people all around the world love ordering pizzas for a cozy evening or a huge party. Well then, to meet this demand, you should create your box with this takeaway focus. How?
You should add additional features, like:
Utensils
Compartments for sauces or dips
Frozen Pizza Packaging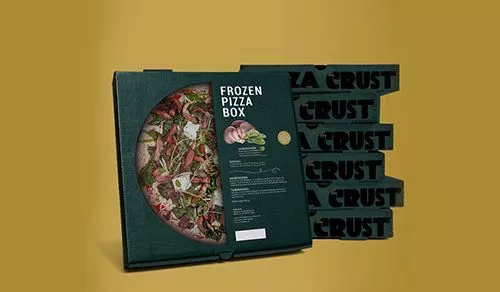 In case you offer frozen pizzas to the market, you need the packaging that retains the quality and taste of your frozen pizzas. Using insulated boxes will be the best way in this context. The best part is that these boxes mostly come with freezer-safe features. Thus, they will surely keep your pizzas in perfect condition. As a result, you will not have to worry about why are pizza boxes bad.
What Can Custom Printed Pizza Boxes Do for Your Pizza Business?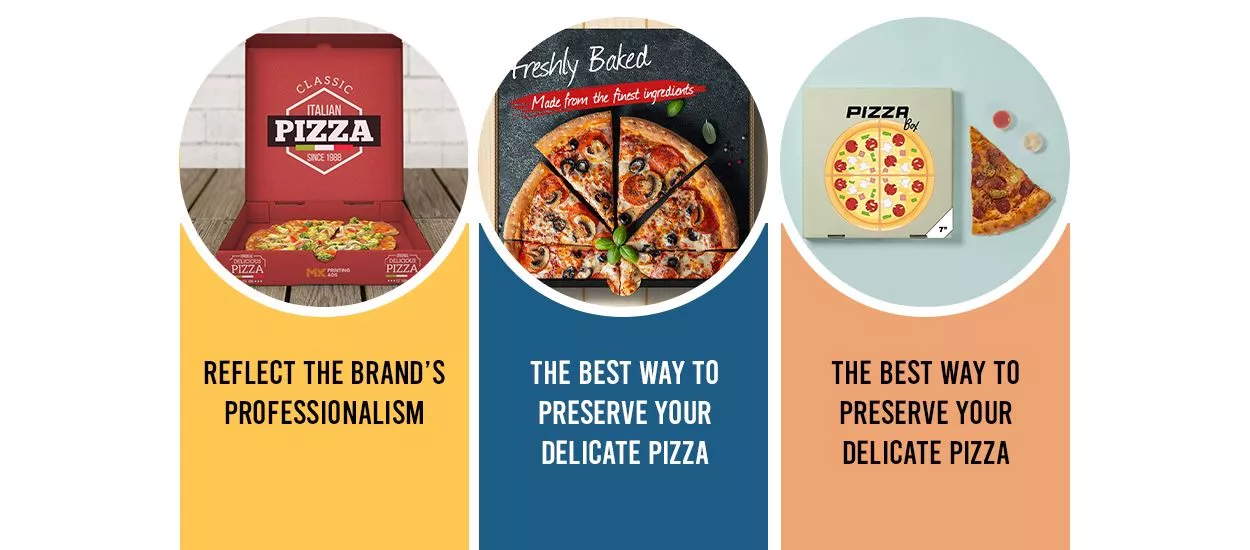 Of course, you might be wondering about how to make my pizza business stand out, right?
Well, do you know that to stand on business, you can do your marketing strategy through pizza customization?
Here's the scoop!
Reflect the Brand's Professionalism
These days, you can get a suitable pizza box template to start designing your box. The best part is that you can customize the box. Yes, you can design it according to your needs and expectations. Now, when customers see a unique box wrapping your pizza, they will know how you put your effort into designing the box. Thus, they will see how professional your brand is as you don't want to make any customers disappointed.
The Best Way to Preserve Your Delicate Pizza
Deciding the exact pizza box size will help you preserve your delicate pizza properly. How?
With the accurately measured box, your pizza will stay in the best flavor and shape. So, the right box will make sure that your pizza remains still in the box and will not move around. This way, the box will be the best way to preserve your delicate pizza all through the delivery journey. The best part is that whether you need large pizza box dimensions or small ones, you can design the box as you want!
A Branded Pizza Box Grabs More Customers
In this food industry, customers pay attention to the products and brands behind them. In fact, we can see how some customers will be very loyal to their favorite brands as they believe that those brands deliver what they want. Well, when you have a branded pizza box, it will be easier to grab more customers to pay attention. And once you can grab their attention, the rest will rely on your pizza magic to convince them to be loyal to your pizza brand!
What to Consider?
Whatever design you choose from above, for sure, there are some points to consider when designing custom pizza boxes that stand out.
What are they?
We all know how social media plays a big part nowadays. So, when you create a shareable pizza box design, you can convince those customers to share your delicious pizzas on social media!
Clear and attractive typography
When it comes to designing, you must keep your customers' needs on your mind. For example, you need to use clear and attractive typography to make your box easily understandable.
For sure, a brand's authenticity is essential in this competitive industry. So, make sure your box design stays true to your brand's identity. For example, you can apply your brand's tone, logo, and aesthetics for designing the best boxes with a more identifiable presence.
Wrapping Up
In this competitive market, those pizza lovers will have a look at your product presentation before purchase. Accordingly, this is where custom pizza boxes come into play. Yes, if you can design them properly, these boxes will reflect your brand's professionalism, preserve your delicate pizzas, and grab more customers for your business. Well then, hopefully, the top design ideas we revealed here will help you design the best boxes for your delicious pizzas!