In the present age, the appeal of packaging is a way to drive sales. Moreover, the best way to showcase the qualities of a product is custom t-shirt boxes. Further, they also give you a power selection from a range of designs, branding basics, colors, and graphics, which is good for your packaging service. Also, custom boxes are the ideal choice for your business because they are made from cardboard material. They confirm that your t-shirt stays intact till the buyer's gates. Without a question, they work for staging, and product safety too. Let's learn further about the t-shirt packaging in this step-by-step guide.
What Is T-Shirt Packaging's Importance?
It is the most important thing that you understand what t-shirt packaging means before buying. For example, you may worry about how to present them in the marketplace. So, no need to fear, nothing else but the packaging can assist you.
Have a look at the benefits of t-shirt packaging!
Buyers see your T-shirt packaging right away without seeing any other thing. So, it has to be gorgeous and meet your brand standards.
Packaging plays a vital role in boosting brand loyalty and image in the markets. Hence, it makes your items even more clear on the store shelves.
The buyers want to share their practice with others when they receive the order in outstanding t-shirt packaging. Thus, eventually, it is a way to spread word of mouth.
Top-Notch T-Shirt Packaging Ideas
When it comes to t-shirt packaging ideas creativity is key to success. Thus, Silver Edge packaging offers diverse tools and techniques. Yet, these tools not only enhance the charm of the packaging. But more than that, set your brand apart from the others too.
Let's know some shirt packaging ideas!
Customization is a great idea to grab the attention of the wider audience. Yet, it offers many styles, custom shapes, or sizes to pack a wide kind of shirt.
Safety matters a lot! Thus, use extra paddings such as slots or inserts to protect the shirt from damage. Folded boxes can be a good choice for creating a sense of grace.
You can add collaborating elements that are in trend. They could be pull-outs, hidden slots, ribbons, or papers to cover the shirts. No doubt, these sorts boost the overall unboxing practice.
Print the overall t-shirt packaging with an eye-catching graphics touch. Yet, if you don't like the full print you can use cards or flyers that tell your brand story.
Allow customers to add a personal touch per their needs. Above all, ask them to add wishing notes or messages inside the boxes. Indeed, it builds a strong connection with buyers and enhances the brand experience as well.
Consider the ecological bags that customers can reuse. It is a smart idea to extend the life cycle of your packaging.
Benefits of Packaging for T-Shirt Business
In the success of the t-shirt business, the packaging contains more than the products. Why? Well, there are many reasons check out a few helpful ones;
packaging is the first thing that relates with the customers because it holds your brand logo. Yet, your custom apparel boxes are a symbol of your brand that highlights your items in the gathering.
Unique and appealing packaging is key to making your brand stand out at the fair. Yet, the iconic brand logo, font style, and themes of the packaging catch the attention of broader clients.
Extension in customer base
Thoughtful packaging improves the customer's buying experience and they are likely to share their experience with others. Finally, your customer base grows and wide.
Valuable Tips On Packaging for Clothing Brands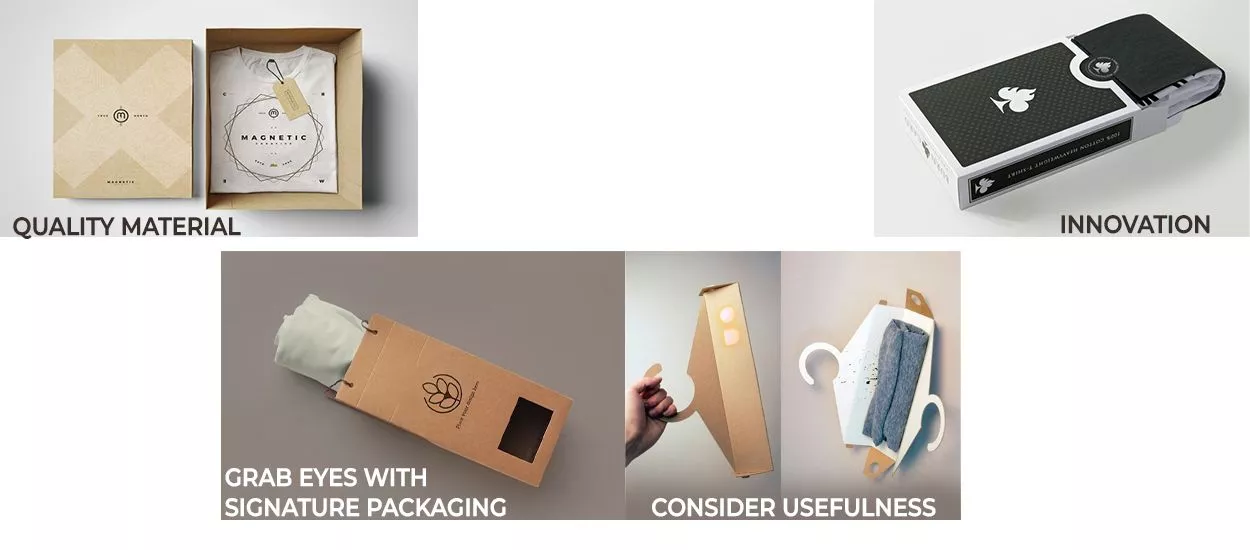 In the modern era, broadening in packaging plans becomes a need for clothing brand progress. Therefore, some valuable tips are as follows:
Use strong material that can bear the shipping ups and downs and keep the shirt safe. So, hangtags for clothing can be a game-changer choice for your clothing brand.
Present seasonal packaging with smart innovations. It is a secret sauce to keep things fresh and exciting clients tied up.
Grab eyes with signature packaging
Create a signature T-shirt packaging that is not only attractive by look but shows your brand status to other competitors.
Keep an eye on usefulness! Design packaging that is easy to open and close. But, make sure it's lightweight and allows carriers relaxation.
A Guide on T-Shirt Packaging Selection
A step-by-step guide on t-shirt packaging selection is here!
Define the brand vibes: Detect your brand vibes before settling the packaging for your brand's t-shirt.
Consider the budget: Consider the fiscal plan and search the many dealers to search for cheap packaging options.
Customization: Check out the customization that allows labeling options and designs to be attractive to take hold of attention.
Quality check: Choose tough material such as cardboard, paperboard Kraft, etc. Prefer biological packaging options to support sustainability.
The Impact of Eco-Friendly T-Shirt Packaging
Currently, customers choose ecological t-shirt packaging because of increasing ecological awareness.
Moreover, it leaves a strong effect on our earth and overall creation such as:
Recyclable material: Choosing eco-friendly material for packaging helps to reduce the environmental footprint on the planet
Green options: Green packaging solutions naturally let down the harmful sway and ecological dints.
Control wastage: Eco-friendly packaging is a great way to reduce or control the waste of the material
Cost saving: Certainly, ecological material is recyclable, so by recycling, it repeats and saves your cost for new buying.
Teach customers: Importantly, recyclable packaging is a home of raising awareness about planet care among buyers.
Summing Up
It is noted that Custom t-shirt packaging plays a dynamic role in the presentation of the products. No doubt, it comes in numerous styles and material ranges to protect the shirts and give the package an expert touch. Further, packaging is the most important factor for increasing the brand personality. In the end, custom packaging is an eco-friendly option that protects the globe from risky dints.