Umm…pizza. We know it as one of the most popular dishes everyone would love to have. Pizzas are delicious, perfect for any gathering, and can be personalized with almost any topping. In the United States alone, pizzas reach the number of 3 billion pizzas sold every single year. Of course, all pizzas come with different packaging boxes. Now the big question here is, are pizza boxes recyclable? Well, yes, about more than 4 thousand boxes are included in the porch recycling program. In this post, let us dive further into this!
What Kinds Of Pizza Boxes You Can Recycle?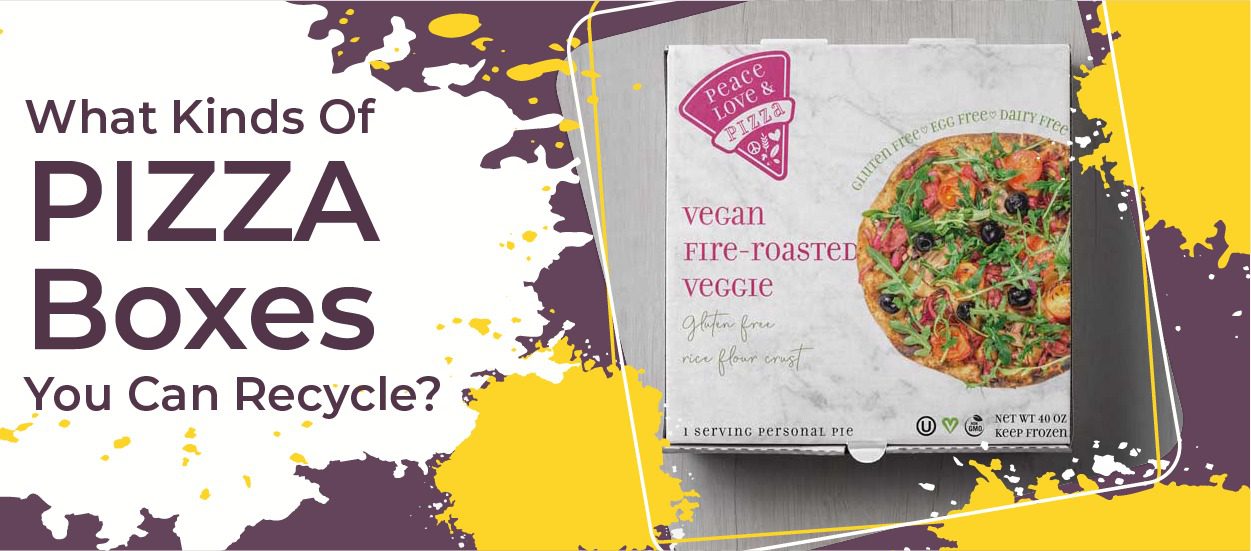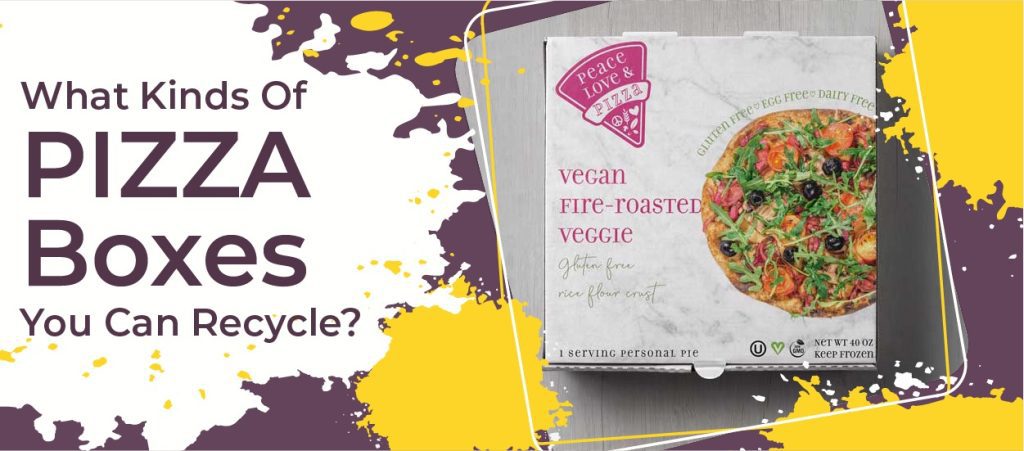 If you are wondering are pizza boxes recyclable, yes all of the custom boxes can be recycled. On the other hand, in case the boxes will be contaminated with food, it will be impossible to recycle them. Thus, during the recycling process, the boxes that are thick and greased can ruin the entire batch.
However, the good news is, even if you take a greasy part out of the boxes, you will still be able to recycle a clean part. In most circumstances, the top of the boxes might not contain grease. This way, you can then simply throw them in the recycle bin. Then, once the entire boxes will be clean, you can move on and recycle the whole boxes.
Additionally, there is another way to get rid of these greasy parts. You can compost them! Composting allows you to throw away your garbage, shredded paper, wood shavings, and even greasy custom pizza boxes. The action of composting is environmentally friendly as well. Why? Because the material enriches the soil and will not reach the landfill.
How to Recycle Your Pizza Boxes?
When it comes to recycling pizza boxes, of course, all of us want to do it the right way. On the other hand, some items, unfortunately, are not easy to recycle. These boxes are, regret to say, included in those items.
Perhaps you are not aware that your favorite pizza and the packaging box that comes with it are unlikely to be paired. Why? Here is why!
Pizza boxes are mainly made of cardboard packaging material
What could possibly happen if you only enjoy slicing once or twice of your pizza and then throw away the entire empty box? Well, without you even realizing it, you have been doing more harm than any good. Wondering how?
We all know the fact that food waste turns out to be a major source of contaminants in the paper recycling process. To be more specific, both grease and oil are two of the worst things that can, without any hassle, contaminate your boxes. In the worst case scenario, these two factors can become a hindrance to the paper recycling process eventually.
Contamination of even just a single pizza box will result in an entire batch of paper recycling being completely pointless.
Paper Recycling Process – What Are the Consequences of Contamination?
Alright, now let's take a moment to look at how paper and cardboard recycling works. From here, we will get the idea of where recyclable pizza boxes enter the image.
Paper recycling is a completely different story. Why? Because paper is not heated all through the recycling process. This is why the combination of fat and oil with pulp will easily ruin a batch of waste and money.
After classifying the paper and cardboard by type and grade, your pizza packaging boxes will proceed to the paper mill. Here, the boxes can be stored for several weeks, in which the leftover food and fat are rotten. When mixed with water, a semi-liquid mixture or "slurry" will be produced. This is the part where the greasy pizza boxes come taking part.
If you have to wash a small amount of grease or oil from the boxes, removing them completely can be very tedious. This is due to the fact that in the slurry, the rest of the oil will float up. Well, unfortunately, this thing will make it even more impossible to separate the oil from the paper fibers. In the end, depending on the type of product and the degree of contamination that occurs, the entire batch can be ruined easily.
Recyclable Pizza Boxes – Things to Note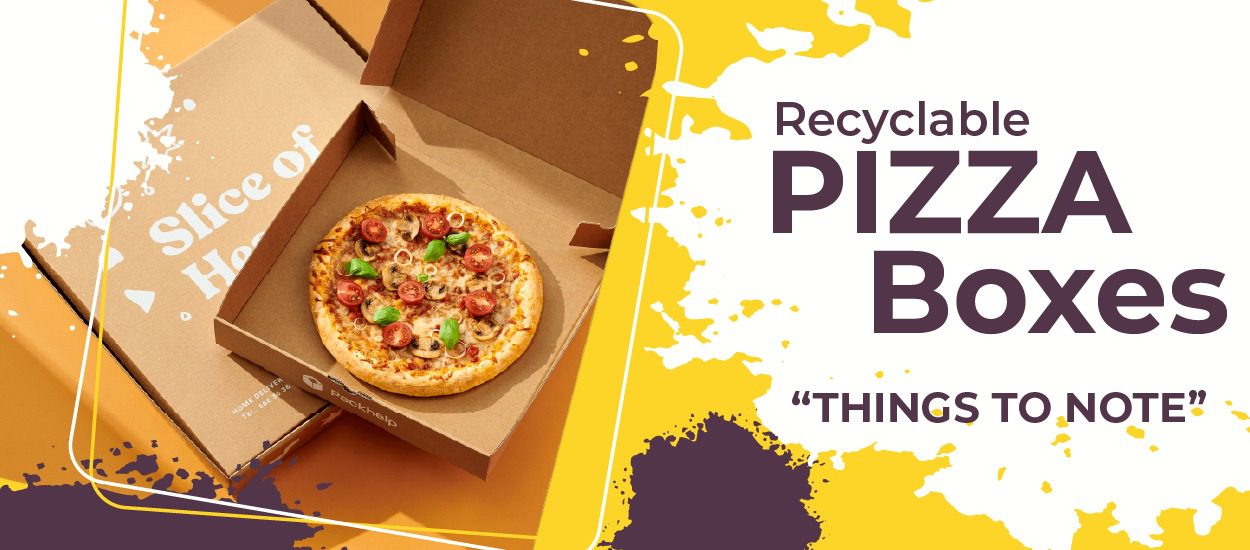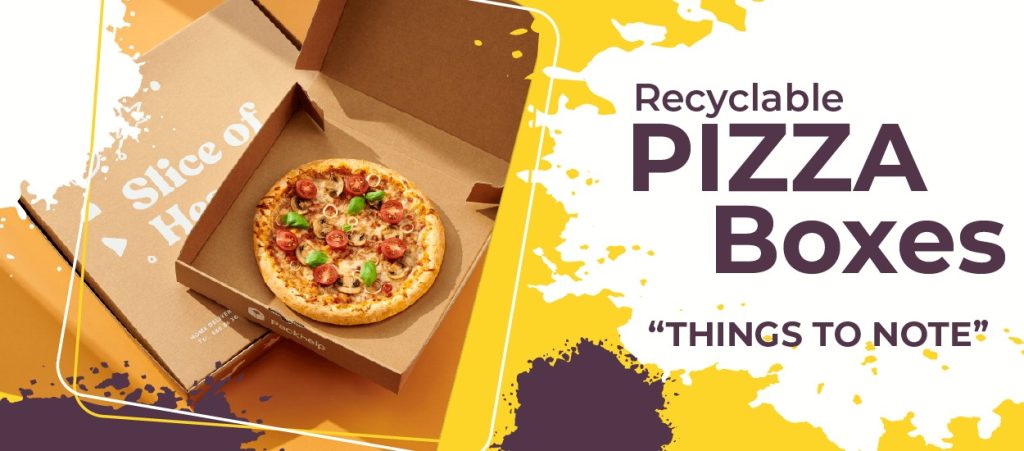 As we mentioned above, it might cause problems due to contamination problems. Thus, it is important for your brand to understand that the core of the problem is when pollution is playing. If you make your boxes of paperboard, you can never recycle dirty paperboard. This is due to the paper fibers not being separated from oil during the pulping process. What's more, some fat and oil may affect the quality of your luxury pizza boxes.
Yes, regret to say that packaging boxes can turn out to be a big risk for the environment. This applies especially if you use standard boxes made of poor-quality materials. However, the good thing is, custom pizza boxes can be recycled from nature. In fact, when you order boxes from a reliable packaging provider such as Silver Edge Packaging, you can recycle the boxes without any hassle.
Can You Recycle the Contaminated Pizza Boxes?
In theory, we can say that recycling your boxes is a relatively simple concept. In fact, at the moment, the success rate of recyclable pizza boxes keeps on increasing. However, things might be different if your boxes will be contaminated.
So How Are You Supposed to Know If Your Pizza Boxes Will Be Greasy to Recycle?
After all, you know that you need to recycle the boxes immediately and search for possible options for processing the boxes. Below are some ways you can recycle the boxes.
Simply cut off the clean shell of custom pizza boxes to avoid contamination of clean material. Then, you can, without any doubt, send the boxes to the trash.
Don't forget that contaminated boxes will ruin the potentially reusable paper of the batch
After recycling your boxes, you will be able to throw them into the trash or better!
If you want to compost a pizza box, first you will have to break it into small pieces
Food and greasy paper items can break down over time
Check Out the Local Recycling Program Near You!
Another thing you can do is check your local recycling program for more information and local guidelines. At this place, they will take your greasy pizza boxes and allow you to recycle them. Be sure to clean your boxes first. You can clean or wash the boxes before recycling. Yet, in case there is still some leftover food on the box, you should put it in the organic trash.
Even though not allowed in most cases, some can recycle boxes with minimal fat. By recycling your pizza packaging boxes, each of us has the potential and ability to help our Mother Earth. As a brand, knowing how your business activities can really impact our environment is always a good step. In addition, knowing what helps us from a recycling perspective will be an essential or most important thing to consider for your business to grow.
When we keep in mind our expertise in waste separation and management, we can win everything that comes our way. Always remember that each subsequent step is in your hands.
Well then, the next time you have finished enjoying your favorite pizzas, you know exactly what to do with the boxes! Yes, being humble with nature will never get you wrong.
Where to Get Recyclable Pizza Boxes?
Now let's talk about the corporate responsibility you have as a pizza brand owner and as a human being. You are surely aware that your pizza business should also consider helping and taking part in saving the environment. The good thing is, you can make a huge effort when you have recyclable pizza boxes. So, where to get these recyclable boxes?
Silver Edge Packaging is the one you can always count on in this case. We provide impeccable boxes to wrap your heavenly taste pizzas. The best thing you can get from our packaging boxes is that they are made of environmentally friendly packaging materials. Check out the list below for the material options we use to produce custom pizza boxes!
Cardboard material
Corrugated material
Rigid material
Paperboard material
Kraft material
More from Us
From us, you will get more than standard boxes. Yes, all of us at Silver Edge Packaging come with great dedication to help you out. With us, you can expect to get the best services of:
Professional free design support from our expert packaging designers
Full customization options to design the boxes according to your preferences
Quick turnaround time and on-time delivery
Free sample and discount offer
Free shipping service to your doorstep
Get the Best Pizza Boxes to Enhance Your Brand Credibility!
So, if you wish to get the pizza boxes with logo that will enhance your brand credibility while also contributing to the environment, you know where to go. Simply give us a call and we are ready to assist you! Silver Edge Packaging offers the best solutions to meet your packaging needs.