Cereal packaging in rectangular cardboard boxes is due to their compatibility with cereal. This is one of the best factors that make this kind of packaging perfect for cereal, but many aspects are included. Small businesses focus on these kinds of packaging because they are perfect for their brand too. This article is for you if you are also one of those cereal brands.
We will discuss some of the ingredients of cereal boxes necessary for a cereal brand, also discuss all the factors that make these boxes compatible with cereals. But, before we move towards other things, it is imperative to know the essential things to consider for your cereal boxes.
Let us start!
Essential Things to Consider for Cereal Boxes
Compatibility
It is essential for any packaging to be compatible with a product. Similarly, the compatibility of cereal boxes with cereal is vitally important. Here compatibility means that its packaging must secure cereals well and also provide a user-friendly experience to the people.
This is one of the main reasons companies manufacture only cardboard cereal boxes instead of relying on cheaper alternatives. Accordingly, the rectangular shape of boxes also provides a user-friendly experience compared to other shapes.
Cardboard is food grade material if manufactured under proper SOPs, but it is equally important to use only food grade printing while assembling custom cereal boxes. So, this cereal box becomes compatible with securing your cereal and promoting your brand.
Branding
Making a positive impact is another name for branding. No business can survive for an extended period without continuously impacting its customers' lives. In branding, a business can use packaging as an effective tool. Especially using cardboard also makes it possible for companies to promote their brand with ideal packaging.
Since cardboard can be printed quickly, you can print your cereal boxes with your logo. Custom printed cereal boxes help customers recognize your offer, a positive move for your branding.
The Beauty of Cardboard for Packaging
Affordable
Cardboard cereal boxes are affordable to everyone from all over the world. These are easily accessible and can easily be customized into any shape and design. Contrary to regular boxes, you can order these boxes of any size and shape. Therefore, small businesses of cereal prefer custom cereal boxes to regular boxes for cereals.
We help our customers with the most affordable packaging offers without compromising the quality of work. During the production of custom cereal boxes, we provide free design support that enables our clients to share their idea for the packaging they want for their brand.
Eco friendly
Cardboard cereal boxes are eco-friendly and don't harm the environment. These boxes are readily biodegradable and can degrade naturally. It is a positive aspect of these boxes because you do not need to handle the extra waste. You can dispose of this packaging once it is used.
Easily Printable
These boxes are easily printable and are one of the essential aspects of packaging. A printed box helps a business, brand, product, and user. Therefore, cardboard is a perfect option for many food products, including cereal, because it can easily be printed.
We provide various options t for printing to our customers. If you want to make your boxes more attractive, CMYK, CMYK + 1 PMS color, and CMYK + 2 PMS colors are the best options for your cereal boxes. We also provide free one-color printing to make your packaging the most reasonable offer.
Flexibility
You can use cardboard to make any size and shape of cereal boxes. This flexibility of cardboard makes it suitable for custom packaging. In custom cereal box packaging, these boxes are customized into many shapes and sizes per customers' needs and demands. These paper materials' flexibility also helps manufacturers provide packaging to businesses.
Protection
Protection of cereal is the first thing that any cereal business seeks first. Cardboard cereal boxes are a perfect option to provide safety to cereals. It is a good idea to secure your cereal in cardboard because they are better fit for dry food products like cereals.
We offer various paper material choices to make your packaging the most protective. You can choose any width of cardboard and corrugated for your cereal boxes. Our main goal is to provide you with what is best for you. It is what every business must aim for their products and customers.
Why Cereal Packaging is Not in Cube Shape!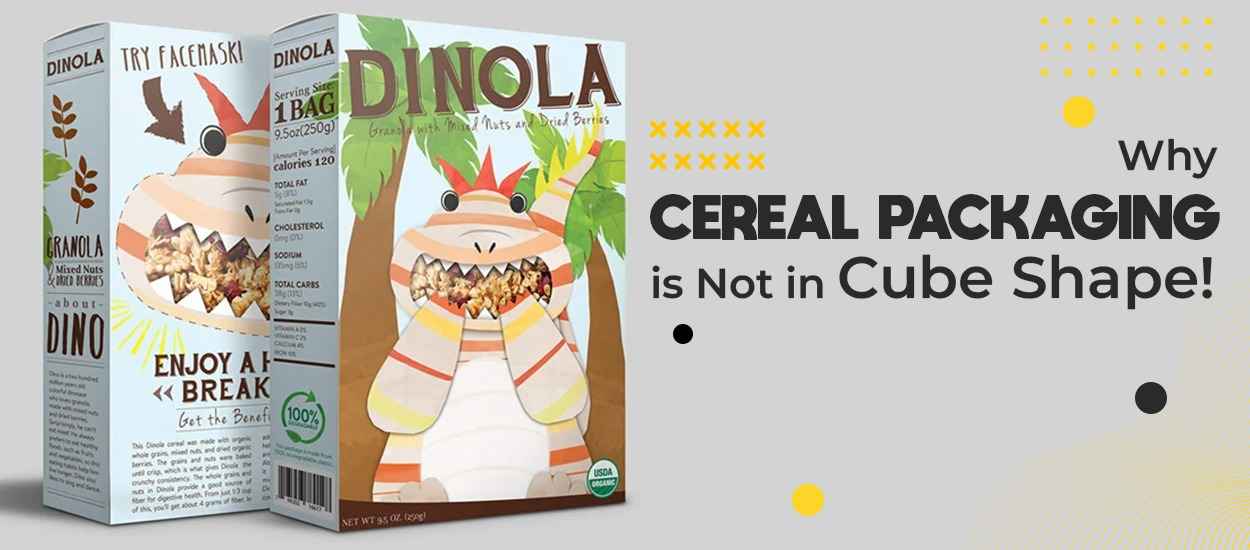 Many new cereal businesses and people often seem to wonder about the shape of cereal boxes. This is a common practice for businesses to use rectangular cereal boxes for packaging instead of using any other shape or design. Cereal packaging is not in a cube shape due to many reasons. First, it has become a standard for cereal, so every new business follows the same standard for its cereals.
One of the critical reasons shared by our clients is the differentiation of their brand from other kinds of products. It means they can choose any shape that doesn't confuse it with other food products available in the market. Secondly, a rectangular shape provides a user-friendly experience to customers compared to a cubic or any other packaging shape.
How to Make a Cereal Box Attractive?
To make cereal boxes attractive, you must use high-quality printing and design. After choosing high-quality paper material like cardboard for your cereal, you will have to print your boxes. Once your printing and choice of high-quality material are met with the premier design, a required cereal box can be expected.
The printing of your boxes may include two kinds of details and figures. Firstly, you will need to print essential details; secondly, you can use other visuals that make your packaging catchy. Essential details are important for food products, including cereal. These details may include product description, quality and quantity of cereals, and dates.
You can use different stickers to make your packaging attractive to your customers. For example, the visuals of children are mainly used to attract children's attention. These visuals also indicate that the given product is for children. Similarly, you can choose and use other visuals to target elders. So, these visuals can play three tasks at one point: indicating, attracting, and promoting.
Core Point
Food products like cereals need high-quality packaging with cereal boxes. So, if you plan for such a box, ensure compatible packaging for your cereal. As a cereal brand owner, you should use all these factors as a check for assembling high-quality boxes for your brand.
Silver Edge Packaging helps many small businesses for getting rectangular cereal boxes. However, you can also enjoy our free design support to assemble your high quality boxes. You can check unlimited designs and templates and customize them into any form you want for your cereals.