When you shop for any clothing product, you might see a hang tag on it. Well, this hang tag is there not only for an accessory. Instead, it also works for presenting a brand behind that clothing product. Even better, with a hang tag, you can boost your brand recognition and style. How? Let's explore more about this hang tag!
What Is a Hang Tag?
Before we dive more, let's get a brief definition of product hang tags!
So, basically, a hang tag is a label that is attached to a product using a thread or tie rather than an adhesive. Mostly, a hang tag provides information about the product, such as its material, proper care, and the name of the designer or brand.
Modern hang tags today are usually made of thicker materials. For example, you can go with heavy paper stock or cardboard. Plus, you can also have a hole or holes for hanging or threading them.
What Is a Hang Tag Barcode?
Now, you might have also seen some clothing hang tags featuring barcodes on them. What is this barcode anyway?
In brief, this barcode allows for quick and accurate identification of the product itself. More than that, you can use the barcode for various purposes. For instance, you can use it for inventory management, product identification, and asset tracking. Plus, the barcode on the hang tag will help customers to check out at the cashier.
What Is the Role of Custom Hang Tags for Clothing Products?
Without you realizing it, a hang tag of a clothing product plays a great role in attracting customers' attention. Plus, it works well in conveying important information about your product. Also, don't forget that a hang tag is often the first thing customers look for when they see a product in a store. Thus, while the beautiful product itself catches their eye, the hang tag can enhance the overall appeal. Far better, it can provide essential details that influence customers' purchasing decisions.
Check out some key roles of a hang tag for your clothing product!
Reveal Product Identity
A hang tag gives your product an identity while also reflecting your brand's image and values. How?
Well, you can include your logo, brand name, or other visual elements that represent your brand identity.
Provide Complete Product Information
This hang tag can help you provide important information about your clothing product. Hence, you can provide details like its material, care instructions, size, or special features. Accordingly, your customers rely on this information to make informed decisions about their purchases.
Deliver a Better Customer Experience
Hang tags can enhance the overall customer experience. How?
By providing an aesthetically pleasing and informative element to your clothing product.
Far better, exclusive hang tags can make customers feel more connected to your brand and create a sense of value.
Perfect as Your Brand Representation
A well-designed hang tag can convey the quality and uniqueness of your brand. Even better, it will help you create a positive impression and differentiate your product from competitors.
A Hang Tag Serves as Your Marketing Tool
Yes, this hang tag is a perfect tool to promote your brand or specific product features. For example, you can print some promotional messages, discounts, or QR codes that lead customers to your website.
How Do We Name Tags on Clothes?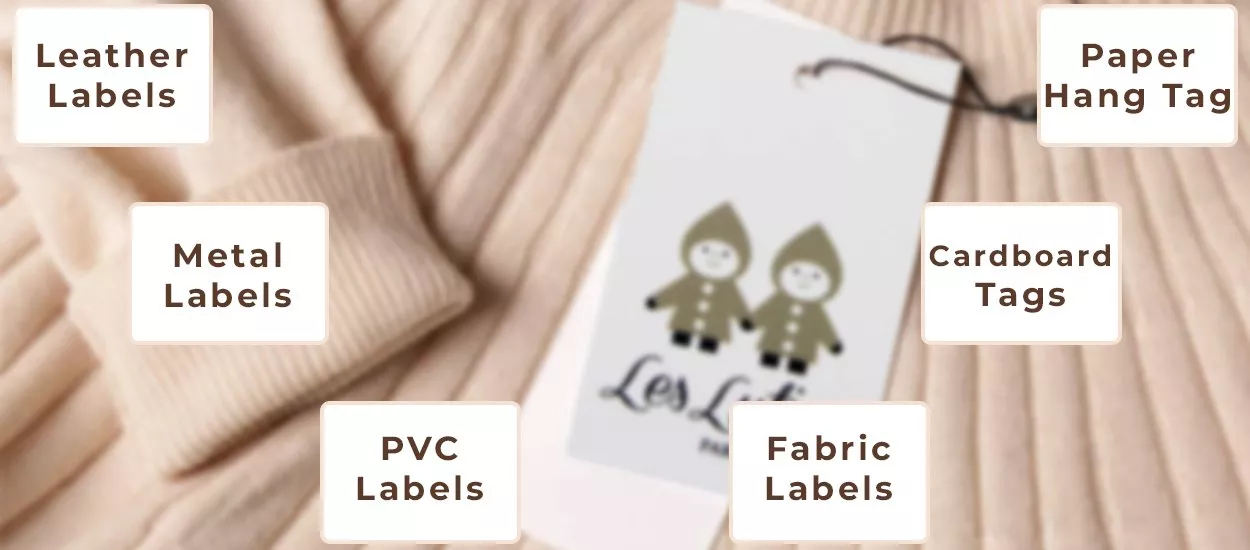 Yes, what are tags on clothes called?
Well, those tags are commonly called clothing labels and they serve various purposes.
Moreover, we classify these tags according to some factors:
The materials

Functions

Sewing methods

Manufacturing processes
Have a look at below for some examples of hang tags you can get!
Leather Labels
These labels are mostly made of artificial, genuine, or suede leather. You can find these labels on some clothing jackets, denim, caps, bags, and other products.
Metal Labels
As the name suggests, these are metal tags and accessories for clothing, hats, or bags that can be engraved with your brand logo.
PVC Labels
PVC labels are made of soft PVC rubber material. You can find them mostly for clothing like jackets, bags, hats, canvas, and outdoor products.
Fabric Labels
These labels are made of cloth fabric material like woven and printed fabric labels. Yet, you can rest assured that they are very durable and soft at the same time.
Cardboard Tags
These tags are made of cardboard or thick paper stock. Besides, the tags are perfect for you to provide information about your product, such as pricing, brand name, or care instructions. In addition, you can attach a cardboard tag easily to clothing products using a thread or tie. Furthermore, these tags are ideal in retail settings to display pricing information or to add branding elements to your products.
Paper Hang Tag
As you might have thought, this one is made of paper material. For example, you can create it from coated paper, white/black card, kraft paper, tracing paper, and more. The best part is that paper hang tags are easier to print compared to metal or leather hang tags. Better yet, you can easily customize them with various details such as your brand logo, brand name, product story, and more.
Those are just a few examples of hang tags. Remember that these tags can help in recording your brand logo, clothing sizes, place of origin, manufacturer details, care information, and more. Most importantly, those customers often consider seeing the hang tags when making purchasing decisions.
So, if you are looking for the best hang tags for clothing, you can find a variety of options from suppliers like Silver Edge Packaging. In fact, you can get a wide selection of paper hang tags for clothing, including customizable options like custom logo labels, and personalized tags.
The Best Ways to Make a Hang Tag
Now let's get to the interesting part, how to make a tag for a clothing product?
Choose the Right Material
You can choose from various materials, including paper, cardboard, plastic, metal, or leather. However, remember to choose a material that suits your brand image and product type.
Design Your Hang Tag
Next, you should create a design that reflects your brand identity and product features. Don't worry, you can use graphic design software like Adobe Illustrator or Canva to create a custom design.
Add Relevant Information
Include essential information, such as the product name, brand name, size, care instructions, and price.
Print the Hang Tag
Once you have finalized the design and information, you can then print the hang tag on the chosen material using a printer or professional printing service.
Cut and Punch Holes
Now, cut the hang tag to the desired size and shape using scissors or a cutting machine. Don't forget to punch a hole in the hang tag using a hole puncher or grommet machine.
How to Get Hang Tag Measurements?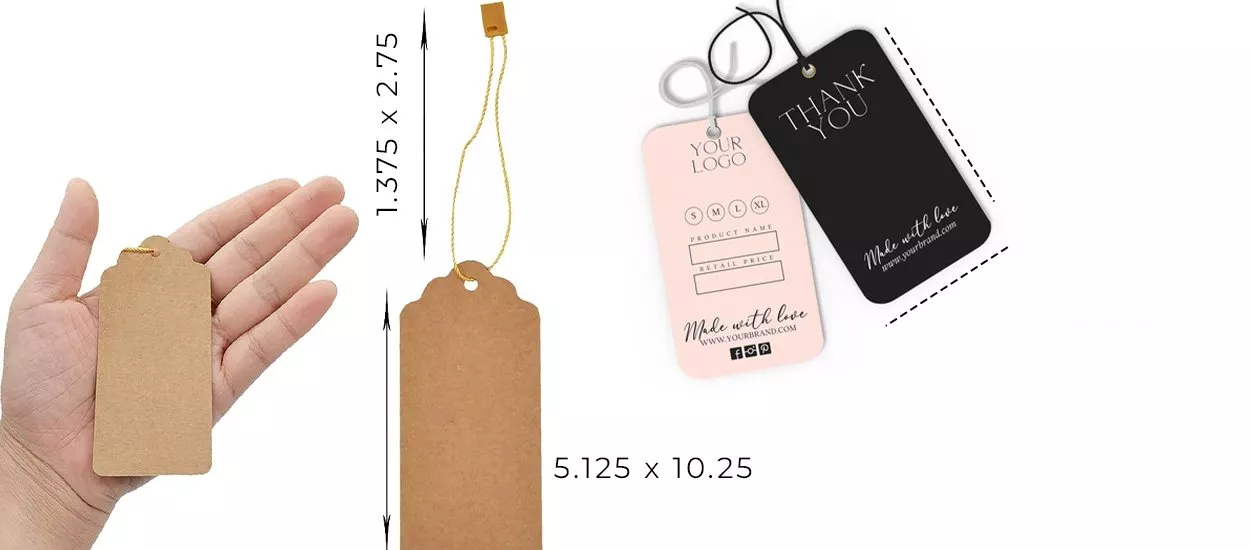 When it comes to deciding the measurements for your hang tag, you can refer to the standard sizes available for custom hang tags.
Mostly, the sizes are ranging from 1.375 x 2.75 inches to 5.125 x 10.25 inches. Of course, you can choose a size that best suits your needs. Or else, you can even create a custom size or shape for your requirements.
Also, don't forget that you can choose from various sizes and shapes for hang tags. For example, you can go with rectangular, square, or round options. The dimensions of your hang tag, depend on the material, design, and printing method you choose.
How to Attach Tags to Clothes?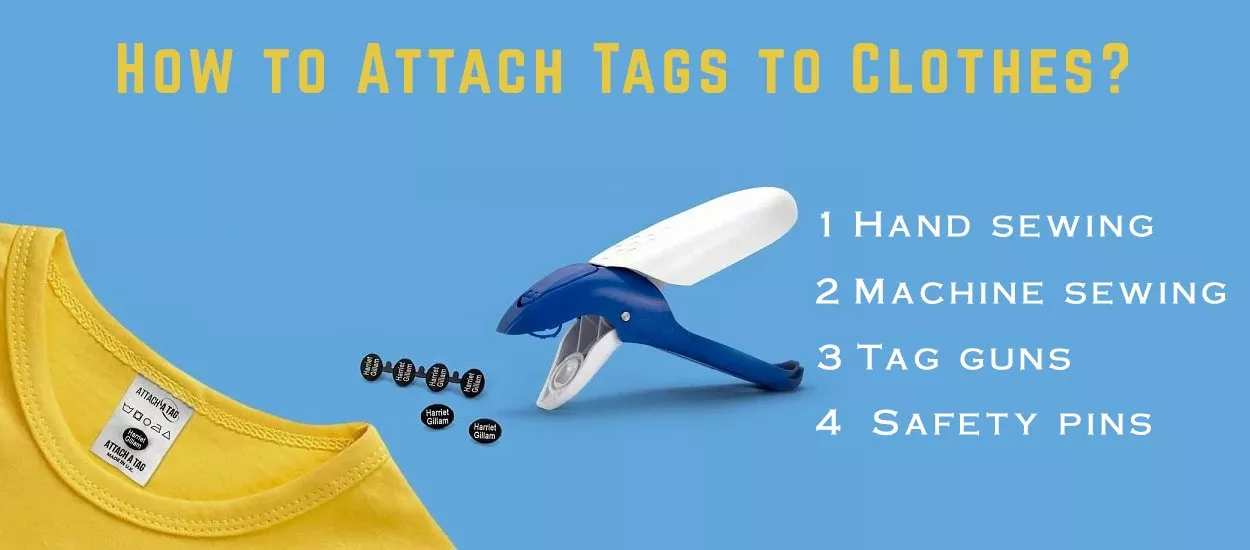 Well then, now that your hang tags are ready, it's time to attach them to your clothing products!
Here's what you should do!
You can simply hand sew the tag onto your clothing product. This way, you can get a secure attachment and precise placement of the tag.
If you have a sewing machine, you can sew the tag onto your clothing product as you sew the seams. With a sewing machine, you can get more durability and a professional finish.
Tag guns are commonly used in retail settings. Yes, you can use them as well to attach price tags or other types of tags to clothing products. Mostly, these tools use plastic fasteners or barbs to secure the tag in place.
For an easier way, you can use a safety pin to attach the hang tag temporarily or in situations where you need a quick solution. Even though it is not as secure as sewing or using tag guns, it can work in a pinch.
Those are just a few examples of different ways to attach hang tags to your clothing products. Overall, the best method depends on your specific needs and preferences.
Wrapping Up
So, yes, a hang tag plays a great role in attracting customers' attention. Plus, it works well in conveying important information about your product. Even better, it will serve as your brand representation. Thus, we must say that this hang tag is surely worth having!