There is nothing wrong with investing in eco-friendly packaging. In fact, this type of packaging could be the best option for your business to build your brand image. Speaking of natural products such as soaps, eco-friendly packaging will be perfect to display them. If you think that it is important to minimize carbon dioxide emissions while promoting your soap brand, these eco-friendly soap packaging ideas are for you.
What Does It Mean By Being Eco-Friendly?
We might have different ideas about what eco-friendly really means. According to a dictionary, we can say that "environmentally friendly products are designed to minimize harm to the environment."
Now you have invested time, effort, and, of course, money to make your beautiful soaps. The way you would pack your soaps and present them to the market would tell a lot about your brand and values.
Whether you are looking for a creative way to wrap your soaps as gifts or you have an up-and-coming soap business, you know that it is all about presentations. Additionally, your soap packaging boxes can even be more powerful if they are eco-friendly.
At the very least, eco-friendly boxes would not and should not harm the planet. At the end of the day, it will be completely up to you to extend this definition of eco-friendly packaging. To make it easier, eco-friendly packaging should contain the criteria such as:
Come with sustainable procurement
Used green energy during the production process
Made of biodegradable material
The packaging materials that can be composted and recyclable
Why Does Your Business Need to Shift to Eco-Friendly Soap Packaging Ideas?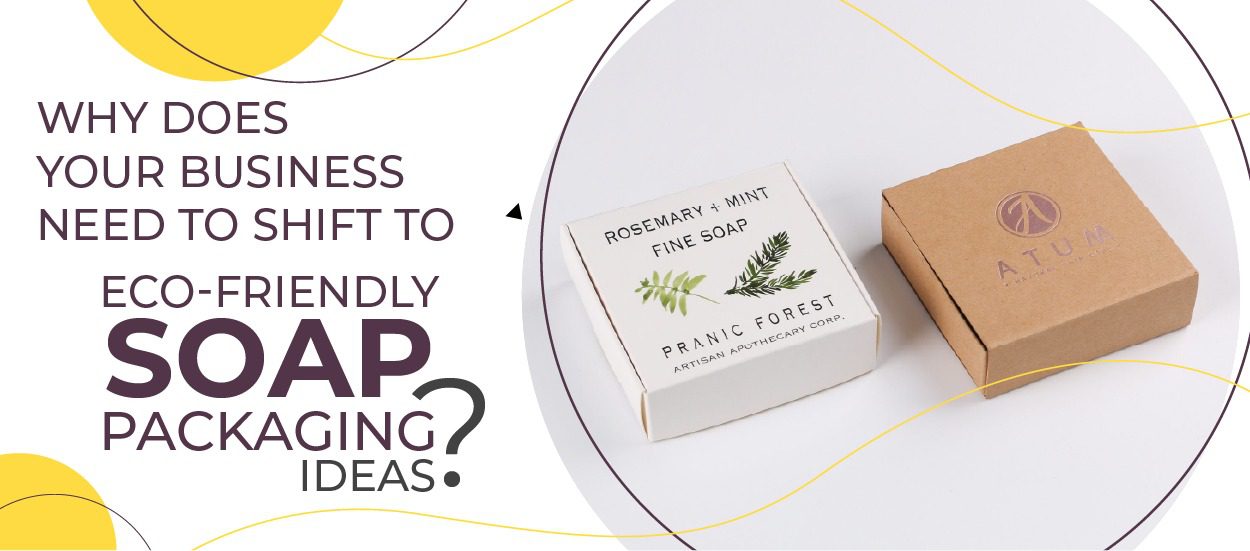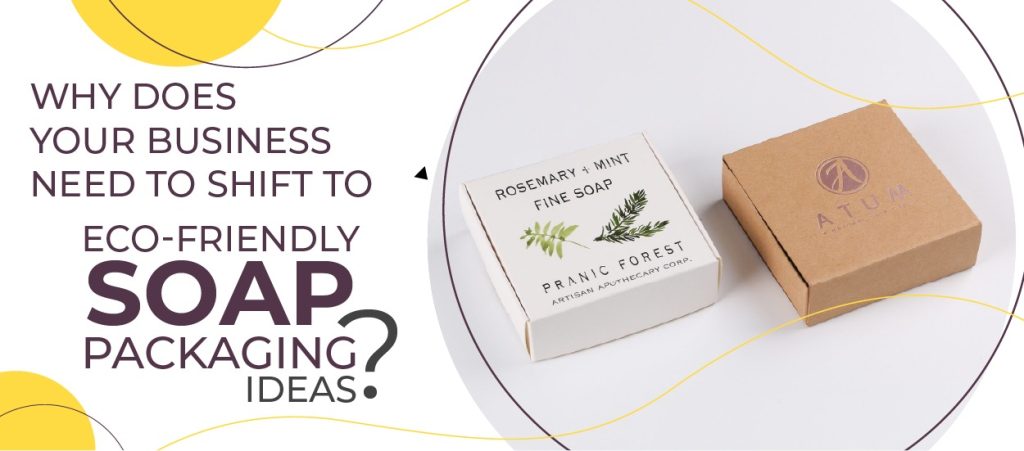 Eco-friendly soap packaging ideas can, without any doubt, make a significant impact on our beloved environment. Yet, it is not only about the material of the packaging itself. More than that, the look and the design of your product packaging are also very important.
Accordingly, with more environmentally friendly customers out there, you may even be able to sell your soaps better. Many customers are looking for products and packaging that are especially environmentally friendly.
In addition, you also need to think about the entire product life cycle. You will find many biodegradable solutions for soap packaging boxes. However, given the process from start to finish, you may find out that not everyone can achieve the ideal result.
Essential Things to Consider When Choosing Eco-Friendly Packaging for Soaps
As a brand owner, you know that there are some considerations to keep in mind when deciding how to present your natural soaps. So, what actually are the things you would need to consider? Keep on reading!
The type of your soap
Soaps that are made using cold or hot processes will grow more effectively if you store them with sufficient air circulation. On the other hand, the types of soaps that melt and pour can be better preserved when you seal them to prevent "sweat" of glycerin.
The packaging cost
Without any doubt, some eco-friendly packaging materials can be quite expensive. Meanwhile, some others can be very cost-effective. When selling soap, it is often best to get your soap packaging boxes with logo.
How to sell your soaps
Yes, obviously you would need to consider if you want to pack a single soap in the packaging exclusively. Or else, you might want to bundle multiple soap bars together. Cardboard boxes or corrugated boxes will work very well when grouping multiple bars of soap.
What are you trying to deliver?
Last but not least, you should consider the best adjective for your soap. For example, you might want to deliver rustic, luxurious, natural, or elegant soaps. If you are manufacturing natural or organic soaps, eco-friendly soap packaging ideas will be your best shot.
Creative Eco-Friendly Soap Packaging Ideas for You!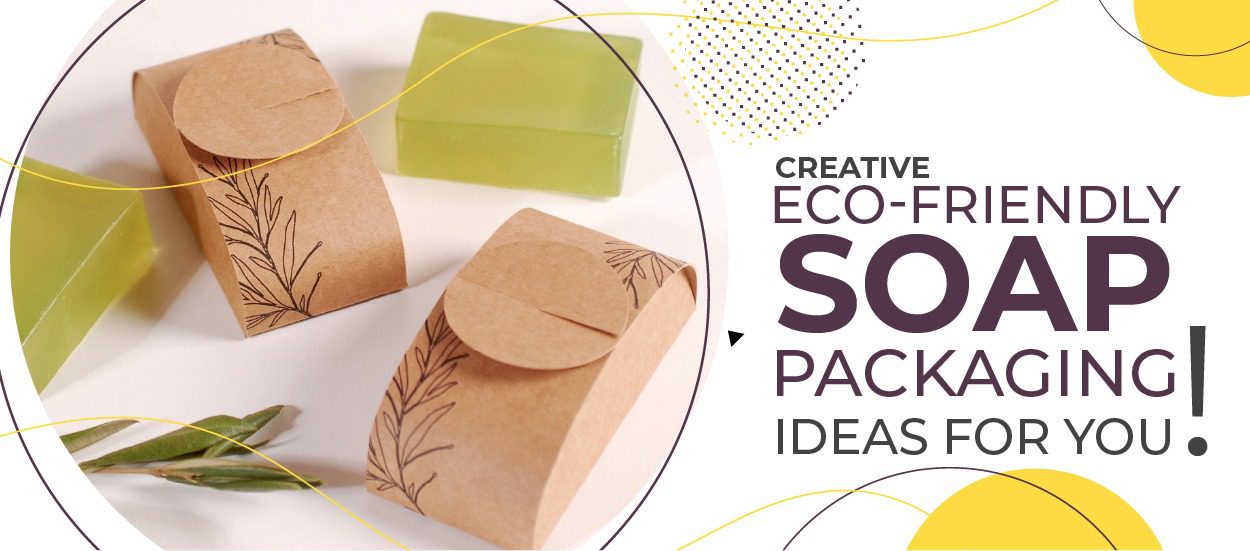 The world of eco-friendly soap products along with the packaging is more than simply brown paper. Whether you have individual or business purposes in wrapping your soaps, eco-friendly soap packaging ideas can make all the difference.
Wrap your soaps with kraft paper
Brown kraft paper is the flagship for several reasons. This material is affordable, easy to use, and offers a rustic look that many customers would love to see. Now perhaps there is a big question in your mind right now; can we say that kraft material is eco-friendly?
Yes, you can be assured as kraft paper is known to be biodegradable, recyclable, and compostable. This packaging material is mainly composed of wood pulp, which gives the paper a characteristic brown color. Most importantly, this high-quality recyclable kraft paper is also durable and practical for shielding your soaps.
Customizable cardboard will be ideal
Soap packaging boxes made of cardboard at Silver Edge Packaging come in a variety of sizes. For instance, you can apply a beautiful window shape to let customers see your soaps in actual look. Make sure to look for the boxes made from unbleached, recycled content. The best part is, these cardboard boxes are easily recyclable and compostable.
Design a simple soap packaging with a bow
The easiest and creative method to decorate your soap packaging is to use a trendy bow. You can get a lovely bow from all the materials such as raffia ribbons, plain twine, or any type of material. You can then choose the one with a high contrast color.
For example, in case your soap is all cream and white, you can go for colorful material. On the other hand, for color soap, you should choose a more natural shade like the raffia ribbon. Believe me, even the simplest soaps will look completely amazing when you pack them with a bow.
Make an elegant look with a lace
Another simple idea you can go for is by making an elegant look of soap packaging boxes with lace. These boxes can end up being the most impeccable gift boxes to present your soaps. You can go for different patterns and colors of the lace to make the boxes look more captivating.
Choose a natural or organic design looks for eco-friendly soap packaging
The natural look has always been a popular and famous trend in self-care products. Accordingly, this can really fit perfectly into eco-friendly soap packaging. The packaging material you choose plays an essential part in this design.
For this natural focus design, you can apply colors such as green, blue, or earth tones as a base. In addition, if you wish to keep it simple, then consider using the color of unbleached kraft paper for your eco-friendly packaging.
What's more, you can also add a little color to the elements printed on the biodegradable packaging for your soap. Or else, you can get the design paired with a floral theme. For this specific scene, you can use natural colors such as pink, yellow, or purple.
Get a decent look from matte coating
The eco-friendly soap packaging ideas with a natural design go very well with a matte coating option. The matte surface will help to reduce the processing of your packaging and give it a more retro feel. The best part is that the matte coating will make your packaging look and also feel more natural.
A minimalist design is perfect for eco-friendly soap packaging boxes
Even with a small line, your target customers who purchase your soap products will have less waste. Self-care products such as soaps have a short life cycle and are replaced frequently. On average, the life cycle of soaps could be around one month. Thus, they will be very likely to be wasted.
Having a minimalist design on your soap packaging boxes will help you reduce packaging waste. With a minimalist design, you would not need to use a huge amount of packaging materials. Plus, you would use the printing style accordingly as well.
Minimalism also means that there is nothing cluttered. The design of this biodegradable packaging contains few related elements and should be reserved for some space. Most importantly, you would get the chance to use the empty space to spotlight your brand.
Help customers to easily find important product details
Keep in mind that the main goal of eco-friendly packaging is to reduce the amount of packaging waste. On the other hand, you know that it is still important for your customers to find the product details they need from your packaging. Whether you print the packaging material or brand identity elements directly on the packaging or on a label, ensure customers would be able to see important information at a glance. What's more, make sure to place important elements on the front of your biodegradable packaging.
Wrapping Up
We know that it is very important to take action to help our planet. As we can see that the clock is ticking, and when it comes to this topic, the best time for your brand to get started was actually yesterday. So, if you wish to contribute to saving the planet, hopefully, our eco-friendly soap packaging ideas above will help you out. To get the most eco-friendly boxes for your soaps, you can simply contact Silver Edge Packaging!