We know that candles are famous for their ability to create a cozy ambiance for everyone. These days, people present these lovely candles as gifts. Moreover, some also use them as home decor items. Meanwhile, some find candles to be perfect as therapeutic tools. However, we are living in a world where presentation matters a lot. In this context, packaging of candles plays a great role in attracting more customers. Simply put, the right packaging presents your delicate products inside in the best display. So, if you are in this business, let's explore the 10 best candle packaging ideas in 2023!
What Can Be the Best Ways to Pack Sensitive Candles?
Of course, packaging sensitive candles requires a careful balance. This means that you need to balance aesthetics, protection, and functionality. After all, the right packaging not only ensures that your candles arrive in the perfect condition. More than that, the suitable packaging will also improve the overall customer experience.
Well then, have a look for the best ways you can pack those sensitive candles!
Choose the Right Fit for Your Packaging Materials
The first step you should focus on is choosing the right packaging materials. You need to remember that only durable materials work well in protecting your candles from damage.so, you can go with cardboard, corrugated board, kraft paper, or rigid material. Or else, you can consider using eco-friendly packaging materials. To help you out, these days many packaging suppliers, such as Silver Edge Packaging will assist you to choose the right materials.
Customization Is Important for Brand Identity
As a brand owner, you surely know that customization allows you to convey your brand's identity and values. So, make sure you print your packaging with your unique logo, brand colors, and braided design elements.
The Best Size
To ship them safely, your candles should fit snugly inside the packaging t. Poor-fitting packaging can lead to candles knocking against each other. Hence, resulting in potential damage. To tackle this issue, you must design your packaging according to the size and shape of your candles.
Use Protective Inserts
To keep your candles secure, consider using protective inserts within the packaging. Foam, molded pulp, or custom cardboard inserts can cradle each candle. This way, they will minimize the risk of breakage. Even better, inserts also enhance the unboxing experience by adding an element of sophistication.
Padding and Cushioning
In addition to protective inserts, you can use cushioning materials. For instance, you can go with bubble wrap, tissue paper, or packing peanuts. With these materials, you can provide an extra layer of protection during transit. Even better, these materials will also reduce the risk of damage.
Inner Packaging Accessories
Consider adding elegant touches to the inner packaging. For example, you can add tissue paper or wax paper wraps around your candles. This not only protects your delicate candles. Better yet, the materials will also add a touch of luxury to the unboxing experience.
Secure Closures
Make sure that your packaging is securely sealed to prevent accidental openings. Depending on the packaging style, you can choose closures, such as adhesive tape, magnetic closures, or ribbon ties.
Fragrance Preservation
If you are offering scented candles, you should design the packaging that preserves the fragrance. For this, you can seal your candles in airtight. Or else, you can use resealable packaging to help prevent the scent from dissipating during transit.
Consider Window Features
Window features on your packaging allow customers to see your candle without opening the box. This is especially effective for showcasing unique candle designs, colors, and textures.
Labeling and Information
Include essential information on the packaging. Yes, make sure to mention your candle fragrance, burn time, care instructions, and safety warnings. After all, clear labeling ensures that customers have all the necessary information at their fingertips.
Unboxing Experience
Last but not least, you must consider the unboxing experience as part of your creative candle packaging design. So, include some elements that make opening the package enjoyable. For example, you can use layers to unwrap, personalized notes, or hidden surprises. As a result, a memorable unboxing can create a lasting positive impression.
What Packaging Style Is Best to Pack Candles?
When it comes to candle packaging ideas, the packaging is far more than a mere enclosure. Instead, it acts as a canvas for creativity. Additionally, it serves as a fortress of protection and a storyteller of your brand identity. Simply put, the custom candle boxes you choose for your candles can transform a simple product into a captivating experience.
Check out some popular packaging styles below!
Custom Two-Piece Candle Boxes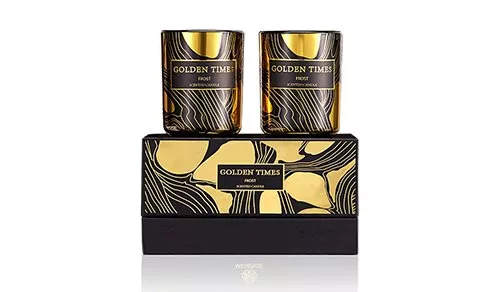 These boxes are the epitome of elegance and simplicity. Consisting of a base and a lid, Two Piece Candle Boxes offer a secure fit while allowing ample space for artistic designs. Better yet, you can customize the boxes with various materials, colors, and finishes. Hence, making them an ideal choice for luxury candle brands.
Custom Jar Candle Boxes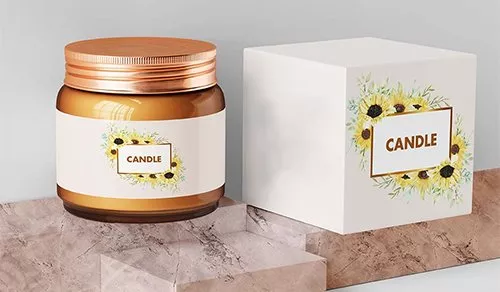 For jar candles, these boxes offer both protection and visual appeal. Additionally, you can design them to fit the exact dimensions of the jar, ensuring a snug fit.
Custom Candle Boxes with Window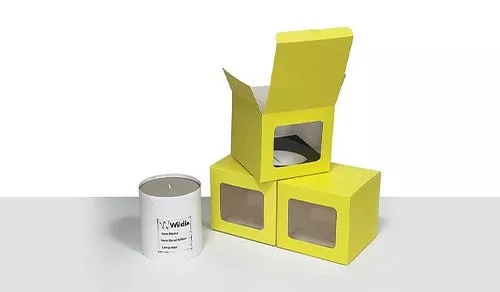 The "peek-a-boo" effect of boxes with windows adds a touch of anticipation and excitement. By showcasing your candle's design and color, custom candle boxes with window create an instant connection with customers. Most importantly, the transparent window acts as an invitation for customers to experience your candle before even opening the box.
Custom Candle Boxes with Your Logo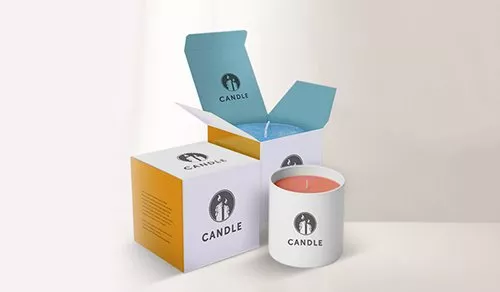 We know that branding is essential in establishing a candle business. Custom candle boxes with your logo serve as a walking advertisement for your brand. Every time a customer receives or sees the box, your logo will leave a lasting impression. Thus, this style will communicate your brand identity and add a professional touch.
Custom Kraft Candle Boxes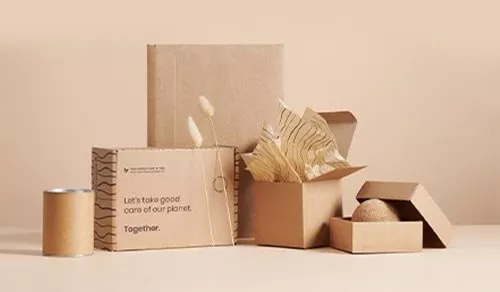 If you are an eco-conscious brand, these boxes offer a rustic charm. Made from recyclable materials, these boxes align with sustainability values. Additionally, their earthy appearance adds a unique aesthetic to the packaging. Plus, you can decorate them with minimalistic designs or your logo using environmentally-friendly ink.
Custom Rigid Candle Boxes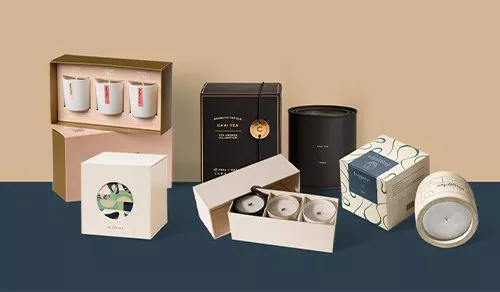 If you aim for a premium unboxing experience, custom rigid candle boxes are the way to go. Their sturdy construction exudes luxury and protects delicate candles. The rigid structure makes the boxes famous to be in the list of luxury candle packaging ideas.
10 Creative Candle Packaging Ideas for You!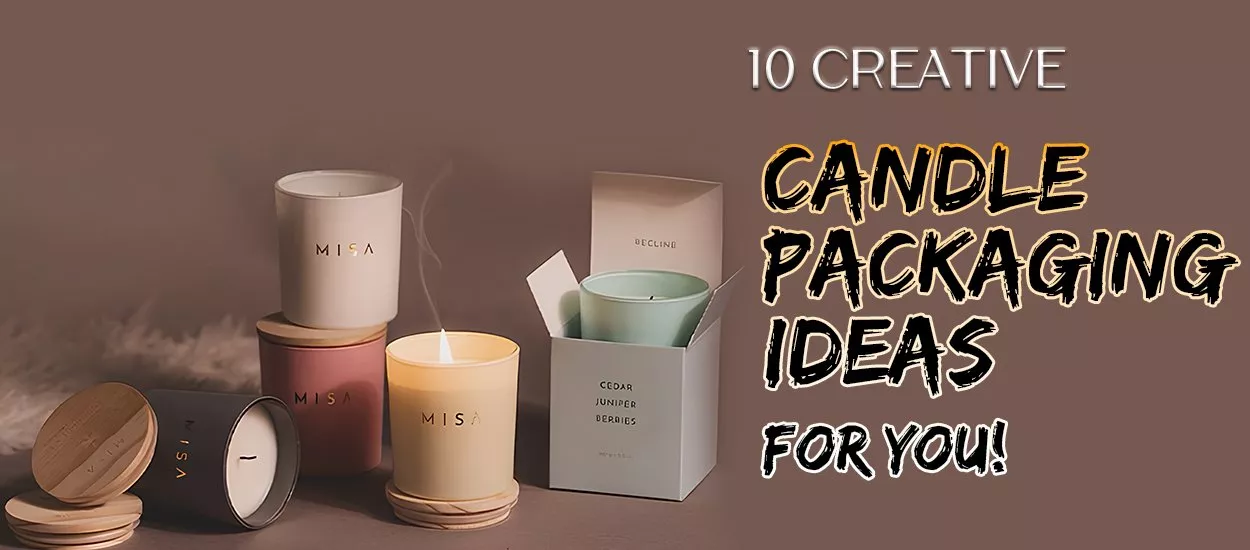 To attract more customers, you need to think outside of the box. This means that you need to run your creativity when it comes to packaging your lovely candles. Well then, have a look below for 10 creative candle packaging ideas you can try!
Floral-Themed Candle Packaging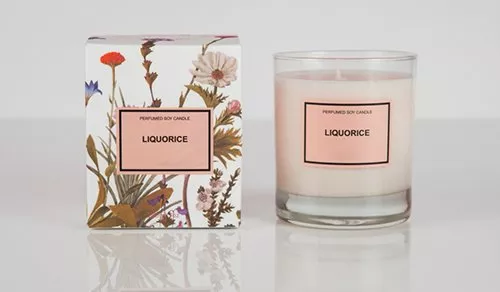 One big trend we can see for candle packaging in 2023 is using floral designs. There are various options available here. For instance, you can choose delicate flowers or bold blooms. Believe me, candles that come with pretty floral patterns will easily attract your customers.
In addition, designing your packaging with floral themes not only makes it beautiful. Better yet, it will give a sense of freshness, femininity, and luxurious at the same time.
Art Deco Candle Packaging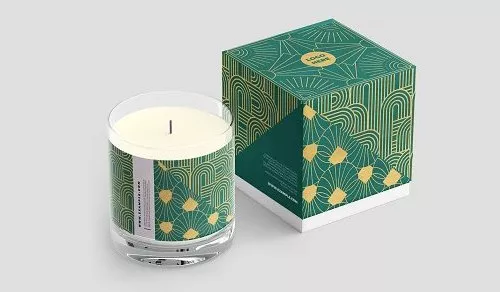 Art deco-style packaging ends up being very popular this year. This elegant design features clean lines and geometric shapes. Thus, you can expect to see your candles look more stylish. Plus, the gold and silver accents will help you add a touch of luxury. Don't forget that the simple color scheme will surely highlight your candles on shelves.
Geometric Candle Packaging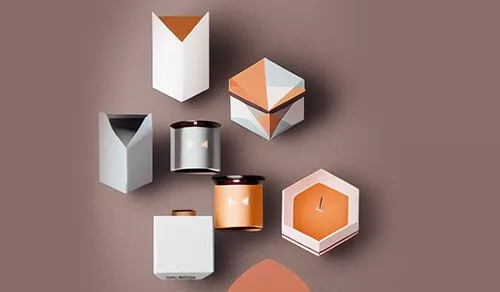 We can never deny that bold and attention-grabbing geometric design packaging is always trendy. For this design, you can create a unique appearance with various shapes and finishing options.
To get an extra appeal, you can customize the design with your brand colors and logo. Or else, you can try out hexagon-shaped packaging, which is also popular. In brief, whatever your style is, you should watch out for these trends in candle packaging.
Modern Candle Packaging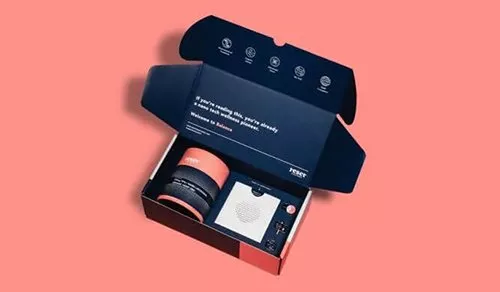 Modern candle packaging presents an eco-friendly, sleek, and stylish appearance. Think about clean and minimalistic designs. Yes, it;'s time to let the natural beauty of your candles shine. Without any doubt, this type of packaging design will surely appeal to environmentally-conscious customers without any hassle.
Vintage Candle Packaging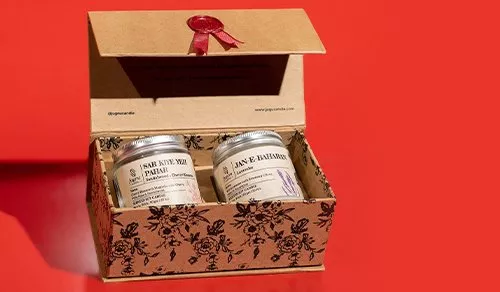 Vintage candle packaging will help you add a touch of luxury to your candle products. Luxury candle boxes combines antique aesthetics with modern techniques. As a result, you can expect to get a unique way of displaying your candles. Moreover, vintage images and fonts will create a timeless appeal.
Eco-Friendly Candle Packaging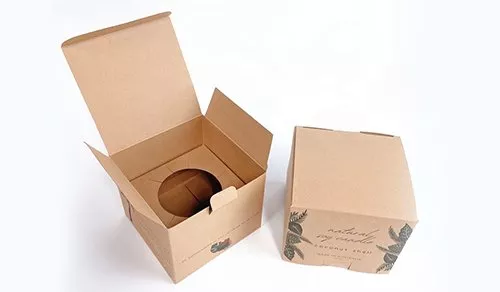 Undoubtedly, the trend of using environmentally-friendly packaging is growing these days. Even more, we can see more companies implementing sustainable materials and processes into their packaging. Thus, this trend is surely to continue where eco-friendly packaging is getting huge demand.
Minimalist Candle Packaging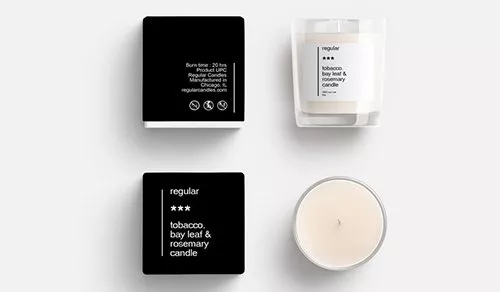 Simplicity and minimalism are gaining popularity, even in this modern world. Minimalist candle packaging basically uses less materials than standard packaging. The best part we should mention here is that this packaging is easily recyclable or reusable.
Moreover, the clean lines and simple designs will help you bring sophistication to your candles inside. So, if you want to highlight your candles with a simple yet elegant look, this one's for you.
Glamorous Candle Packaging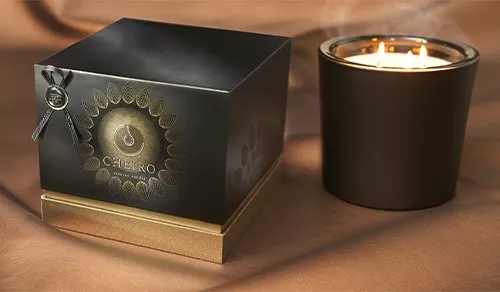 Candles today are popular gifts for many people. In this context, the trend is moving towards glamorous packaging. This style combines gold or silver foil accents with luxurious materials. As a result, it will be a unique and affordable way to make your candles eye-catching.
Christmas-Themed Candle Packaging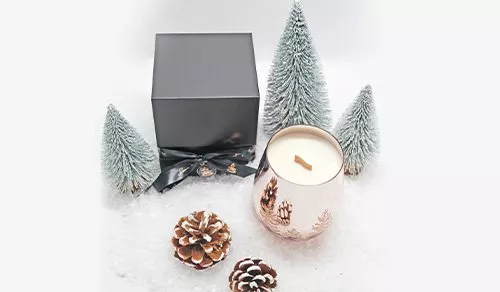 During the holiday season, we all love to transform candles into memorable gifts. This is where Christmas-themed candle boxes come in handy. These boxes come with festive designs and colors. Hence, they will create unique gifts for everyone to enjoy.
Playful Candle Packaging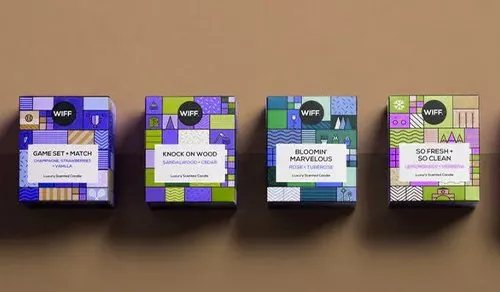 With hundreds of candle brands bombarding customers, surely, your brand needs to stand out. Well, playful candle packaging is a trend where you create fun, eye-catching, and interactive packaging. By experimenting with size, shape, and material, you can create a visual impact that connects emotionally with customers.
Homemade Candle Packaging Ideas
If you are thinking about the best packaging to wrap your homemade candles, you don't need to worry.
Here are some options for you!
Vintage fabric wrap
For a charmingly nostalgic touch, consider wrapping your homemade candles in vintage fabrics. This adds a personal and amazing feel to your packaging. Hence, enhancing the artisanal nature of your candles.
Recycled glass containers
Repurpose and recycle by placing your homemade candles in clean, used glass containers. This not only reduces waste. Better than that, it will also give your packaging a unique, eco-friendly twist.
Nature-inspired wraps
Embrace the beauty of nature by using materials like twine, dried leaves, or flowers to wrap your candles. These organic elements add texture and visual interest to your packaging. As a result, they will reflect the natural essence of your homemade candles.
Design Ideas to Ship Candles Safely and Attractively
When it comes to shipping candles, protection is paramount. After all, you need to make sure that your candles reach customers' hands safely.
Have a look at some ideas to help you ship your candles safely and attractively!
Bubble Wrap and Tissue Paper
Wrap each candle in a layer of bubble wrap to prevent it from any impact. Then, envelop them in tissue paper to add an elegant touch. Place them snugly in a sturdy box. This way, you can ensure they will not shift during transit.
Fragile Handle with Care Stickers
Apply "Fragile" stickers on the outer packaging to alert handlers to handle the package with care. This attention to detail shows customers that you prioritize the safe delivery of your products.
Biodegradable Packing Peanuts
If you need cushioning material, choose biodegradable packing peanuts. These eco-friendly alternatives protect your candles while aligning with environmentally-conscious practices.
Tissue Paper Nesting
Wrap each candle in tissue paper and nest them together within the box. This not only provides a protective layer. Furthermore, it also adds an elegant and cozy aesthetic to the unboxing experience.
Minimalist Eco-Mailers
These minimalist eco-friendly mailers came from recycled materials. You can keep the design minimalist here. Besides, you can focus on clean lines and your brand's logo. By doing this, you can create a modest yet impactful presentation.
Personalized Thank You Notes
Don't forget to include a handwritten thank you note in each package. Without you realizing it, this personalized touch will show appreciation. Better yet, it will foster a deeper connection with your customers.
Final Notes
Well, those are the 10 best candle packaging ideas 2023 you can try out to present your candles! Remember, you should see your candle packaging is more than just a box that packs your candle.Instead, your product packaging is a great opportunity to tell a story and your brand's values. Eventually, the right packaging can surely help you build an emotional connection with customers.
Have a great day ahead!